10 things we learned from NU's Week 1 press conference
Here are 10 things we learned from Nebraska's first weekly press conference of the 2018 season on Monday afternoon at Memorial Stadium…
1. Gebbia requests release, plans to transfer
The other side of the news that true freshman Adrian Martinez had been named Nebraska's starting quarterback on Sunday was that redshirt freshman Tristan Gebbia would be the backup, potentially for the rest of his NU career.
While Frost said Gebbia initially took the decision well, things changed in a big way over the ensuing hours to the point where Gebbia was not in attendance for NU's first game-week practice on Monday morning.
Frost declined to go into any specifics on Gebbia's status with the program until he knew more information on the situation.
However, HuskerOnline.com was able to confirm through a source close to the situation that Gebbia was no longer enrolled in classes and had officially requested his release from Nebraska and would transfer from the program.
"Tristan's a great kid," Frost said. "There have been several players who have chosen not to be a part of the program. Some of the decisions I agreed with, some of them I didn't. But no matter what these are good kids and we want what's best for them. We preach that we care about the kids and when they make a decision that doesn't involve us we'd be lying if we didn't help them and act like they're important to us.
"On the flip side, our team is always going to preach we before me, take care of the brother to my right and my left. I want players on the team that are actually about that. Whatever kids are on the roster come first game those are the brothers that I want to roll with."
2. This is already Martinez's team
When Martinez took the press conference podium for the first time as Nebraska's No. 1 quarterback, nothing about him looked like an 18-year-old true freshman.
Despite his age and inexperience, Martinez carried himself with the poise, maturity, and confidence of a seasoned veteran. He was well aware of how unique his situation was being the first true freshman QB ever to start a season opener, but he also showed no signs of fear or doubt about handling all that comes with the position.
Senior leaders like Tanner Farmer, Jerald Foster, and Luke Gifford all praised Martinez as not only a talented player but as a young guy who understood his role both on the field and in the locker room.
Martinez's press conference debut on Monday gave every indication that he was already more than ready to be the face of Husker football for years to come.
"I was confident in my ability. If you don't believe in yourself, I don't think anyone will," Martinez said. "I worked hard and I learned this offense the best I can, and now I'm ready to get after it.
"I knew in my mind if I took care of business, if I was getting better each day, I thought I was the starter. I thought I was getting better and better each day. I thought it was getting easier for me."
3. Dixon, others could redshirt this season
One of the most notable omissions on Nebraska's initial Week 1 depth chart was linebacker Breon Dixon, who was expected to push for a starting job after transfer to Nebraska from Ole Miss this spring.

Frost said Dixon was good enough to help the Huskers this season in some capacity, but the sophomore was one of several players who had a redshirt year available and could be in line to sit out in 2018.
The new NCAA redshirt rule will play a major part in the status of Dixon and others this season, as they'll be able to play in up to four games before ultimately making a decision on a redshirt.
"Breon's a guy, and several guys I think are good enough to play for us but have a redshirt year to use, and if we don't think they're going to be on the field enough to merit burning a year, we're going to be smart about it.
"The new rule is going to change things a little bit. There's going to be more guys than normal kind of on the bubble and we won't have to make that decision now. We can make it down the road depending on how much they've played and whether or not we need them at a position."
4. No Blackshirts yet
The annual preseason question of if Nebraska had given out the Blackshirts yet got a quick and easy answer from junior linebacker Mohamed Barry on Monday.
"No," Barry said with a grin. "That's not up to me. I just play football and practice my tail off. That's it."
In years past, the famous black practice jerseys have generally been handed out at least by the first practice of the opening game week. But none were waiting in the defensive players' lockers before NU's practice on Monday morning.
Defensive coordinator Erik Chinander is scheduled to meet with reporters following Tuesday's practice.
5. Decision still coming on captains
Another offseason topic of note was how Frost planned to handle naming team captains this season.
Frost said that too was a decision still in the making, as he and his staff still weren't sure if they wanted to assign full-time captains for the entire season or rotate new captains each week.
"We're going to talk about captains this week," Frost said. "I don't know if we'll have four full-time captains or we'll rotate it among guys that are deserving, but I think we're going to meet on that as a coaching staff early this week."
6. Big Ten to increase travel roster limit
Frost provided a bit of Big Ten-related news on Monday when he revealed that the conference planned to expand its travel roster size from 70 players to 74 this season.
The 70-man limit was one of the lowest among Power Five conferences, and it forced teams to make hard decisions on which players to bring to road games depending on depth needs at certain positions.
Now able to take four additional players, Frost said it would benefit both Big Ten teams and players going forward.
"If you change the redshirt rule and we can play redshirts up to four games a year, most likely those guys are going to get limited reps on offense or defense and play on a special team or two," Frost said.
"It'd be hard to travel all those guys and use those guys in one of their four games on the road with a travel restriction of 70. That'll give us the freedom to take of the guys that we need to get experience in a limited fashion at away games as well as home games."
7. Martinez already drawing comparisons to Milton
Given Frost's time at Oregon and Martinez's dynamic playmaking ability, there were some natural early comparisons of the quarterback to former Oregon Heisman Trophy winner Marcus Mariota.
When it comes to Martinez both on and off the field, though, Frost said Martinez was probably a lot closer to Central Florida standout McKenzie Milton.
"It certainly doesn't remind me of me," Frost joked. "McKenzie's probably similar. I thought McKenzie was ready to play as a freshman, he just didn't have that spring ball. Got hurt a little bit during fall camp so he was a little behind.
"But when we got him out there, boy, you could tell he was a playmaker. There were some freshman mistakes that were inevitable, but he was the best we had, and he just kept getting better to the point where he ended up being one of the best players in the nation in Year 2."
8. Once a concern, secondary now viewed as a strength
Frost pulled no punches when admitting his initial concern about Nebraska's secondary when he took over back in December.
But he's since changed his tune in a major way, saying Monday that he's now very comfortable with the overall improvement and bolstered depth in the defensive backfield entering Week 1.
The additions of graduate transfer Tre Neal, junior college transfer Deontai Williams, and true freshmen Cam Taylor and Braxton Clark all helped change the dynamic of the secondary, but Frost said it also had to do with the jumps made by some important returning veterans.
"I've felt great about the DBs all camp," Frost said. "I give those guys credit because that was a position I was worried about coming into fall camp. I think there's been increased competition at some of those spots because of some of the new guys that have come in.
"Some of those new guys are going to play and a lot of those guys that had been here did a good job of stepping up and holding onto their jobs and improving their play."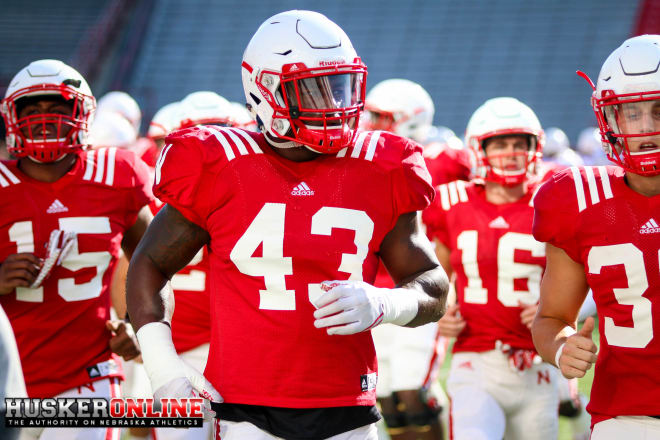 9. Ferguson earns plenty of praise
Tyrin Ferguson's long an unique path hit a high point on Sunday when the junior was listed as the No. 1 outside linebacker opposite Gifford on Nebraska's Week 1 depth chart.
After seeing immediate action in 10 games as a true freshman, Ferguson's impact has been few and far between the past three seasons. He ended up redshirting his second year in 2016, and then only played in five games with three total tackles in 2017.
But the change in defensive scheme this offseason could benefit Ferguson as much as anyone, as he generated strong praise from his coaches all offseason, particularly from outside linebackers coach Jovan Dewitt.
"Ferg is a work ethic guy," Frost said. "He's come to work, done his job, put out effort as well as anybody on the team. He's earned his spot."
10. Frost keeping composure as debut nears
Frost has never really been one to wear his emotions on his sleeve, and he's continued to keep his cool despite his official debut as Nebraska's head coach draws closer by the day.

"To be honest with you, once game day hits I have my head down and I'm working," Frost said. "I wish my job allowed me to stop and smell the roses a little more, because it's going to be special running out of the field in front of the home fans again."
However, Frost's players have started to see some signs of just how much passion their coach has for his new role.
Several Huskers pointed to the recent talk given by former NU legends Grant Wistrom and Jason Peter as a moment when they first saw Frost's love for Nebraska come out.
"At UCF he talked about those guys, but we didn't really know too much about them," Neal said. "Actually getting to see them talk and the fire that they brought, you could see that passion in his eyes.
"I sit in the back, so he kind of sits next to me, and I looked over at him and I could see the fire in his eyes when those guys were speaking. It was just different. That was the first time I saw how much it means to him to be back here."