10 things we learned from NU's Red-White Spring Game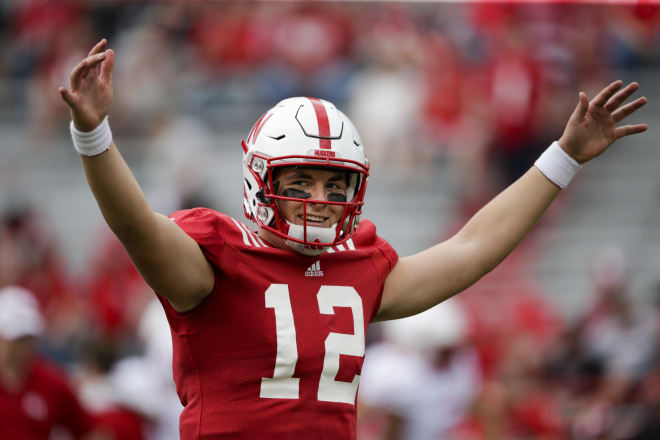 1. Quarterbacks steal the show in final spring audition
All eyes were on Nebraska's quarterbacks during Saturday's annual Red-White Spring Game, and none of the Huskers' signal callers disappointed.

Tanner Lee completed 68-percent of his passes (13-of-19) for 190 yards and three touchdowns, and Patrick O'Brien connected on 11 of his 17 attempts for 134 yards and a score.
Even Tristan Gebbia racked up 268 yards and a touchdown on 28-of-45 passing while repping on both the Red and White squads.
All three made their share of impressive plays with only a limited number of mistakes (Gebbia had the lone interception), and head coach Mike Riley said that while they didn't always make "the best throws", the QBs "made the right throws" more often than not.
"I thought overall the efficiency of the quarterbacking was good," Riley said. "I'm proud of that, because none of them have played in the game and they're all still learning. So it was pretty good that way."
2. Still no word on final QB decision
While the Spring Game alone wasn't going to ultimately determine who would be named Nebraska's starting quarterback, the fact that both Lee and O'Brien played as well as they did only made the eventual decision that much more difficult.

Riley said he has yet to make a final call, and he and his staff would use the next week to evaluate the entire spring to get an idea of where their depth chart stands across the board heading into the fall.
Neither Lee or O'Brien seemed to know where things stood either, though both felt they did all they could to make their case for the starting spot.
"I feel like I've done my job," O'Brien said. "I can control what I can control. I've just got to go out there and perform the best I could every single day, and if that means I'm going to be the starting quarterback, that means it. If it doesn't, obviously I'm going to be disappointed, but I just have to control what I can control."
Added Lee: "That's not up to me, but I can just keep trying to play well… Coach Riley's been around this game a long time and I know he knows what's best for our team, and I trust that."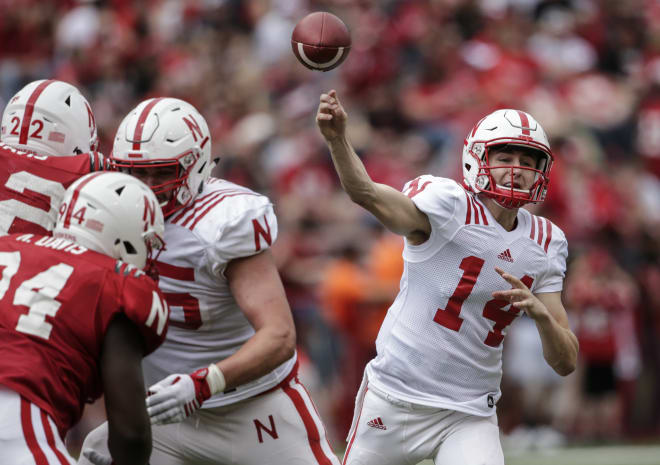 3. Gebbia caps off impressive spring
It may be a two-horse race for the starting quarterback job, but the true freshman Gebbia showed he was well on his way towards being a major player for that role down the road.

For a guy in just his 15th collegiate practice and playing in front of the largest crowd of his life, Gebbia handled the moment as well as anyone could have expected.
"I think he is a heck of a young quarterback and has done a nice job this spring," Riley said. "He made a whole bunch of plays today, I thought."
Riley said Gebbia would follow the same path this season as O'Brien did last year. While they want to redshirt Gebbia this year, Riley said they would give Gebbia some reps with the varsity during the season and prepare him through the week as the No. 3 QB.
Once it gets far enough into the season, the goal is to shut Gebbia down for good and officially redshirt him.
4. Huskers keep new defense under wraps
For anyone hoping to get a first look at Bob Diaco's new defensive scheme on Saturday, there wasn't a whole lot to take away from the Spring Game.

Not only did Nebraska hardly operate out of Diaco's 3-4 system at all, it kept things as basic as possible by not mixing up coverages much at all and only blitzing one time the entire day.
Riley said the staff made the decision to keep things close to the vest in the game because they didn't want to put anything more on film for their opponents than necessary.
"It was a vanilla day with what we did defensively, and that was the plan…" Riley said. "This game now with it being on TV like it is just becomes another evaluation scouting tool for all of our opponents next year. So there was no way that we wanted to do anything that was out of the box at all."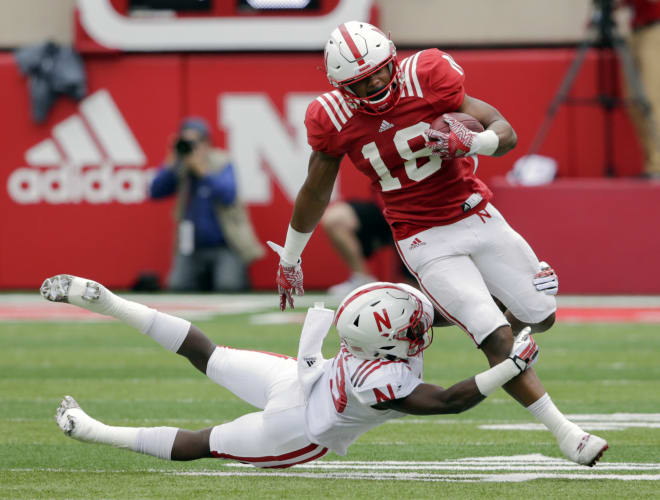 5. Running game takes a step forward
With the way things were going early on in the spring, there were some concerns about how well Nebraska would be able to run the football this season.

The offensive line was having its share of issues across the board, and really none of the running backs had separated themselves from the pack as the clear No. 1.
But after racking up a combined 230 rushing yards on 40 carries with three touchdowns, the Huskers left the Spring Game feeling much better about the progress of the running game.
"The first part of spring, it was not encouraging," Riley said. "But you've got to stay with it, and it's become more encouraging as we have gone on."
Devine Ozigbo rushed seven times for 49 yards and a touchdown, while Tre Bryant ran just three times for 36 yards but had 27 of those on his first two carries on the opening drive.
Mikale Wilbon added three rushes for 25 yards, but added an 11-yard touchdown catch.
6. Tight ends show how big their role could be
Those who had been able to watch spring practices already had an idea that the role of the tight end in Nebraska's offense was in for a big boost this season.

Those thoughts were further supported with how NU's tight ends performed in Saturday's Spring Game.
Led by Tyler Hoppes' four catches for 66 yards and David Engelhaupt's four grabs for 54 yards, the tight end position combined for 15 receptions for 177 yards in the scrimmage.
The group played so well, in fact, that former Husker tight end Cethan Carter tweeted this during the game:
7. Gifford continues breakout offseason
There was already a lot of talk this spring about how much improved linebacker Luke Gifford had looked, but that narrative reached new heights with the junior's breakout spring game.

Gifford ended the day with three tackles, two tackles for loss, forced a fumble and picked off the only interception of the game on a throw by Gebbia in the second quarter.
Both of Gifford's forced turnovers led to touchdowns for the Red team, and they dramatically changed what had been a close game into a blowout.
Regardless of whether he beats out Marcus Newby for the starting field outside linebacker job, there's little doubt that Gifford is going to be a major factor for the Blackshirts this season.
8. Conrad furthers case for starting center job
Cole Conrad may not have been the top center for the Red team on Saturday, but his play as the White's No. 1 center and then when he moved over with the Reds midway through the game showed why he's projected as the frontrunner for 2017.

Conrad anchored an offensive line for the White squad that was able to have some success on the ground against the first-team defense of the Reds.
Michael Decker got the nod with the Red team to start, but the game film from Saturday will likely only strengthen Conrad's grip on the top center spot.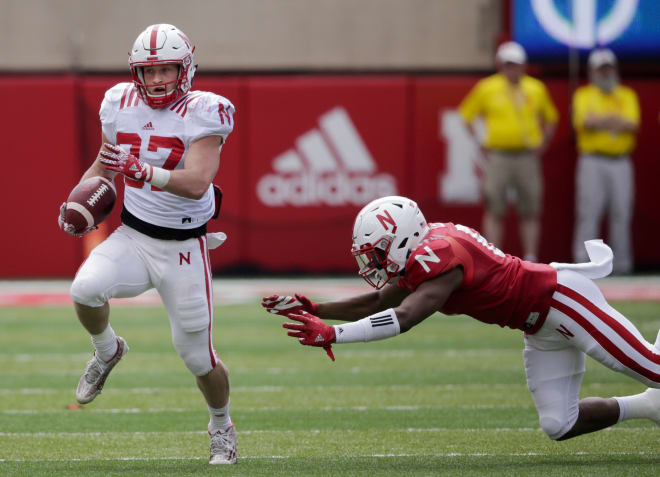 9. Spring Game heroes get their moments
Every year there are a handful of fairly obscure players who are able to shine on the big stage of the Spring Game, and Saturday was no different.

Running backs Wyatt Mazour, Austin Rose and Tanner Haas all raised some eyebrows with their play in the scrimmage. Mazour actually finished with a game 57 yards on just four carries, including a 29-yard rush and a five-yard touchdown, to go along with four catches for a game-high 78 yards.
Rose got off to an impressive start by carrying the ball nine times for 38 yards and caught two passes for 20 yards before leaving the game with a shoulder injury in the first half.
Haas had as good of a day as anyone, scoring the final two touchdowns of the game on passes from Lee and Gebbia in the closing minutes.
Other notables included receivers Keyan Williams (game-high six catches for 69 yards) and J.D. Speilman (four catches for 70 yards and a 30-yard score), and linebacker Jacob Weinmaster (game-high nine tackles).
10. Husker fans do their part once again
One of the things that makes Nebraska's Spring Game such a unique event is the overwhelming fan support that gets put on display every year.

Saturday was as good as it's ever been, as the 78,312 fans in attendance marked the second-biggest Spring Game crowd in program history, behind only the 80,149 in 2008.
Not only did it make for a great environment for the final spring scrimmage, it played a huge part in what was arguably the Huskers' biggest recruiting weekend ever, as more than 30 recruits with NU offers made their way to Lincoln for the game.
"I really appreciate all of those fans that come to this thing," Riley said. "It really makes for a special day, and I'll just say, too, it's really special for recruiting. It's such a difference maker."