10 things we learned from Nebraska's win over Illinois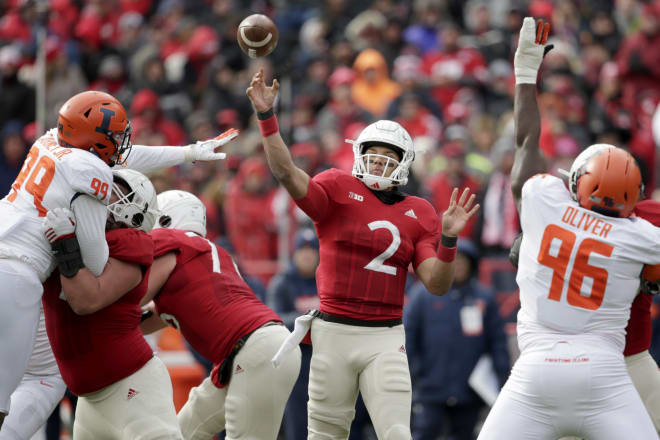 1. Nebraska's offense is rolling
For the fifth game in a row, Nebraska's offense looked like one of the most potent units in the Big Ten Conference, and Saturday's 54-35 victory may have been its best showing yet.

Yes, Illinois came in boasting literally the worst defense in the league by a wide margin, but the Huskers had their foot mashed on the gas pedal from the opening kickoff until the final minutes of the fourth quarter.
With 606 total yards on the day, NU has now posted seven straight games with at least 450 yards of offense, the longest such streak in school history.
The 54 points in the win were its most ever in a Big Ten game and also made it five consecutive outings with 30 or more points, its longest run since the beginning of the 2014 season. Even more, it's the longest 30-point streak in conference play since 2001.
"There early on in the game, watching our offense execute, man, it's fun calling plays," head coach Scott Frost said. "It was a thing of beauty. Those guys were executing everything that we were calling."
2. Huskers finally got the breaks
Despite all of the yards Illinois put up, its 35 points probably should have been much more had the Fighting Illini been able to stay out of their own way.

Just like Nebraska through the first half of the season, Illinois found ways to commit one costly blunder after another, including a whopping five turnovers that directly led to 26 Husker points.
Isaac Armstrong punted four times in the win, but two of those ended up as momentum-shifting muffs by UI's returners. Safety Aaron Williams had a big interception off an Illini drop in the third quarter, helping turn a 17-point lead into a 45-21 NU advantage.
Illinois ended up committing seven penalties, five turnovers, and put the ball on the ground five other times before recovering its own fumbles.
Nebraska now has forced 18 turnovers on the year, well over the 12 it managed all of last season. Eleven of the Blackshirts' takeaways this season have come in the past three games, as they've tallied at least three forced turnovers in three straight games for the first time since 2014.
3. Martinez was once again as good as ever
Few players have a greater direct correlation to Nebraska's offensive resurgence than quarterback Adrian Martinez, who continues to play the best football of his young career every time he takes the field.

The true freshman lit up Illinois' defense for 345 total yards of offense, giving him six 300-yard efforts on the year and tying the school record held by Joe Ganz (2008) and Tommy Armstrong (2015).
Martinez also pushed his season yardage total to 2,747, breaking the NU freshman record previously held by Taylor Martinez (2,596 in 2010). He's also jumped up to ninth overall on the program's single-season total offense list.
With 13 carries for 55 rushing yards, Martinez surpassed 500 yards on the ground for the season (535) to become the first true freshman to achieve the feat since David Horne (651) in 2002. He also now ranks fifth on Nebraska's all-time true freshman rushing list, trailing Monte Anthony (578, 1974) for fourth.
Lastly, Martinez threw for 290 yards and three touchdowns on Saturday, increasing his season total to 2,212 and moving to eighth on NU's all-time single-season list.
"Just the experience I've gained throughout this process I think has really helped," Martinez said of the biggest gains he's made this season. "Just different situations and growing with my teammates and coaches. Really, to point back to the great people I'm around, it really just helped me progress to this point. I still feel like I haven't scratched the surface."
4. Ozigbo on the brink of 1,000-yard milestone
It's hard to believe that no Nebraska running back has rushed for 1,000 yards in a season since Ameer Abdullah in 2014. Devine Ozigbo is now just a few more carries from ending that drought.

With 11 carries for 162 yards, including touchdown runs of 66, 60, and four yards, Ozigbo boosted his season rushing total to 958 with two more games still to play.
The senior has continued to exceed expectations all season, and he's now posted five 100-yard rushing efforts over the past seven games. His 2,072 career yards now rank 30thin school history.
"It is something that the guys on the sidelines talk to me about and something that I definitely was aware of," Ozigbo said of 1,000 yards. "It will be nice to have it personally and for the people that it matters to. But honestly we are trying to get these last two, and it starts with Michigan State."
5. Morgan closing in on major receiving records
Another player having the best season his career is Stanley Morgan Jr., who again lit up the stat sheet with a game-high eight catches for 131 and two touchdowns against Illinois.

The senior moved up to second on Nebraska's career receiving chart with 2,599, passing Jordan Westerkamp (2,474), Nate Swift (2,476), and Johnny Rodgers (2,479). He's now only 90 yards away from matching Kenny Bell's school record (2,689).
On top of that, Morgan is now at 856 receiving yards for the season, leaving him just 130 shy of reaching his own NU record of 986 set last year and 144 away from becoming the Huskers' first-ever 1,000-yard receiver.
Morgan also has 178 career receptions, pulling within three catches of Bell's team record of 181. His 59 grabs this season rank sixth all-time, and his 22 career touchdowns tied Swift for second on the career list and are three behind Rodgers' record of 25.
"I'm happy for Stan," Martinez said. "He played really hard like he always does, and he was really there for me when I put those balls up. He's a guy I can count on; he's been that way all year."
6. Blackshirts giveth, but also taketh away
In almost every aspect, Nebraska's defense had a bad day on Saturday.

However, by forcing three turnovers (two were on special teams), the Blackshirts were able to keep the Illini at bay despite giving up 509 yards and 383 on the ground.
Illinois racked up 292 total yards in the first half alone, but Nebraska's defense turned it up just enough after halftime, allowing just 40 yards in the third quarter and forcing two interceptions, two punts, and a safety compared to two touchdowns on Illinois' seven possessions in the second half.
"That's the way I want (the defense) to look around here in the future," Frost said. "I want our offense to be rolling and humming like that, and an opportunistic defense. The way we play offense, it's going to be hard to imagine a defense that can hold somebody to three points every game, but that doesn't matter if we can score and get some turnovers.
"So we need to build it that way, an aggressive attacking defense, might give up a few points but gets the ball back for us and if we're as good as I hope we get on offense, that's a formula to win."
7. Special teams were finally good
Nebraska's special teams have been a disaster all season long, but for one game, at least, Jovan Dewitt's group was a big positive rather than a total liability.

The punt team came up with two of the most important plays of the night by recovering two muffed Illinois punts to help put 10 points on the board for the Huskers. Then NU's punt return team pulled off its first blocked punt since 2015 for a safety.
The Illini's average starting field position was its own 25-yard line compared to NU's at its 33. The lone Armstrong punt UI actually fielded resulted in a two-yard gain.
Kicker Barret Pickering was still shaky, bouncing one extra point in off the upright and then somehow pushing another point-after through despite being partially blocked.
One of the most notable lineup changes in the game came with Pickering taking over for Caleb Lightbourn as the No. 1 kickoff specialist. Pickering's kicks were shorter, but his pooch style played the favor of Nebraska's kickoff team.
"About time," Frost said of the improved special teams. "I thought the guys were assignment-sound today and opportunistic, and again, they gave us a couple gifts, but our guys were there to take advantage of them, and we need to start, like every other facet of our team, we need to start having some success in those areas and building on it, so we can start to build."
8. Bush has big day in return to Memorial Stadium
AJ Bush never played a game snap in his two seasons at Nebraska, eventually transferring to Iowa Western in 2016, then Virginia Tech in 2017, and now Illinois this season.

In his first taste of action inside Memorial Stadium, the fifth-year senior quarterback certainly made the most of his opportunity.
Nebraska had few answers for Bush's ability as a runner, as he racked up a career-high 183 rushing yards and three touchdowns on the day. He ended up with 313 yards of total offense.
While there was some jawing between Bush and a few younger Nebraska defenders, it was overall a warm welcome for him, from the hugs and handshakes during the coin toss to the even more after the game.
"They're all my boys, so it was just playful talk just to keep the game hype, I guess," Bush said of the trash talk. "It wasn't nothing serious. Those are the same guys I hosted on official visits, so they're still my boys… It felt good. It felt good to get out there."
9. Huskers not bothered by near record cold
The final score and stat sheet might not have reflected it, but Saturday was one of the coldest games Nebraska has played in decades.

With a listed kickoff temperature of 23 degrees and "feels like" temp of just 12 degrees, it marked the coldest Husker home game since 1993 vs. Oklahoma, where it was 19 degrees and a minus-7 wind chill at opening kick.
The 2015 Iowa game got down to 24 degrees, and the 2006 Big 12 Championship against Oklahoma in Kansas City was 29 degrees.
"It was definitely the coldest game I've played, but it really wasn't that bad, especially since I was running around, and the equipment guys were rushing to put big coats on us," Martinez said. "I'd tell you Friday (practice) was definitely worse."
10. Seniors have set tone for late-season run
Frost didn't even need to give his team a post-game talk following Saturday's win. His seniors already had it covered.

After a disastrous start to the season, the Huskers have bounced back to win three of their past four games, nearly pulling off a road upset at No. 10 Ohio State.
Frost credited that progress to the natural development a team makes in the first year under a new coaching staff, but said it also had to do with the strong internal culture that has been established by NU's senior class.
"After the game, I won't tell you all of it, but I didn't have to talk to the team, because Mick (Stoltenberg) talked about finishing in the right way and where the young guys can take this program. Stanley was one of the first ones to cheer when he said that.
"The young guys want to see the old guys succeed on the way out and the old guys are excited about where the young guys are going to take this. That shows you what type of team it's becoming."