10 things we learned from Nebraska's win over Illinois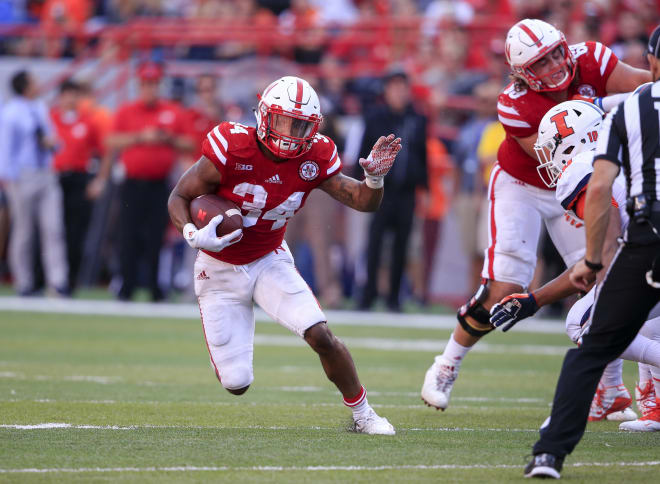 1. This is a fourth quarter team
The numbers simply speak for themselves. Through five games this season, Nebraska has outscored its opponents 78-6 in the fourth quarter, which has been as big of a reason as any for its perfect 5-0 start.
The Huskers looked destined for another baffling let-down loss on Saturday when Illinois took a 16-10 lead and essentially all of the game's momentum into the fourth quarter.
But with the help of an 18-play, 75-yard scoring drive that ate up 10:42 of game clock and eclipsed well over 30 minutes of real time, NU once again was at its best when it mattered the most.
The Huskers ended up scoring 21 unanswered points in the final 15 minutes to put the game away, marking their second-largest fourth quarter margin of the season behind only their win over Wyoming (28-0).
"I think that our team has made plays to win games, and I think the fourth quarter is when you're doing that," head coach Mike Riley said. "Like I said, I'm proud of that. Maybe whatever they did, and what our people did to condition them and to last and play.
"I think the biggest part is the mental competitiveness. Keep your poise, keep playing, even though it wasn't very pretty, and then make some plays to win the game. It was great."
2. Newby earned his No. 1 title
Senior Terrell Newby has received plenty of criticism over the past three years and counting, and there were many who felt he should be replaced as Nebraska's No. 1 running back by one of his younger backfield mates.
But what Newby did on Saturday - particularly his play in the fourth quarter - should all but cement his status as the Huskers' starter for the rest of the season.
Newby and the rest of NU's backs struggled through the first three quarters, as he rushed 11 times for just 27 yards and the Huskers managed just 89 yards on 31 carries as a team.
With the game on the line and Devine Ozigbo and Mikale Wilbon sidelined with injuries, though, Newby put the offense on his shoulders and ran 16 times for 113 yards and two touchdowns - including a 63-yard scoring run - in the fourth quarter alone.
3. Huskers own 'next man up' mantra
One of the oldest cliches in sports is that when a player goes down with an injury, the next man up must rise to the occasion. Nebraska lived that mantra to the fullest on Saturday.
Tight end Cethan Carter left the game in the first quarter with an elbow injury, and backups Sam Cotton and Trey Foster both came up with clutch catches in his absence, including a key 6-yard touchdown grab by Foster.
With senior right tackle David Knevel pulled in the first quarter after struggling with a lingering ankle injury, sophomore walk-on Cole Conrad took his place. That was on top of Corey Whitaker filling in at right guard for starter Tanner Farmer (ankle), and the two helped NU rush for 203 yards and 423 yards of total offense.
Receiver Alonzo Moore (shoulder) was sidelined before the game and Jordan Westerkamp left with an injury in the second half, but sophomore Stanley Morgan hauled in three catches for 39 yards, including two that converted third downs.
4. The bye week will be invaluable
Given the laundry list of injuries mentioned above, the timing of Nebraska's bye week couldn't have been much better.
If the Huskers had to play a game next week, there's a good chance multiple starters would be out, including several key offensive players.
While Nebraska will still focus on getting a jump on preparations for its trip to Indiana on Oct. 15, there's no doubt NU will do all it can to get its team healed up and rested after a pretty brutal first five weeks.
In fact, head coach Mike Riley noted after the game that they might spend a portion of next week really working the scout team and younger players while giving the first- and second-teamers some time off.
"Summarizing and looking at our team and watching that take place today, it appears to be a really good time for a bye week," Riley said.
5. Nebraska's run defense is still an issue
Maybe one of the biggest concerns facing Nebraska going into the bye week - aside from the injury concerns - is how much the defense has struggled the past three weeks in stopping the run.
After giving up an average of nearly 250 yards and six total rushing touchdowns in wins over Oregon and Northwestern, the Huskers allowed Illinois to rush for 124 yards on 5.9 yards per carry on Saturday.
The Illini, which came into the game ranked 12th in the Big Ten in rushing, got most of their yardage on big chunks with the help of some very poor tackling by the Blackshirts. That has to improve when the level of competition kicks up later in the season.
6. "Bad Tommy" is still there 
Tommy Armstrong was able to make some huge throws down the stretch to help lead his team to the win, but he also reverted back to some of his old, bad mistakes on Saturday.
His interception in the second quarter was pretty much inexcusable, as he locked in on his first read and threw into double coverage with little chance of finding his target.
Then there were other throws - such as heaving a jump ball across his body off of his back foot to De'Mornay Pierson-El in the end zone - that Armstrong simply cannot continue to make.
To his credit, he'd been much better in his decision making through four games, but the fact that there are still flashes of the bad Tommy is a reason for worry.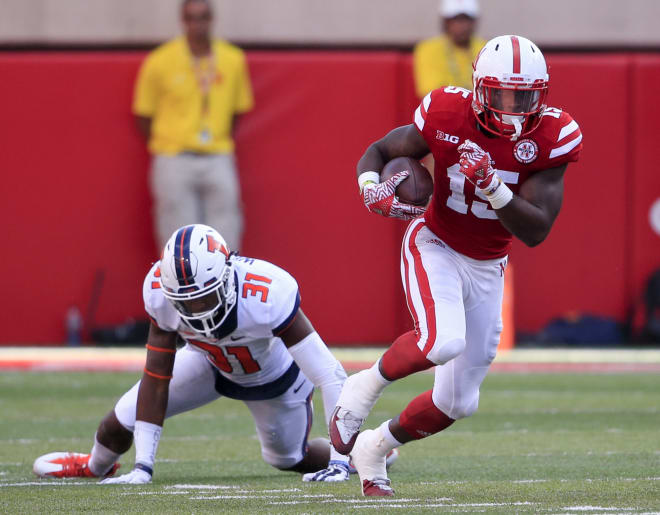 7. Riley has some guts
It's unclear what switch exactly flipped in Riley's willingness to roll the dice on fourth down this season, but there's no denying he has been a lot bolder than he was a year ago.
Trailing 16-10 and facing a fourth-and-1 from the Illinois 3-yard line with just over 12 minutes left in the game, Riley opted to go for it as opposed to kicking a field goal that would have cut the deficit to three.
A Newby run converted the first down by the nose of the football, and the Huskers ended up punching it in for a touchdown on the very next play to take a 17-16 lead.
The call made Nebraska 5-of-8 (62.5 percent) on fourth down conversions on the season. That already matches its total number of attempts (5-of-8) from all of 2015.
For more comparison's sake, the Huskers converted 6-of-13 fourth downs in 2014.
8. Blackshirts getting by on bend-but-don't-break play
While Nebraska's defense had its share of issues early on vs. Illinois, the Blackshirts once again managed to capitalize on a bend-but-don't-break performance.
The Illini drove the ball since NU's 25-yard line four times on the day, but only managed one touchdown and three field goals on those drives.
Of the 12 red zone opportunities Nebraska's opponents have had this season, just nine have resulted in points and only five have ended in touchdowns.
By holding Illinois to 16 points during that span when it very well could have been a much bigger deficit was as key of a factor as anything for the Huskers.
9. Pierson-El takes another big step
It's probably taken longer than he would have liked, but each and every week Pierson-El takes another step closer towards getting back to the player he was before his devastating injury last season.
Saturday may have been his best game yet of 2016, as he finished with 56 all-purpose yards and averaged 14.0 yards on three punt returns, including a 27-yard runback.
With every game like this that he gets under his belt, the more confidence Pierson-El will rebuild and the better off the Huskers will become because of it.
10. NU controls its destiny in the Big Ten West
As it sits on Saturday night, Nebraska is in sole possession of first place in the Big Ten West Division standings and now controls its destiny in reaching the conference championship game.
With Wisconsin falling at Michigan, Minnesota losing to Penn State, and Iowa dropping a second loss to Northwestern, the Huskers are now the only undefeated team remaining in the West.
While there is still a long, difficult road ahead before punching their ticket to Indianapolis, they couldn't be in a much better spot as they reach the midway point of the 2016 season.