10 things we learned from Nebraska's win over Arkansas St.
1. The defense still has a long way to go
It was no surprise that Nebraska's transition to Bob Diaco's 3-4 defensive scheme might need some time to fully catch on, but it's unlikely many expected the Huskers to look as far behind schedule as they did on Saturday night.

Had it not been for some timely interceptions and key drops by Arkansas State's receivers, things could have ended up even worse than the 36 points, 497 total yards and 415 passing yards NU gave up to the Red Wolves.
It wasn't as if the production came in a few big chunks or on some trick plays. Arkansas State came out with a clear plan to go up-tempo and get the ball on the perimeter with receiver bubble screens and slants.
The issue was that NU seemingly did little to adjust to that plan all night, allowing the Red Wolves to march down the field at will more often than not.
For a defense that showed so many flashes of potential this offseason, Saturday night proved to be quite the reality check that there was still a whole lot of work left to be done before Diaco's system is at its full potential.
2. Lee lives up to the hype, for the most part
He certainly wasn't perfect, but Tanner Lee showed everyone why there was so much excitement about what the junior quarterback could bring to Nebraska's offense.

Lee ended the night 19-of-32 passing for 238 yards and two touchdowns without an interception, though a couple of his early throws sure did come close.
The Tulane transfer's 238 yards through the air were the third most by a Husker in his first career start, trailing only Ryker Fyfe (407) and Joe Ganz (405).
There were obviously plenty of throws he'd like back, but he also had some passes - like the 44-yard touchdown strike to Stanley Morgan in the first quarter - that served as perfect examples of why NFL scouts have Lee firmly on their radar.
3. What running back race?
Remember when the storyline for the past eight months was Nebraska's perceived three-man battle for the starting running back job?
Well, that conversation was put to an early and abrupt end on Saturday night, as sophomore Tre Bryant showed he was the clear No. 1 back in the rotation, and the rest of the pack really wasn't even close.
When all was said and done Bryant carried the ball 31 times for 192 yards and a touchdown, setting or tying career highs in all three categories.
His 192 yards were the most by a Husker in nearly two full years (Terrell Newby had 198 vs. South Alabama in 2015), and the 31 carries were the most by any NU player since Mike Riley took over.
Bryant showed a burst through the hole and the elusiveness to make the first defender miss that Nebraska hasn't seen since Ameer Abdullah left.
Junior Mikale Wilbon only carried the ball twice all night, and Devine Ozigbo didn't even play in the game. That says everything you need to know about where this running back "race" actually stands.
4. Overall sloppiness was a big issue
Leading up to game week, pretty much every Nebraska coach said the main thing they were looking for was efficient and consistent play for four full quarters.

That happened in some regard, but Saturday night's win was also filled with seemingly one mental mistake after another in all three elements of the game.
In all, Nebraska committed eight penalties for 75 yards, with several of those killing potential scoring drives and another keeping Arkansas State's offense on the field after a third-down stop.
The Huskers also lost their lane integrity on a punt that ended up being taken back for a touchdown, shanked a kickoff out of bounds late in the fourth quarter, and gave up an onside kick that could have cost them the game.
There is always a need for improvement, especially after just Week 1, but it's clear NU has a lot to clean up next week before heading out to take on Oregon.
5. Hoppes shows the tight end is back
There was a lot of buzz around senior tight end Tyler Hoppes and how the role of the tight end could be coming back in a big way for Nebraska's offense this season.

With three catches for 40 yards, including one highlight catch at the goal line to set up a touchdown, Hoppes showed why Riley said he could end up being one of the best receiving tight ends he'd ever coached.
Three catches might not seem like much, but just compare it to what former NU tight end Cethan Carter did as a senior last year. Carter, who just made the Week 1 roster with the Cincinnati Bengals, only caught three or more passes twice all season.
6. Morgan could be in for a record-breaking year
If Stanley Morgan keeps playing the way he did against Arkansas State, Nebraska is going to ended up re-writing its wide receiver records books at the end of the season.
The junior wide out put his newfound chemistry with Lee on full display from the first quarter on, catching five passes for 102 yards - both career highs - and a touchdown.
Morgan became the first Husker to haul in over 100 receiving yards since Alonzo Moore and Jordan Westerkamp did it nearly a full year ago last season vs. Wyoming.
He's now just 141 yards from moving into 25th on NU's career-receiving yardage list, and assuming that connection with Lee only continues to develop, plenty of other school receiving could be within reach.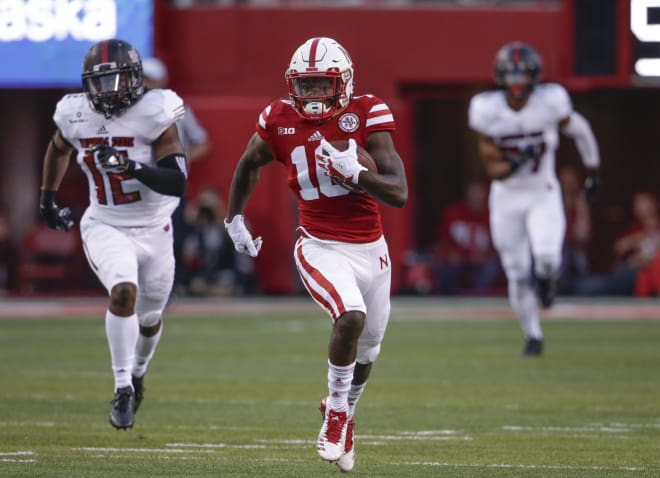 7. Huskers have major big play potential
Nebraska may be relatively young and inexperienced at its offensive skill positions, but Saturday night showed the Huskers are loaded with some electric playmakers across the board.

Whether it was Lee, Bryant, Morgan, Hoppes, De'Mornay Pierson-El, J.D. Spielman, Wilbon or Tyjon Lindsey, all came up with big time plays during the game that helped the offense set the tone right out of the gate.
Consistency remains the one big hurdle for the Huskers, but with so many players who can change the game with one play, this offense could be very fun to watch this season.
8. Kalu earns his praise
When Diaco proclaimed that senior Joshua Kalu could be the best safety in all of college football before the season, it definitely raised a few eyebrows.

In his first collegiate start at the position, Kalu showed why his coach thought so highly of him.
Kalu ended the night with six tackles, a pass breakup, and a clutch interception in the fourth quarter that helped Nebraska hold the Red Wolves off down the stretch.
What was really interesting were the variety of ways NU used Kalu. Along with playing the standard deep safety role, Kalu also came up to the line several times on blitzes.
While those pressures never got home, they were effective in disrupting timing and forcing bad throws.
9. Lightbourn off to strong start
This season opener was a much different experience for punter Caleb Lightbourn than what he went through last year.

After being thrown into some of the most difficult circumstances imaginable as a true freshman in 2016, Lightbourn showed just how much he has grown over the past year with an exceptional performance on Saturday night.
The sophomore averaged 42.4 yards on five punts, including a 54-yarder, and pinned three inside the ASU 10-yard line. In fact, two of those were downed at the Red Wolves' four.
10. Offensive line still has issues
Nebraska's offensive line was one of the biggest concerns of all entering the offseason, as the group put out two of its worst performances of last season in the final two games.

A mediocre spring didn't help matters much, but things reportedly were back heading in the right direction coming out of fall camp.
While that still may be the case, the o-line showed it had plenty of work to do. They only allowed one sack, but the line also gave up a safety and committed two costly holding penalties and a false start in the game.
The good news was the running game was productive to the tune of 225 yards on 5.9 yards per carry, but the unnecessary penalties and mistakes must be cut down.