10 things we learned from Nebraska's upset over Oregon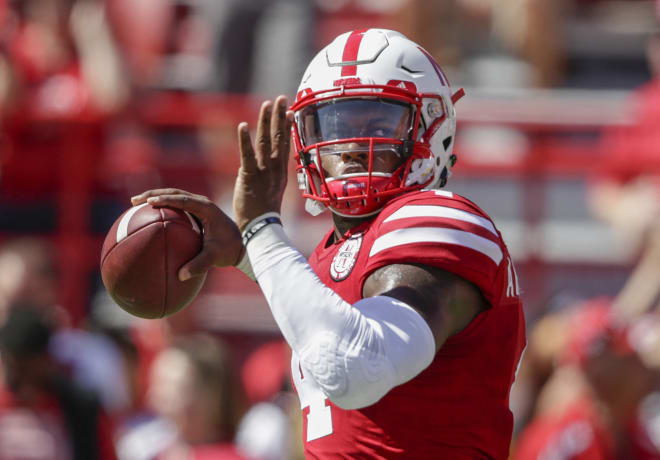 Nebraska pulled off its first win over a ranked non-conference opponent at Memorial Stadium since 2001 with a 35-32 upset of No. 22 Oregon on Saturday. Here are 10 things we learned from the Huskers' memorable victory…
1. When the pressure was on, Armstrong stepped up
For a guy whose legs were cramping up so badly that he could barely walk by the end of the game, senior quarterback Tommy Armstrong's performance in the final minutes against Oregon become even more impressive.
Armstrong completed 17-of-33 passes for 200 yards and three touchdowns and rushed for 95 more yards and a score in the win. But according to head coach Mike Riley, Armstrong's late-game heroics could end up being one of the signature moments in his Husker legacy.
After temporarily being forced out of the game due to severe leg cramping early in the fourth quarter, Armstrong ended up having to get an IV on the sidelines between drives to boost his fluids.
But in a game that carried significant implications for the Huskers' season goals, there was no way he was going to watch as a bystander.
When Nebraska took over for its final scoring drive with 7:32 to play, Armstrong converted a fourth-and-9 pass to Jordan Westerkamp and then broke off a 34-yard keeper up the middle for the game-winning touchdown.
"I think it kind of speaks for itself," Riley said of Armstrong's performance. "The quarterback is at the center of a lot of that, and of course he made plays throwing the ball, running, and making some good reads handing the ball off.
"Played a heck of a football game, and a lot of times players end up being defined by those moments where you have to drive a team down and win the game. It's a really good sign."
2. This win meant more to Riley than he'll ever admit
Just as he did all week, Riley downplayed the significance Saturday's victory had for him personally given his long track record against Oregon, which included a seven-year losing streak while at Oregon State.
But all you had to do was take one look at how emotionally drained the second-year Husker coach was at the post-game press conference podium to know the victory meant far more than he would ever let on.
Riley had a front row seat for the Ducks' rise to power, and he heard more than his share of criticism about how far his program was falling behind its bitter instate rivals after each of the Beavers' lopsided defeats.
While he might not admit it, his body language after the game alone made it clear the win was just as big for Riley as it was for the Huskers. The way his players celebrated with him on the field and in the locker room said plenty as well.
"I think it stems from a long history with Oregon" Riley said. "I don't want to talk about this too much, but that was not only that we had some frustration with that because we didn't win enough, but we also are excited to win and coach against that group because they've done a good job.
"They've done a good job, so I think that we beat a good team that is well-coached and has been for a while. So that's the bottom line for this Nebraska team. Really good win, showed a lot of good stuff today."
3. This just in: Westerkamp is clutch
Looking at the final box score alone, you would think Westerkamp had a pretty solid game with three catches for 39 yards and two touchdowns on the day.
When you take into account just how gigantic each of those three receptions were in determining the final outcome of the game, however, it makes Westerkamp's performance downright MVP-worthy.
The senior wide out's first grab came on a 22-yard strike from Armstrong that answered Oregon's opening touchdown. His second score came with just five seconds left in the first half, when Armstrong floated a ball in the back of the end zone and Westerkamp came down with it to send NU into halftime down just 20-14.
His third catch wasn't a touchdown, but it just may have been the most important of all. With just over three minutes remaining, the Huskers faced a fourth-and-9 from their own 48 trailing 32-28.
With the game potentially on the line, Armstrong fired a bullet over the middle to Westerkamp, who hauled it in for a 12-yard gain and an absolutely pivotal first down. Two plays later, Armstrong pranced into the end zone for the winning score.
"I was super-comfortable with the play call and just ready to go," Westerkamp said. "The line held up awesome there, and we needed a big play. You know Tommy, he is the biggest competitor out on the field, made a great throw right in there, first down. Tommy runs it in for the touchdown, end of story, we win."
4. Ozigbo is the guy
Though senior Terrell Newby got the start at running back for the second time in the first three games, there really looks to be no question over who Nebraska's go-to back is when the game is on the line.
Sophomore Devine Ozigbo carried the ball just three times for six yards in the first half, but when the Huskers turned to a power running game in the third quarter, they hitched their wagons to No. 22.
Ozigbo ended up rushing 13 times for 63 yards and a touchdown in the third quarter alone and finished the day 95 yards on 21 carries.
Nebraska may want to continue to insist that they have a running back-by-committee situation, but Ozigbo's latest showing further supports his case as NU's clear workhorse.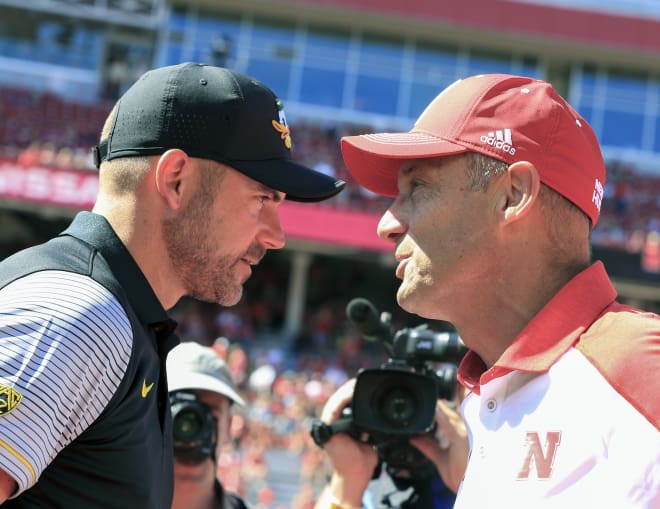 5. "Lockdown U" is for real
Oregon came into Saturday's game boasting one of the most prolific passing attacks in all of college football, including an ongoing NCAA-record of 82 straight games with at least one passing touchdown.
That was before the Ducks ran into Nebraska's "Lockdown U" secondary, though.
Quarterback Dakota Prukop never seemed to get comfortable in the pocket and only managed 146 yards on 14-of-23 passing. Most importantly, Oregon's touchdown streak came to screeching halt, as the Huskers didn't allow a single score through the air in the win.
"We never gave up," said senior safety Nate Gerry, who finished with a team-high nine tackles. "We knew we were going to see some funky things and they did a lot of side-to-side running. Just being able to track the ball down and make those tackles in space.
"I thought just the effort out of the whole defense was great. I thought Coach (Mark) Banker had a good game too. He called a lot of good plays in certain situations. I just thought the defense stepped up today and I was real proud of them."
6. Slowly but surely, Pierson-El is on his way back
Nebraska knew it had to find a way to get De'Mornay Pierson-El more involved going into Saturday's game, but the start of the day looked like his early struggles to the year were only going to continue.
The junior fair caught the first three punts he fielded, and he ended up muffing the third to nearly give up a crucial turnover before teammate Graham Nabity jumped on the ball.
His next touch on the ensuing drive was a six-yard loss on a fly sweep, and the only pass targeted his way in the first half fell incomplete.
But with less than a minute to go before halftime, Pierson-El reminded everyone of the All-American talent he could be by taking a punt 45 yards down to the Oregon 19-yard line.
Armstrong capitalized by connecting with Westerkamp for a touchdown, giving NU a huge momentum boost heading into halftime.
"I thought that was almost a 14-point swing around in there," Riley said. "We needed something, either a drive, or I didn't know that it was going to come from a punt return. But we needed something, and it ended up being that punt return that was so big to get that right before the half."
7. Memorial Stadium truly is an X factor 
There's just something special when all the elements come together during a home game at Memorial Stadium.
Nebraska was fighting tooth and nail against a nationally-ranked opponent, and the 90,414 fans in attendance - which marked NU's 350th consecutive sellout - made sure to do their part.
Some reporters in the press box said it was the loudest they'd heard an NU home crowd since the Missouri game of 2010 or even the win over Colorado in 2009.
For the players and coaches, they couldn't put a value on just how important that type of support was in one of the biggest victories the program has had in years.
"They brought the intensity whenever we needed it," Armstrong said. "The offense of Oregon found themselves calling timeouts in certain situations. Later in the game when they would have needed those timeouts, they didn't have them...
"They did a great job of rallying up. Just getting those miscues with the offense on Oregon's side. Just the play-calling and having our defense get stops. It helped a lot on defense. Offensive-wise, once we made big plays they supported us and things like that, so they fueled the fire when it came ot both sides of the ball."
8. There's still plenty left to correct
As good as Nebraska felt following its big win, there was no denying that it was far from perfect in achieving the victory.
The Huskers fumbled the ball three times (losing one), committed seven penalties for 55 yards, and gave up 347 rushing yards and five touchdowns to the Ducks on the ground.
Armstrong only completed just over 50 percent of his passes and likely should have been intercepted at least twice on some questionable throws. His receivers also didn't help much at times with some costly drops that could have extended drives.
That's why Riley's message to the Huskers after the game was to enjoy the win on Saturday night, but come Sunday morning it was time to get back to work and clean up their mistakes.
"At this stage in the season, it is still continually all about growth," Riley said. "It is really, really important that we take this game starting tomorrow. We'll enjoy it tonight, start tomorrow, dissecting it and start building because obviously we're not perfect. We played a good team and did what we had to do to win but we've got plenty of work to do."
9. Get ready for Memorial Stadium East
One of the somewhat overlooked benefits of a win like this is the residual impact it should have with the fan base.
In particular, it could be just the motivation a lot of fans need to decide to pack up and make the drive to Evanston, Ill., for Nebraska's Big Ten opener against Northwestern next week.
There were already a number of Husker faithful already planning on making the trip, but considering NU should move into the top-25 rankings next week and will likely get plenty of national love, the excitement around the program will soaring.
Nebraska fans have always invaded Ryan Field the previous two trips out there, but the Big Red invasion may be the biggest yet next Saturday.
10. The win was nice, but Nebraska isn't done yet
There's no denying just how big this victory was for Nebraska on a national scale.
So many times have the Huskers had opportunities like this and ended up falling flat on their face, suffering embarrassing losses on national television and losing more and more respect from the rest of the college football landscape.
But Saturday was different.
Nebraska answered the call in a major way against a one of the flashiest programs in the country and pulled out a win that could have major implications on their postseason fate when all is said and done.
But as satisfying as the upset was, Riley and every one of his players who spoke to reporters after the game insisted that it was merely one step in a season-long race.
"As the games go on, if you continue to win, they get bigger and tougher," Riley said. "This game will be really, really good for our team."
Added Gerry:
"We got a lot to improve. The Big Ten, you never know what you are going to get in the Big Ten. So everyday we have to come to practice. We have to win the week."