10 things we learned from Nebraska's Signing Day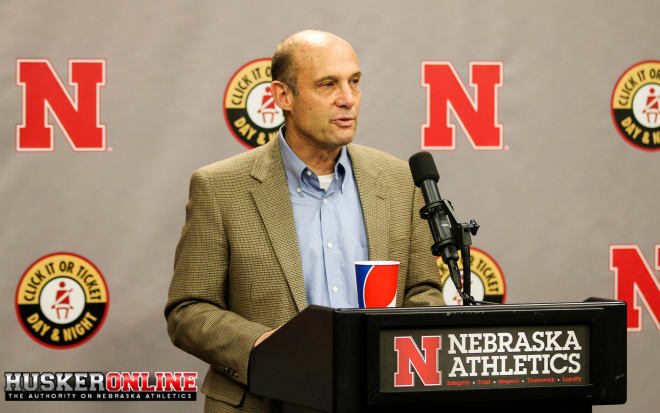 1. Riley explains the Jamire Calvin saga
The dramatic tale of Jamire Calvin's recruitment had already been well chronicled going into National Signing Day on Wednesday, and it finally came to end with one final twist when the four-star receiver signed with Washington State.
Nebraska of course was a primary piece in Calvin's story, and up until about 48 hours before Signing Day all signs pointed to him being a Husker.
After becoming a silent commit during his unofficial visit for last year's spring game, Calvin again gave NU a verbal pledge during an in-home visit with head coach Mike Riley a week before the dead period in December.
Then, during a nationally televised commitment ceremony at the Army All-American Bowl on Jan. 7, Calvin suddenly flipped on Nebraska and announced his commitment to Oregon State. Well, that only lasted a couple weeks, as Calvin decommitted from the Beavers and publicly announced his pledge to NU on Friday.
Rumblings of Calvin once again wavering on his decision quickly followed, and then were confirmed on Wednesday when he flipped to WSU.
"That particular case was a little over the top," Riley said. "I got three commitments from the guy. That might be a record."
Riley said the only reason the Huskers continued to pursue Calvin after his commitment to Oregon State was because he told Riley shortly afterwards that his recruiting process was not over. Clearly, Calvin wasn't kidding.
"There's some of these things you can't predict," Riley said. "With the way things are going in recruiting and the commitments, decommitments, and the flipping and all that - this basically was instigated by him. I thought it was real."
2. The 500-mile radius remains a top priority
Nebraska landed some big time prospects from across the country in its 2017 class, including four players from California, three from Texas, and two from Florida.
However, Riley made sure to note that the Huskers also hauled in seven players from inside the coveted 500-mile radius, which he said was something NU needed to do more and more with every class going forward.
"I think there is still work to be done with that whole thought," Riley said. "I have goal for next year, we're going even step up making sure we cover all the ground in our radius thoroughly."
Though Riley said states like California, Texas, Florida, and Louisiana would continue to be "identity" states that Nebraska would obviously keep recruiting heavily, he said the Huskers had to make it a priority to lock down players from the surrounding area harder than ever.
"I really want to hit this radius hard," Riley said. "I want to make sure that every guy that might be a prospect in Kansas City is on our campus in the next couple months. Same thing with St. Louis. I think we can do better there.
"We can go in there and there's lots of athletes, and we can find the right guy for Nebraska or two. We've already earmarked some pretty good players there."
3. Number may be small, but WRs could still make instant impact 
Not only did Nebraska lose Calvin in the final hours before Signing Day, it also missed out on another top receiver prospect in Los Angeles four-star Joseph Lewis, who signed with USC.
That left the Huskers with a three-man wide receiver class in four stars Keyshawn Johnson Jr., Jaevon McQuitty, and Tyjon Lindsey.
While the total number was a bit smaller than some may have hoped, Riley said all three receivers in the class had a legitimate opportunity to make an immediate impact as true freshmen this season.
"We've got Jaevon McQuitty who's a playmaker and a tough kid," Riley said. "He's a perfect fit for us right now… You've got Keyshawn Johnson … I think that sparked a lot of momentum for the Huskers with this recruiting class. Keyshawn Jr. is somewhat of a magnet."
Then of course there's Lindsey, the final addition to the class to flipped to NU from Ohio State. Riley said the 5-foot-9, 160-pound native of Corona, Calif., was "a really, really dynamic player" who reminded him a lot of a former Oregon State standout he coached.
"He's a simply terrific player," Riley said. "He reminds me of another guy I had that I thought for sure was a redshirt and ended up in fall camp doing so many things that he had to play, and then he became an All-American - James Rodgers."
4. NU loaded up in trenches, next year will be cornerbacks 
Of Nebraska's 20 signees in the 2017 class, eight will play on either the offensive or defensive lines. That was certainly no coincidence, Riley said.
As has been his philosophy with recruiting for decades, Riley said the Huskers did and will continue to load up on linemen and cornerbacks in every single class.
Since NU only landed on defensive back total in four-star cornerback Elijah Blades, Riley said expect to see plenty of DBs this time next year in the 2018 class.
"Linemen and cornerbacks are gold," Riley said. "Next year you'll find a long list of defensive backs on Signing Day."
5. Blades has opportunity to play right away
Speaking of Blades, he might end up having as good of an opportunity to play right away next season as any 2017 signee.
Blades, who officially committed to Nebraska on Wednesday, is a 6-foot-2, 170-pounder who ranked as the No. 87 overall payer and No. 7 cornerback in his class.
Riley thinks Blades has a great opportunity to be a factor immediately in the Huskers' cornerback group.
"This guy will be involved with that group as far as pushing in there to play," Riley said. "This gives us one more competitive guy to look at for winning the games this fall."
6. Huskers sent message with in-state recruiting
Nebraska's in-state recruiting over recent years has received its share of criticism at times, but with four Nebraska natives in the Huskers' 2017 class, you can't say they ignored their own backyard this time around.
By landing Aurora tight end Austin Allen, Lincoln offensive lineman Broc Bando, Bellevue running back Jaylin Bradley, and Lincoln o-lineman Chris Walker, the Huskers were able to hold onto some of the best talent the state had to offer.
"It's a sign that I think everyone should take note of that we are going to do our due diligence in our home state, as we are in the (500-mile) radius," Riley said. "We want to make sure that we do it justice… When these guys are at that level to be offered by Nebraska and they are in-state, it ends up being a tremendous bonus for our fans and all the people in the state who have watched these guys grow and play.
"To see them be able continue like so many have in the past and made such an impact, it's kind of especially exciting for all of us."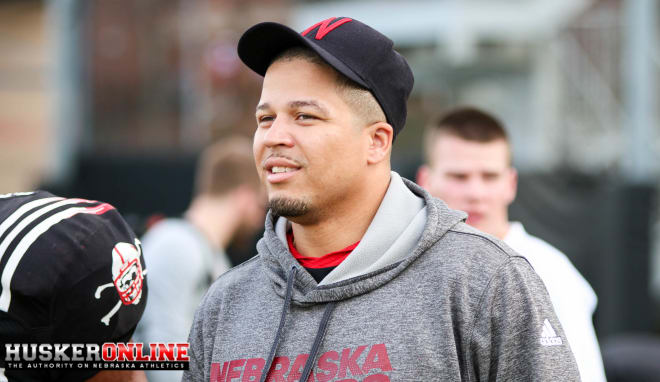 7. Donté Williams immediately shows his value
Tough he's only been on the job for a little under two months, new cornerbacks coach Donté Williams was still able to have a major impact on Nebraska's 2017 class.
Williams was only responsible for one signee, but it was a big one in Blades, the only defensive back among the group. Riley said he expects to see Williams' influence continue to pay off for the Huskers on the recruiting front going forward.
"Donté is one of those guys who builds relationships and trust with guys that travels, obviously," Riley said. "It's hard for a guy to change jobs and then just pull guys with him, because it creates some doubt in there.
"But there were a number of these guys who were very loyal to him and appreciated that relationship. He stayed with it. He's a connector, there's no doubt about it. Elijah Blades is not here without Donté Williams."
8. Miles sets bar high with character, ability
For every wild recruiting ride like Nebraska had with Calvin, there are also players on the complete opposite end of the spectrum such as Ben Miles.
The three-star fullback from Baton Rouge, La., announced his commitment to NU back in July, and he never once wavered in his decision.
In fact, Riley said one of the first things he did once they received Miles' Letter of Intent on Wednesday was call him up and thank him for his firm and consistent commitment throughout the process.
Not only that, Riley thinks NU got a talented and versatile player as well, saying Miles could do everything Nebraska asks from both the fullback and H-back positions.
"This guy's a really good football player, and he's versatile," Riley said.
9. Future of quarterback position still being shaped
Nebraska added another key piece to its quarterback room with the signing of four-star Calabasas (Calif.) standout Tristan Gebbia.
While Gebbia and fellow NU signal callers Tanner Lee and Patrick O'Brien primarily fit more of the mold of a traditional pocket passer, Riley said all were athletic enough to do more than just throw the ball.
In fact, Riley said that while they won't have a quarterback who would be the type of runner that Tommy Armstrong was, Nebraska will continue to incorporate elements of the QB run game the Huskers developed for Armstrong in their offense.
"We want a passer," Riley said. "We want a guy that can pass the ball. If that guy can run, too, that is really good. We're not going to turn down one of those dual-threat guys at all. As a matter of fact, guys on high on our list for next year are that kind of guy.
"What we know now is we can blend what we've done in the past with what we have learned to do in the last couple years, and I like that a lot. There are some elements that we've put in over the past couple years because of the skill set of Tommy that are going to be good for us in the future. I'm excited about that."
10. Nebraska gets national branding in Signing Day coverage
Not only did Nebraska land an impressive 20-man class on Wednesday, it also got some nice national exposure courtesy of some fairly famous future Huskers' fathers.
Former USC and NFL star Keyshawn Johnson Sr. has long been a vocal supporter of Nebraska since his son committed, and he made sure to wear a red Nebraska sweater during all of his television appearances on the ESPN networks.
On top of that, former LSU head coach Les Miles, Ben's dad, was also featured on ESPN during its Signing Day coverage. When asked about Ben signing with Nebraska, Les pulled out a white Nebraska hat and sported it for the nation to see.
"That's all good stuff," Riley said. "It's a good feel. That's what we want to do. We want to create that momentum and that excitement and build it and do better."