10 things we learned from Nebraska's loss to Oregon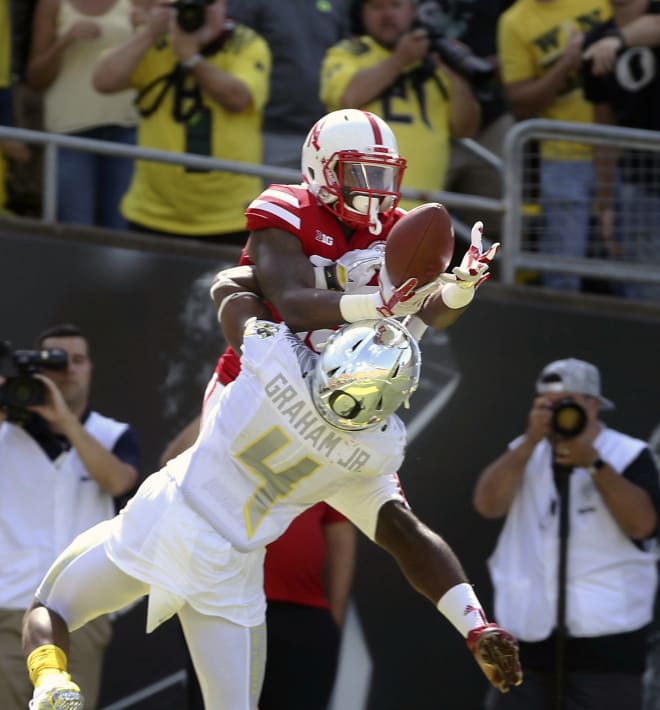 1. The defense is a major, major issue
Most everyone came into the season expecting there to be a learning process for Nebraska's defense while transitioning to new coordinator Bob Diaco's 3-4 scheme.

No one expected it to be this bad.
Following Saturday's 42-point, 566-yard effort in a loss to Oregon, the Huskers have now been gashed to the tune of a combined 78 points and 1,063 yards in their first two games of 2017.
Last week the reasoning behind giving up 36 points and 495 yards to Arkansas State was that NU wasn't concerned about giving up stats other than just having more points on the scoreboard at the end of the game.
But when you find yourself in a 42-14 hole at halftime, there is no possible way to paint the situation as a positive picture.
Yes, the defense did a great job of adjusting at halftime and holding Oregon scoreless for the final two quarters. And yes, there's still plenty of time for the Huskers to turn things around this season.
But after two weeks, it's clear this defense will be a far greater project than most anyone could have imagined.
2. Lee looked human
The Tanner Lee hype train had been rolling full steam ahead entering the season, but it definitely slowed down a bit after Saturday's loss.

After starting off the day with an interception on Nebraska's very first offensive play of the game, Lee went on to finish 19-of-41 passing (46.3 percent) for 252 yards, three touchdowns, and four costly interceptions.
It wasn't just the pedestrian final numbers, either. Lee flat out missed several passes early in the game, and his second and third interceptions weren't even close to his intended receivers.
Those were mistakes that we just didn't see during practice this offseason. He was so consistent each day that he almost seemed robotic as a passer.
Lee definitely showed he was far from infallible against Oregon.
3. "As bad as it was, we had a shot"
The headline above was head coach Mike Riley's overall assessment of one of the most dramatic swings of events Nebraska's had in some time.

Talking with every coach and player after the game, that seemed to be the consensus feeling among the Huskers.
They were all well aware that what happened in the first 30 minutes was completely unacceptable, but how the team responded in the second half while facing a 28-point deficit was a big reason for encouragement.
There was a point during halftime where reporters were looking up the all-time opponent records page in the NU media guide, as it looked like the game was well on its way to becoming a defeat of epic proportions.
It obviously didn't change anything in the win-loss column, but there is certainly something to be said for the way the Huskers kept fighting and nearly pulled off a record comeback after seemingly being buried two quarters into the game.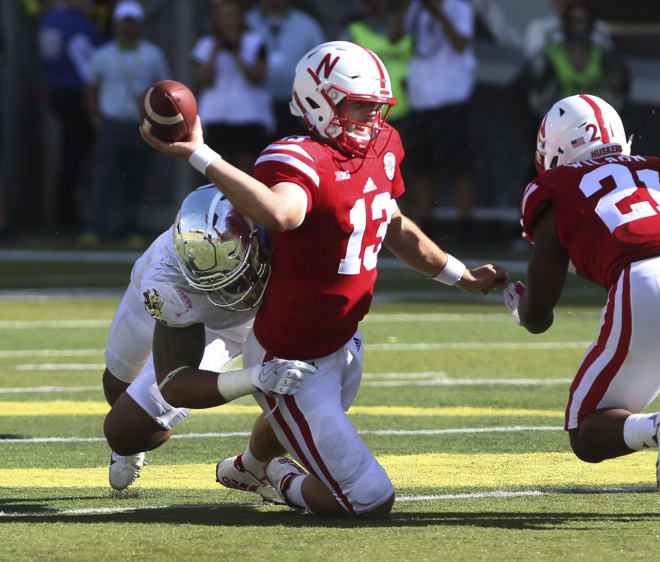 4. Bryant's status will be critical 
One of the biggest bright spots for Nebraska over the first two weeks has been the emergence of Tre Bryant as the team's feature workhorse running back.

After racking up 192 yards in the opener vs. Arkansas State, the sophomore broke the century mark again with 20 carries for 107 yards and a touchdown on Saturday.
However, Bryant went down with a right knee injury early in the fourth quarter and did not return to the game. Riley said it was still too early to tell the extent of Bryant's injury, but given his previous knee issues and the fact that he couldn't go back in, the prognosis doesn't look great.
Bryant became the first Husker to rush for back-to-back 100 games to open a season since Ameer Abdullah in 2013, so there's no sugar coating what his potential absence could mean for Nebraska's offense going forward.
His ability to keep drives on schedule has been almost as valuable as anything, as he racked up 81 of his 107 yards on 13 first-down carries.
5. Farniok answers the call
All signs pointed to senior David Knevel missing Saturday's game with an ankle injury he suffered last week against Arkansas State, and that became reality when starting right tackle was officially ruled out prior to kickoff.

That left redshirt freshman Matt Farniok in line to make his first career start as a Husker.
Having only played three game snaps while Knevel was briefly out last Saturday, the Sioux Falls, S.D., native seemed to hold up pretty well in his starting debut.
"I don't believe the game was too big for him at all," offensive coordinator Danny Langsdorf said. "I think he did a nice job."
6. Morgan continues to be go-to guy
Though he had a bit of a rough start to the game, Stanley Morgan picked up right where he left off last week by hauling in a team- and career-best seven catches for 103 yards and two touchdowns against Oregon.

Morgan's two scores were pivotal in NU's second-half comeback, and he's really developed a great rapport with Lee to the point where he's now Lee's clear go-to guy when the game is on the line.
The junior is now up to 962 career receiving yards, just 38 shy of becoming the 25th Husker to top 1,000 career yards.
With 12 catches for 205 yards and three touchdowns already on the year, Morgan is on pace to etch his name in the NU receiving record books.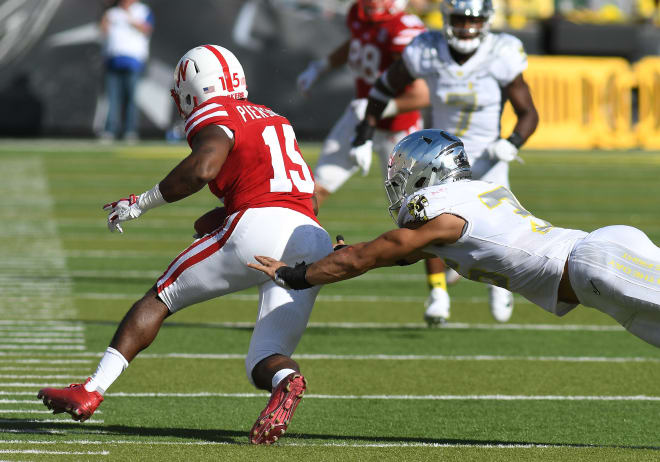 7. Pierson-El has up-and-down night
De'Mornay Pierson-El's 23-yard touchdown grab in the first quarter was a highlight-reel play that gave Nebraska some big early momentum.

But the senior wideout and return man also made his share of costly mistakes that still definitely bothered him well after the game.
The first was an illegal motion penalty that negated what would have been a fourth-down conversion sneak by Lee and forced an NU punt. Pierson-El admitted he just didn't get set in time on the play and took full blame.
The second was his decision not to return his final punt of the game in the fourth quarter when it looked like he might have had some room to make a play.
"We're not even going to talk about that right now," Pierson-El said. "That's on me… I should've returned it. If I could have that one back, I would've."
8. Turnovers finally bite Huskers again
Nebraska had been on a pretty impressive run of clean offensive football going into Saturday, as it hadn't committed a turnover in four its past five games dating back to last season.

That all changed in a major way at Oregon.
Lee was uncharacteristically inconsistent with his accuracy all game, and at times he just didn't get much luck with some tipped passes.
Given the Huskers' issues on defense right now, this is a team that simply cannot afford to make mistakes with the football. NU committed just 14 turnovers in 13 games last season and was +5 in turnover margin, marking its first positive turnover margin since 2009.
Nebraska must get back to that kind of efficiency if it's going to get things back on track.
9. Huskers can't let Oregon beat them twice
Had Nebraska been able to pull out a win over Oregon, it would have set the table for a legitimate chance at a 5-0 start heading into the meat of the conference schedule.

Now the Huskers must find a way to put this loss behind them as quickly as possible, because another slip-up would leave little room for error in the Big Ten West race.
If NU can manage to win out and be 4-1 going into its showdown with Wisconsin, it will still be in good position to make a run at a division title.
But if the team that showed up for the first half on Saturday rears its head again against the likes of Northern Illinois, Rutgers, or Illinois, it could spell doomsday for any thoughts about making it to Indianapolis.
Nebraska should be heavy favorites in its next three games, and it needs to play like it did in the second half at Oregon to make sure this season can stay on track.
10. Nebraska fans do it again
This game was built up to be the annual "migration game" for Nebraska fans, who every year invade an opposing campus and turn a road environment into a near home game.

Husker Nation definitely answered the call, as roughly 15,000 NU fans made their way to Eugene on Saturday and helped make the daunting Autzen Stadium not quite as hostile.
The support wasn't lost on Nebraska's players and coaches, either. Riley said he's not surprised anymore by those kinds of road turnouts, and that it was another great chance to showcase the passion of the fan base on a national stage.
That loyalty also played a huge role in fueling the Huskers' second half comeback. When the defense got a three-and-out stop to open the third quarter, the large section of Husker fans erupted in a standing cheer, despite their team trailing 42-14.
Having that level of fan support is what makes Nebraska football what it is, and it's something the Husker players and coaches can and won't ever take for granted.