10 things we learned from Nebraska's loss to Ohio State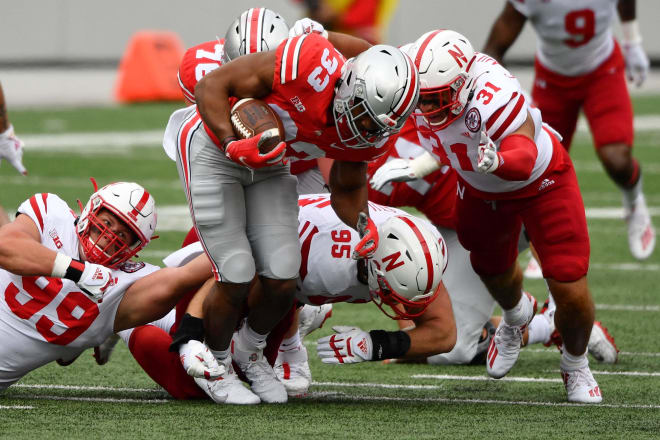 Here are 10 of our biggest takeaways from Nebraska's 52-17 loss at No. 5 Ohio State on Saturday afternoon in Columbus, Ohio.
1. Despite the final score, Nebraska competed like a different team
In the eyes of many around the country, this game was supposed to be a runaway from the opening kickoff with Ohio State making its first statement toward a national title run.
While the 52-17 final score suggests that was exactly how it played out, anyone who watched the game saw a Nebraska team that looked completely different from any other under head coach Scott Frost.
The Huskers threw punches at the vaunted Buckeyes from the jump and were well within striking distance in the final minutes of the first half. Things obviously got away from them during a 27-point explosion by OSU, but even that didn't stop Nebraska from fighting.
The numerous penalties, injuries, and bad breaks that went against it on Saturday would have crippled NU in previous years. Instead, the Huskers made Ohio State work for a full four quarters, even when the outcome had long been decided.
There are no moral victories in this sport, especially in a nine-game season. But Nebraska showed undeniable progress with the entire country watching on Saturday, and that could be the next best thing to winning for NU in the long run.
2. Late first-half collapse was too much to overcome
Nebraska knew it had to be close to perfect in all phases to pull off an upset over No. 5 Ohio State, and for the first 27 minutes on Saturday, it almost was.
Trailing just 17-14, the Huskers had the ball with just over three minutes to play in the second quarter and a chance to tie or take the lead going into halftime.
Instead, NU completely fell apart. A delay of game penalty, a negative run by Luke McCaffrey, and two straight sacks on Adrian Martinez only took 35 seconds off the clock and gave Ohio State the ball with another chance to score before halftime.
A facemask penalty during the punt return and a defensive pass interference call quickly moved the Buckeyes deep into Nebraska territory, and Master Teague finished it off with a six-yard touchdown run.
All of the momentum the Huskers had built up with such an impressive start all but vanished from then on, and the game fell further out of reach for the rest of the day. From the 3:12 mark of the second quarter to 3:56 left in the third, the Buckeyes reeled off 27 unanswered points.
Nebraska was penalized eight times for 90 in the loss, while Ohio State was only flagged three times for 14 yards.
3. Quarterback craziness continues
Less than a week after Nebraska finally announced that Martinez would be the starting quarterback to open the season at Ohio State, the position somehow only got wilder on Saturday.
While Martinez started and was the primary man under center, McCaffrey was as involved as anyone could have predicted.
On just NU's third offensive snap of the day, the heralded redshirt freshman backup QB shifted into the backfield as a running back and took a counter run 47 yards down the left sideline. That set up a 10-yard touchdown run by Martinez to give Nebraska a 7-0 lead.
But when Martinez had to temporarily leave the game on the Huskers' third series due to an equipment issue, the offense sputtered with McCaffrey at the helm for an ugly three-and-out.
McCaffrey took over for good midway through the fourth quarter with the game well in-hand, and his first full drive was going much better until he coughed up a fumble at midfield to give OSU the ball.
Martinez ended the day 12-of-15 passing for 105 yards and ran 12 times for 77 yards with a touchdown, while McCaffrey went 4-of-5 for 55 yards and led all rushers with 87 yards on nine carries. Both players lost fumbles and were sacked a combined six times.
After the game, Martinez said he expected he and McCaffrey to continue to rotate going forward, so expect that competition to play out next week and beyond.
4. Targeting disqualifications put secondary in a difficult spot
Of Nebraska's eight penalties on the day, none were more costly than a pair of targeting calls against defensive backs Cam Taylor-Britt and Deontai Williams.
Not only did the flags cost first downs and yardage, but both players were also disqualified from the game and will miss the first half of next week's contest vs. Wisconsin per NCAA rules.
There's a chance that Nebraska could ask the Big Ten to review the penalties and potentially change the discipline based on a lack of intent.
"Hopefully we can have some discussion about that," Frost said. "We'll see how it goes."
In the meantime, the Huskers will operate under the assumption that they will be without a starting cornerback and starting safety for a half against the Badgers.
Redshirt freshman Quinton Newsome took over for Taylor-Britt at cornerback, and redshirt freshman Myles Farmer also saw action after Williams' ejection.
5. Creativity shined in Matt Lubick's debut
Matt Lubick's impact as Nebraska's new offensive coordinator was evident from the game's opening drive, as the offense was full of creatively and versatility early on.
Along with running a two-quarterback system, Lubick found multiple ways to get the ball in McCaffrey's hands as QB, a running back, and even a wide receiver.
The Huskers ran the option, gave the ball to senior running back Dedrick Mills as a fullback, and got players from every skill position involved.
After the game, the big regret from Frost and Martinez was that the offense didn't force the issue more with a downfield passing attack, which was why NU's 16 completions on 20 attempts (80 percent) only went for a total of 160 yards and no touchdowns.
But Nebraska had to like a lot of what it saw from Lubick's influence, especially on the road against one of the best defenses it will face all season.
6. Offensive line showed multiple looks 
The overall depth of Nebraska's offensive line this season has been said to be as good as it's been in years, and that got put on display right away in Week 1.
The most notable wrinkle was redshirt freshman Ethan Piper rotating early and often at left guard with senior Boe Wilson. Piper first checked into the game in the second quarter.
Sophomore center Will Farniok also got on the field late in the second quarter after starter Cam Jurgens left the game with a minor injury.
As the score got more lopsided, the Huskers decided to clear the bench with a group consisting of true freshman Turner Corcoran at left tackle, Piper at left guard, junior Trent Hixson at center, senior Matt Farniok at right guard, and redshirt freshman Bryce Benhart at right tackle.
7. Tight ends made their mark, but Stoll's injury remains a concern
Nebraska has been trying to get the tight end position more involved in its passing game for seemingly nearly a decade now. Saturday at least looked like a good start in that regard.
Led by two catches each by senior Jack Stoll and junior Austin Allen, the tight ends accounted for five receptions for 55 yards on seven total targets.
However, the increased role potentially came at a cost, as Stoll appeared to suffer a left leg injury after making a catch in the second quarter. Stoll did not return the rest of the day, and Frost still had no update on Stoll's status after the game.
Stoll caught both of his targets for 24 yards before the injury. Should he miss any time next week vs. Wisconsin, Allen – who also nabbed both of his targets for 30 yards – would likely get the start.
Junior Travis Vokolek was also targeted twice but did not have a catch, though he did break up a potential interception on an underthrown pass in the first quarter.
Nebraska also had a package with all three tight ends on the field at once before Stoll's injury.
8. Special teams held their own
Nebraska's special teams units were a total disaster in all phases last season, but Saturday seemed to mark improvements across the board.
LSU graduate transfer kicker Connor Culp made both of his extra points and connected on a 22-yard field goal in the third quarter. Sophomore punter William Przystup averaged 44.6 yards on five punts, including two of 50-plus yards and one pinned inside the OSU 10.
The Huskers didn't return a punt in the game, and they fair caught the majority of their kickoff returns to spot the ball at their 25-yard line. Rahmir Johnson was the top kick returner on the day with three runbacks for 54 total yards.
The coverage units were also solid, allowing just 14 kick return yards on two attempts. They did give up a 22-yard punt return by Garrett Wilson, but NU stuffed Wilson's only other attempt for just one yard.
It wasn't anything spectacular, but it was still pleasant progress for NU in the third element.
9. Welcome back, Ronald Thompkins
Ronald Thompkins finished with four rushes for 22 yards and one catch for 10 yards, but the redshirt freshman running back was still one of the best stories of Saturday's loss.
After enduring two major knee injuries and three surgeries over the past three years, Thompkins' hard work and persistence were finally rewarded with his first game action as a Husker.
The former four-star recruit out of Loganville, Ga., showed why he was able to lock up the No. 2 running back job behind Dedrick Mills this offseason.
Thompkins, who running backs coach Ryan Held called a "five-tool" player, looked to have precisely the skillset Frost and Co. want at the position. His first college carry came with 7:56 left in the third quarter, and he took it for a nine-yard gain around the left end.
With a full game now under his belt, Thompkins should continue to see an increased role in the offense going forward.
10. Nebraska got what it wanted
No, we're not talking about a lopsided 35-point defeat against one of the best teams in college football as "punishment" for simply wanting to play football this fall.
Nebraska got what it wanted in that finally, after arguably the longest and most emotionally draining offseason ever, it was on the field playing a Big Ten game in 2020.
Few programs were as vocal as Nebraska about bringing back fall football after the conference temporarily postponed the season until the spring of 2021. And none were as publicly criticized for not "knowing their place" than the Huskers.
In the end, though, NU got what it wanted all along – the chance to play. That in itself was as big of a victory of all.