10 things we learned from Nebraska's loss to Ohio State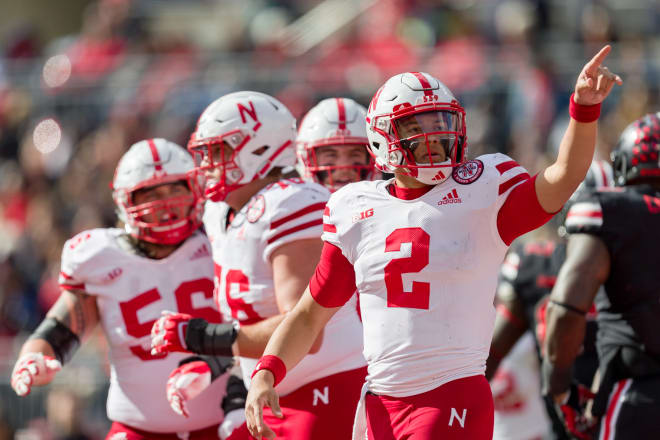 1. Nebraska truly believed it could win
Head coach Scott Frost said on Thursday that he felt his team truly believed it could compete with an Ohio State team it had lost to by a combined score of 115-17 the past two seasons.

The effort, determination, and confidence Nebraska showed in its 36-31 loss to the 10th-ranked Buckeyes on Saturday backed that feeling up completely.
"The great thing coming out of our locker room, our guys are upset," Frost said. "Our guys are mad that they didn't win the football game. Coaches are mad that we didn't win the football game because they came here expecting to win. That is a big step forward."
From the opening snap, the Huskers went blow-for-blow with an OSU squad that was looking to make a College Football Playoff statement following its loss at Purdue two weeks earlier.
Listening to the players' express their frustration over falling just short of a stunning upset, it was clear that they saw themselves - even as a two-win team - as just as good as the Buckeyes.
"This team has really just started to believe in what the coaches are telling them and our own abilities," quarterback Adrian Martinez said. "We know we can compete with any team in the country, and that includes Ohio State."
2. This was a completely different team 
Compare the team we saw on Saturday to the one that got punched in the teeth for four quarters six weeks early at Michigan.

The Nebraska that pushed Ohio State until the final seconds looked nothing like the one that seemed like it had already resigned to losing even before kicking off against the Wolverines.
The final results of those two games were the same, but the Huskers played with a fire and swagger against the Buckeyes that weren't remotely present in Ann Arbor. Their 2-7 record is what it is, but the growth made over the course of the season is the biggest reason for optimism for the future.
"What pleases me is the heart of this team," Frost said. "This was a long time coming, and a lot of things had to happen to get a team that's going to go fight a top-10 team like that. Six weeks ago, we went to Ann Arbor and played a team like that, and we had no chance. We walked out of there with our tail between our legs.
"Now, seeing how the guys are banding together and fighting and going blow for blow with a team like that. I'm excited at the same time that I'm really upset and disappointed we didn't find a way."
3. Martinez takes another step forward on biggest stage yet
Frost said it all when asked yet another question about Martinez's continued upward progression this season.

"I'm going to get tired of talking superlatives about Adrian and complimenting him," Frost said. "You guys see what he is. There's been some freshman mistakes, but not very many for a freshman."
It's true: there isn't much more that can be said about a player who is emerging as one of the most exciting true freshman signal callers in the country with every impressive showing.
Martinez was as good as ever against a loaded Ohio State defense, completing 22-of-33 passes for 266 yards and a touchdown while rushing a career-high 20 times for 72 yards (107 before lost yardage) and two more scores.
He did have one bad mistake (a backward pass to J.D. Spielman that resulted in a lost fumble), but overall he was one of the main reasons Nebraska had a chance to win. The fact that he was so upset that he couldn't lead his team to victory served as further evidence as to how special he could be in time.
"We came into this game expecting to win it, and we didn't," Martinez said. "At no point is losing acceptable."
4. The defense is starting to look like it should
Nebraska's defense eventually wore down a bit, especially in stopping Ohio State's running game in the second half.

But the Blackshirts were able to help keep things within reach with one of their most aggressive efforts of the season in terms of creating game-changing turnovers.
The Huskers ended up forcing three turnovers (two fumble recoveries and an interception) for the second time in as many weeks, marking their first back-to-back three-turnover game since 2014.
The defense had a chance to add a few more, too, had it been able to jump on the four other OSU fumbles the Buckeyes recovered, or hauled in any of the tipped passes that floated to the turf.
The hallmark of coordinator Erik Chinander's defense is shifting the momentum of games with sacks, tackles for loss, and turnovers. Nebraska's pass rush (one sack on 32 Ohio State passes) still needs a lot of work, but the progress made in creating turnovers has been a major step towards becoming the type of opportunistic unit it wants to be.
"That stuff didn't exist early in the year," Frost said. "You've got to have those things to win, and we're starting to get them."
5. NU won the penalty battle, but was still burned by costly flags
After being on the wrong end of lopsided penalty discrepancies the first six games, Nebraska was flagged less than its opponent for the third week in a row on Saturday.

Ohio State was penalized six times for 46 yards while the Huskers were flagged five times for 44 yards. The problem, however, was that most of those five penalties proved to be very costly.
There was a pass interference call on cornerback Dicaprio Bootle on an incomplete pass in the first quarter, where it turned what would have been a third-and-19 situation into an eventual OSU touchdown.
Then there was a false start by tight end Jack Stoll on first-and-goal from the Buckeye 5-yard line, which led to Martinez's backward pass fumble on the very next play.
A personal foul on nose guard Carlos Davis could have negated a fumble recovery in the third quarter had NU fallen on the ball, but it still gave OSU a first down at the Husker 14 and resulted in the Buckeyes' go-ahead touchdown three plays later.
6. Special teams killed Nebraska once again
It's been a reoccurring theme that has plague Nebraska all season, as Saturday's laundry list of special teams miscues was no different.

The problems started right away when Caleb Lightbourn botched an onside kick attempt following the Huskers' first touchdown, giving Ohio State the ball at the NU 31. Frost said it was a designed onside attempt and that Lightbourn just missed the ball.
On Nebraska's ensuing possession, the Buckeyes' blocked Isaac Armstrong's punt out of the end zone for a safety. Frost said that was a result of one player missing a block and allowing his man to run free to the punter.
There were several other less-obvious mistakes, too. Stuff like kickoff returner Maurice Washington taking the bait on Ohio State's high and short kicks and getting stopped well short of the 25-yard line rather than just call for a fair catch.
Or Spielman losing punts in the sun and letting them bounce deep into NU territory to pin the offense back against its own end zone. Or Lightbourn shanking a kickoff out of bounds to give OSU a chance to score just before halftime.
"Special teams have been a battle all year," Frost said. "We're getting better with it, but it certainly didn't go in our favor today."
7. Huskers were hurt by some gambles they did, didn't take
It's easy to look back in hindsight and second-guess some coaching decisions, but it was still interesting to see the times Frost was willing to roll the dice and others when he opted to take the conservative route.

Frost's first gamble paid off on NU's opening touchdown drive, as he decided to go for it on a fourth-and-2 from the Ohio State 45 and picked up the first down on a seven-yard pass. But it backfired when he dialed it up again with Lightbourn's missed onside kick.
With 3:04 left in the third quarter, Frost nearly took his biggest risk of all when he briefly considered going for a fourth-and-2 at Nebraska's own 13. He quickly thought better of it and just tried to draw OSU offsides with a hard count, but it still cost the Huskers a valuable timeout in the process.
Finally, Frost had the opportunity to call another onside attempt after the Huskers scored to cut it five with 2:57 left in the game. Instead, he chose to kick it deep and hope his defense could get a three-and-out, but instead the Buckeyes were able to run out the rest of the clock.
"You always question yourself when it doesn't go the way you want it," Frost said. "So if I could do it over again, I'd try it because I see the result of this. But at the time we thought it was the best decision."
8. All Domann does is make plays
After having his career sidetracked by one injury after another, JoJo Domann has finally stayed healthy enough to become a fixture in Nebraska's secondary.

Based on his production and big-play ability over the last few weeks, the sophomore is well on his way to being a permanent piece on the starting defense for years to come.
Domann changed the course of the game with his sack and forced fumble on Ohio State quarterback Dwayne Haskins in the second quarter, marking the second game in a row he's knocked the ball loose for a turnover. He also finished the day with a career-high seven tackles.
Including the 2016 Music City Bowl, Domann has now forced a fumble in each of the last three games in which he's played.
Finally healthy again, Domann's versatility has shined the past two games since taking on a hybrid outside linebacker/nickel back position. By being able to play the run just as well as he can drop back into coverage, Domann has allowed NU to go back and forth between its base 3-4 look and nickel package without having to substitute.
"JoJo Domann has given us a real spark, going out there and making plays for us," Frost said.
9. Ohio State finally had to use its punter
Six years, two full games, and 196 plays.

That's how long it had been since the last time Ohio State had to punt the football against Nebraska, dating all the way back to the fourth quarter of its win over the Huskers in 2012.
Buckeye punter Drue Chrisman ended that streak with just under 13 minutes left in the second quarter, and he was even forced to punt it two more times after that.
In its 26 total drives between its last punt in 2012 and Saturday, OSU had 19 touchdowns, two field goals, lost a fumble, two turnovers on downs, and two possessions to end a half.
10. From here, it's all about sending the seniors out on a high note
Despite its record, Nebraska might be more encouraged about the future now than it's been in months. The bad news is that the senior class that has helped establish this new culture won't be around to reap the rewards once things get rolling.

Saturday's loss all but ended any hopes the Huskers may have had of still going to a bowl game, as even if they finish the year at 5-7, their APR likely won't be high enough to claim one of the final remaining bowl bids.
That means that NU's seniors have three more games remaining in the college careers, including the next two at Memorial Stadium.
It's a group that has been part of some of the worst times in program history, but Frost and the rest of Nebraska's underclassmen are determined to make sure the seniors go out with a bang.
"The one thing I feel bad about is this thing keeps getting better and it's going to keep getting better … and some of the guys that are helping us build it, the (Luke) Giffords and the (Mick) Stoltenbergs and Stanley (Morgan) and Tanner (Farmer) and Jerald (Foster); a bunch of these guys that are helping us get everything right aren't going to get to see where it goes because it's their last year," Frost said.
"So I told the guys we've got to send them out the right way. I think the guys have the mindset that they're going to go back to work and try to win the next game and the next game and the next game. It's building, and I would love to see those guys have some success on the way out."