10 things we learned from Nebraska's loss to Ohio State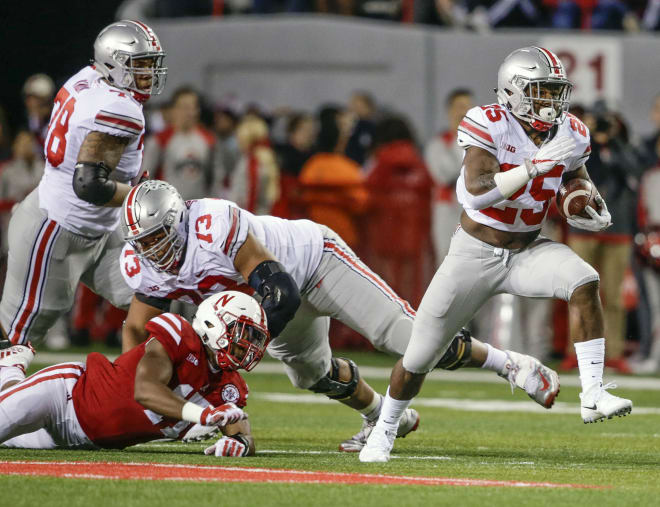 1. This was as bad as it's ever been
Few people, if anyone, expected Nebraska to win this game.
The Huskers were 24.5-point underdogs against a potential College Football Playoff team in No. 9 Ohio State, and the matchup on paper was the most unbalanced yet this season.

Yet few people, if anyone, thought things would get as bad as they did on Saturday night.
Nebraska never stood a chance against the Buckeyes, and the record-setting numbers OSU put up served as alarming exclamation points on a total gut-punch defeat.
It's hard to rank where this loss sits among the worst in program history, especially given how many have come in such a recent span.
But the fact that this one came at home and happened in a manner where the Huskers were completely helpless against their opponent, it has to be right up there near the top.
2. Blackshirts were anything but
The most frustrating aspect of Saturday night's loss was the complete ineptitude of Nebraska's defense, which literally could not stop Ohio State's offense and served merely as a minor speed bump in the Buckeyes' path to the end zone.

There were eight straight Buckeye touchdowns to start the game, with the first defensive stop not coming until there was only 4:07 left in the fourth quarter against OSU's third-string quarterback.
The 633 yards of total offense Ohio State racked up were the fourth-most ever by an NU opponent and the most ever allowed at Memorial Stadium.
The 41 first downs in the game by OSU smashed the previous single-game opponent record of 34, set by Wyoming in 2013 and Kansas in 2007.
There were literally no positives to take away from the game for defensive coordinator Bob Diaco, his staff, and his players.
"It was all disappointing," Diaco said. "Nothing that wasn't disappointing about tonight's performance. I'm going to be level."
3. Offensive gameplan fell apart from the start
Earlier in the week offensive coordinator Danny Langsdorf said a major key for Nebraska to move the ball against Ohio State would be to get consistent rushing yardage on early downs to keep drives on schedule and limit OSU's pass rush.

After managing 44 yards on 16 carries in the loss, it's clear the Huskers didn't get anywhere close to accomplishing that goal.
Yes, the way the Buckeyes racked up points right off the bat played a big role in NU's shift in play calling, but that didn't impact Nebraska starting a running back who was coming off an ankle injury (Mikale Wilbon) and not playing a back who had recorded three-start 100-yard rushing games (Devine Ozigbo) until the third drive.
There were only 12 running back carries total on the night, with Ozigbo taking nine of those for 24 yards. The longest rush of the game was a mere 11 yards by backup quarterback Patrick O'Brien, and the longest running back carry was five yards by Ozigbo.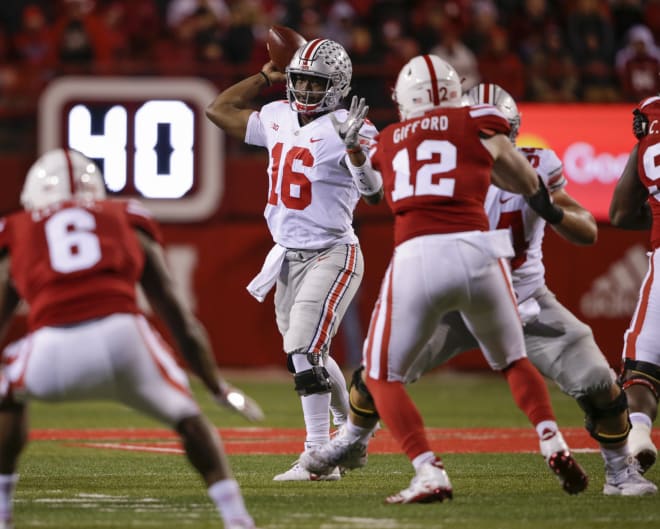 4. At least NU will never have to face Barrett again
If there was one positive for Nebraska's defense coming out of that loss, it's that it will never have to try and stop Ohio State quarterback J.T. Barrett again.

The senior was as good as he's ever been on Saturday night, completing 27-of-33 passes for 325 yards and five touchdowns while adding 10 carries for 55 yards and two more touchdowns on the ground.
His completion percentage of 81.8 was the second-highest mark ever by an opposing QB against Nebraska behind only Oklahoma's Jason White (82.9) in 2004, and his five touchdown passes tied for the second-most ever by an opposing passer.
In his two games vs. the Huskers the past two seasons, Barrett has combined for a stunning 53-of-71 passing for 615 yards and 11 total touchdowns.
5. Spielman the lone bright spot on dark night
There wasn't anything for Nebraska to feel good about after that loss aside from the play of J.D. Spielman, who put on a record-breaking performance of his own that got overshadowed by the disaster around him.

With 11 receptions for 200 yards, the redshirt freshman wide receiver broke the Huskers' single-game yardage record of 167 set by Matt Davison back in 1998.
Spielman was targeted by quarterback Tanner Lee 15 times on the night, becoming the third NU receiver to top 100 yards in a game this season along with Stanley Morgan (3) and De'Mornay Pierson-El.
Coming into the game there had only been nine FBS players to catch for 200 or more yards this season, none of which were freshmen.
"That doesn't surprise me," Lee said of Spielman's final numbers. "He's a hard-working guy. We see it week in and week out, how valuable he is to us in this offense, and he continues to show up on big downs, and he continues to make big plays and make guys miss and score. We're really glad we have him out there."
6. Injuries take toll on NU secondary
When Aaron Williams was ruled out with a neck injury that had kept him sidelined all week, Nebraska ended up going into the Ohio State game without two of its top three safeties.

Antonio Reed had already been scratched from the lineup with a knee injury he suffered last week vs. Wisconsin, and then things got even worse during the game when Joshua Kalu re-injured his hamstring and did not return.
All of those injuries forced the Huskers to get creative with their secondary, as they opted to start redshirt freshman Dicaprio Bootle, who had only played cornerback the first six games, at safety alongside Kalu.
When Kalu went down, NU turned to Kieron Williams and Marquel Dismuke to play significant snaps in the second half. The lack of depth showed time and again as Barrett threw at will all night.
The good news is those injured players have two weeks to heal up and get back to work, but that doesn't change how the Huskers had to face the best offense they'd seen all season while short-handed.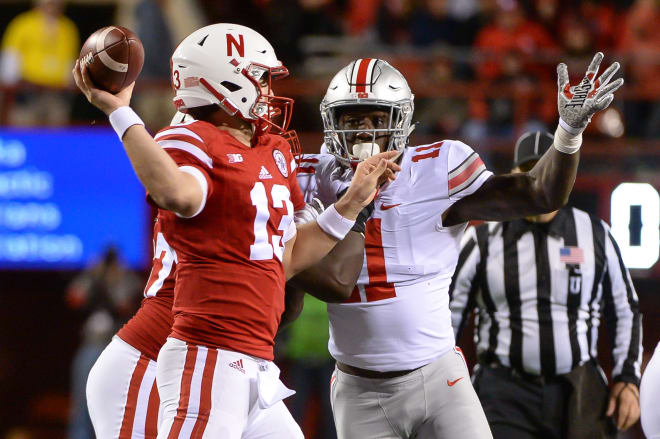 7. Lee not perfect, but does his job again
The final score certainly doesn't indicate it, but Lee's final stat line shows he once again put on a strong individual performance in his biggest test to date as a Husker.

The junior quarterback completed 23-of-38 passes for 303 yards and two touchdowns, marking his first 300-yard game at Nebraska and the sixth time in seven games he's thrown for at least 200 yards.
Most importantly, Lee - who still leads all of FBS with 10 interceptions - did not turn the ball over once against a very opportunistic Ohio State defense.
8. Huskers understand fan frustration
As the stands steadily cleared out as the blowout loss continued to get worse, Nebraska's players couldn't help but take notice.
After the game, several Huskers were asked about the vast amount of empty seats inside Memorial Stadium as the game wore on, and all said they only had themselves to blame.
"Not a great feeling, but can't blame them," linebacker Chris Weber said. "We were at a point where we were down. That's on us."
Even as ugly as things got toward the end, there were still a number of fans who stuck it out in the cold, dreary night until the final whistle. That too did not go unnoticed.
"I do appreciate the fans that stayed, and I love playing in front of those people," Lee said. "It was still loud. I'm still amazed by our fans, especially today. They are a big reason we work hard. We want to play well for them. We didn't do it today, so that's tough and that hurts us, but it'll give us motivation for this next week and the week after."
9. Bye week comes at perfect time
Nebraska clearly needs a week off more than ever to recover from the physical toll of seven regular-season contests. But the time off might be just as valuable for the Huskers' mental psyche.

Head coach Mike Riley said NU would practice on Tuesday, Wednesday and Thursday, hold five days of meetings, along with a couple days of lifting during the bye.
But allowing his players a chance to step away and regroup for a bit would also be a big priority.
"[I think it will be good] for us to get healthy, to not only get healthy physically but mentally," Weber said. "To kind of get rejuvenated for the second half of the season, to finish strong, because I feel like that's something we can do."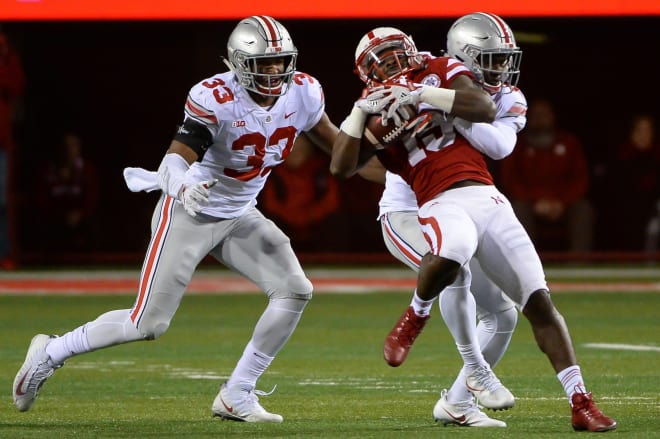 10. Harsh reality exposed in 'measuring stick' game
Going back to when he was first hired at Nebraska, Riley has said multiple times that he views Ohio State as "the standard" of what it is to be the best in the Big Ten.

In fact, after Saturday night's loss, Riley said the Buckeyes were "a measuring stick" of how far the Huskers had to go to compete with the conference's elite programs.
Needless to say, the 42-point blowout showed NU was further behind that status than most anyone could have thought.
"It certainly does paint a picture of where you have to go if you really want to do what everybody wants to do here," Riley said. "That's what's going to have to happen, the competition with that team, those players, that talent. That's what so - and that's all OK, but that's the realism of it. So it's a measuring stick."