10 things we learned from Nebraska's loss to Northwestern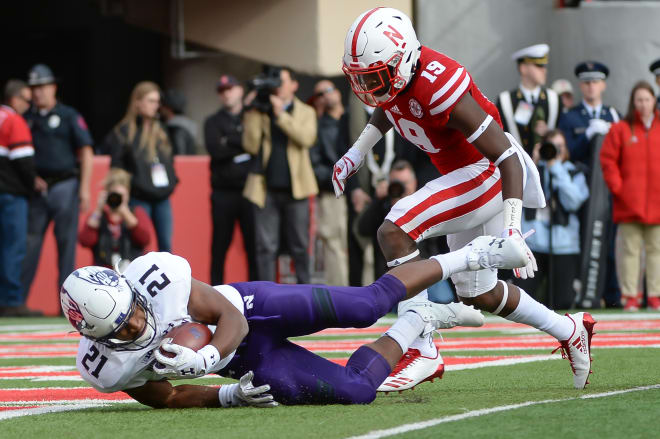 1. This may have been the tipping point
The expression on Mike Riley's face as he took the post-game press conference podium said it all.

Normally a coach who could always manage to find a silver lining to any circumstance, Riley seemed as down and defeated as he'd ever been now nearly three seasons into his time at Nebraska.
He had little positive spin for how the Huskers let an important home victory slip through their fingers in a crushing overtime loss to Northwestern, which dropped their overall record to 4-5 and 3-3 in Big Ten play.
One of the hallmarks of Riley and his staff has been their ability to keep the mindset of their team fairly even-keel no matter if it was following a big win or a disappointing defeat.
But that resilience doesn't seem anywhere near a certainty at this point, as the outside noise and fan frustration will only continue to boil over this week heading into a stretch of two straight road games at Minnesota and Penn State.
You only read into the fact that only one player - quarterback Tanner Lee - spoke at the podium after the game, but clearly the weight of this forgettable season is starting to take its toll on the Huskers.
Do they have enough resolve left to make the most of the final three games?
2. Nebraska's homefield advantage is gone
It wasn't too long ago when winning a game at Memorial Stadium was one of the most daunting tasks a visiting opponent could face in a season.

Well, not anymore.
Nebraska is now 2-4 at home this season and mere 11-8 since Riley took over in 2015. Saturday's loss guaranteed the Huskers will be sub-.500 at Memorial Stadium for the second time in the past three seasons.
It's not even the fact that NU is struggling at a home venue where it had won six or more games in 23 of the previous 27 seasons prior to the Riley era.
It's that there is now zero intimidation factor for teams coming into The Old Gray Lady. For a program that needs all of the help it can get, not having any sort of a home field edge is significant.
3. Huskers were their own worst enemies
Northwestern undoubtedly made its share of big plays in the game, and its vast overtime experience was clearly evident in how it closed out the win.

But one could make a very strong argument that the game should have never even gotten close to overtime had Nebraska been able to make the game-winning plays when it had the chance.
It started with settling for a field goal when the Huskers had the ball at the Wildcat 6-yard line late in the third quarter. NU then squandered a potential game-clinching drive when Lee threw his third interception of the day at the Northwestern 16.
Instead of going up by 10 or 14 points with a score, Nebraska handed the Wildcats the ball for the eventual game-tying touchdown drive.
The Huskers had another opportunity to win it when they drove down to the NW 45 and had a first-and-10 with just over a minute left in regulation and all three timeouts.
Instead, NU heaved a deep pass to Stanley Morgan for an incompletion on first down and gained five yards on a short pass to Jack Stoll on second down. Then, coming out of a timeout, Lee missed on a pass to J.D. Spielman on third down to force a punt from the Wildcat 40.
Had Nebraska been able to capitalize on any of those opportunities, the outcome could have been much different.
4. Overtime screen pass was a costly mistake
There was a long list of second-guesses for Nebraska's coaching staff after the game, but one decision that was near the top of the list was the call for a screen pass during the pivotal overtime possession.

Facing a second-and-10 from the Wildcat 25, the Huskers decided to go with a designed running back screen to Devine Ozigbo over the middle. The play never even got started due to heavy Northwestern pressure, and Lee was dropped for a 10-yard sack that essentially killed the drive and lost the game.
The biggest issue many fans had with the call was that Nebraska had struggled to successfully run a screen pass for essentially the past three seasons, and yet that was the call with the game on the line in overtime.
"The biggest play in that was the sack-screen pass that we tried to throw," Riley said. "When you get that far behind in an overtime deal, that's not fun and that's what caused the collapse of that drive…
"That obviously was bad timing for that play."
5. Lee's interceptions changed the game
It was only a week ago where it looked like Lee had turned the corner after a disastrous start to the season and had become the elite quarterback he had been hyped up to be.

The junior was coming off his best individual performance of the season in a comeback win at Purdue. More importantly, entering his second drive vs. Northwestern, he had gone 122 straight pass attempts without an interception.
That all changed in a big way on Saturday, as Lee reverted back to the bad habits that plagued him earlier in the year and threw three costly interceptions.
Nebraska was able to overcome his first two picks by immediately intercepting one of their own and then holding the Wildcats to a missed field goal.
But the one the Huskers couldn't recover from was Lee's third and final mistake with 10:35 left to go in the game. After marching 51 yards on five plays to move all the way down to the Northwestern 19, Lee took the snap on a first-and-10 and faced a heavy Wildcat rush.
Lee got the pass off as he was hit, but the ball fell right into the arms of safety Godwin Igwebuike. Northwestern turned that into an 84-yard touchdown drive and never looked back.
"I think it is tough, you know, but that's football," Lee said. "Things like that happen and I think it is just tough and it is what it is. It just sucks that it happened right there. So, yeah it hurts, but we've got to be better, just have to be better all around."
6. Running game still has some life
Nebraska ended the day with a meager 112 rushing yards on 31 carries, but considering the circumstances, it was a much better performance than many had expected.
The Huskers' running game had been the topic of criticism all week leading up to the game, especially after managing just 40 yards on 27 attempts against a bad Purdue rush defense.
Add that to facing a Northwestern defense that came in ranked 17th nationally against the run at just 118 yards allowed per game, some were wondering if NU would have to throw the ball on every play on Saturday.
While the final stats were hardly impressive, Nebraska was still able to keep Northwestern's defense honest with the help of Ozigbo's 72 yards on 23 carries.
The Huskers' 112 rushing yards were also more than Wisconsin (37 carries for 109 yards), Penn State (38-95), Iowa (33-89), and Michigan State (31-95, 3OT) could manage vs. Northwestern.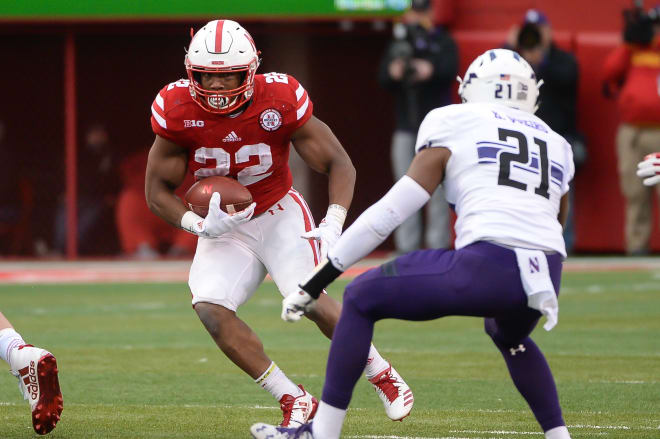 7. 'Riverboat Riley' nearly comes up big
In a game with so much on the line for Nebraska's season and Riley's future in Lincoln, it shouldn't have been much of a surprise that Riley gambled early and often on Saturday.

The Huskers ended up going for it on fourth down three times in the game, and it paid off with two conversions that led to their first touchdown of the game in the opening quarter.
The one failed attempt came on an incomplete pass on the final play of the game in the overtime.
Riley has always been known for his willingness to roll the dice on fourth down, and more often than not it's worked in Nebraska's favor. Nebraska is now 8-for-15 on fourth downs this season.
Even if some of the play-calls - a wide toss on fourth-and-one?? - were questionable at times, it was good to see Riley willing to leave it all on the field at this point.
8. Morgan continues to rise up record books
It will get lost in the disappointment of Saturday's overtime loss, but Stanley Morgan made yet another climb up the all-time Nebraska receiving charts.

With four catches for 38 yards, Morgan bumped his career reception total to 101, making him just the 10th Husker ever to crack 100 grabs.
He also increased his career yardage total to 1,447, which now rank 10th in school history after passing Maurice Purify (1,444) on the all-time list.
On top of that, the junior from New Orleans extended his streak of games with at least one catch to 23 in a row, tying for the fifth-longest stretch in program history.
9. Hello again, Bryan Reimers
One of the odder storylines this season was the disappearance of junior receiver Bryan Reimers.

Reimers played in 12 games last season, including his first career start, and finished the year with five catches for 75 yards and a touchdown, making him one of NU's most experienced returning wideouts in terms of career production.
The Lincoln native was even put on scholarship for the spring semester for his impressive contributions.
But Reimers vanished from the Huskers' passing game this season, playing in just six of the first eight games and making only one catch for three yards on the year.
That's why it was so surprising when the 6-foot-5, 210-pounder came up with NU's first big play of the day with his 22-yard touchdown grab at the end of the first quarter.
For a team that has struggled so much in the red zone, having a player of Reimers' size as a target only makes sense going forward.
10. Nebraska vs. Northwestern remains must-see TV
This will go down as a game Nebraska fans will want to forget, but from a more objective view, it was the latest highlight in what has become one of the most exciting rivalries in the Big Ten.

Even though it was only a seven-point Wildcat win in overtime, Saturday was actually the most lopsided final score between the teams in games at Memorial Stadium since the Huskers joined the Big Ten.
The previous three meetings in Lincoln had been decided by a total of eight points. In fact, only one of the seven conference games between the programs has been decided by more than nine points, with four games decided by three or fewer points.
Nebraska fans just wish they could be on the winning side of those thrilling finishes more often.