10 things we learned from Nebraska's loss to Iowa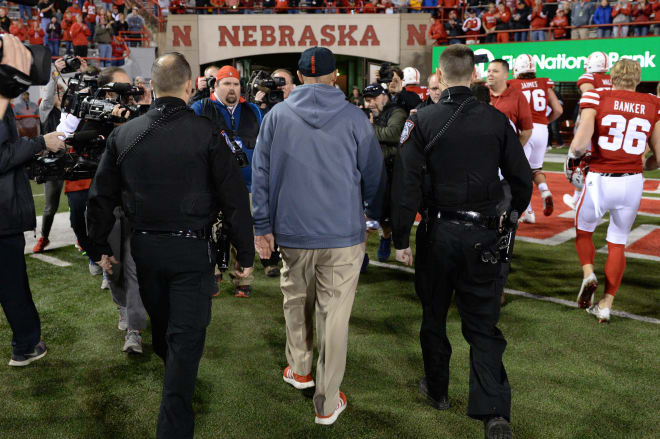 1. No decision has been made on Riley ... yet
Unlike Arkansas, which informed head coach Bret Bielema that he had been fired as he walked off the field following the Razorbacks' loss on Friday, Nebraska opted not to make any ultimate decisions regarding Mike Riley's future after the game.

That certainly doesn't mean an announcement regarding his status isn't coming in the very near future, but Riley took the post-game press conference podium as he normally would and answered questions about the game, this season, and what the future holds for the Huskers.
Most importantly, Riley said he hadn't had any further conversations with athletic director Bill Moos since early this week, which he called "a good talk."
Riley said he didn't have "any indication" about what his future holds at this point, but reiterated that he and Moos have maintained a productive dialog and that Moos has been "first-class" since he took over.
Riley was then asked if he expected to be Nebraska's head coach in 2018.
"I'm going to anticipate that, and when I go to bed tonight I'm going to hope for that because I would love to do this," Riley said. "I truly believe I'm exactly the right person to do this. The football parts, I've been doing this so long we know how to fix, and we also are doing a good job recruiting.
"Those two things are going to be the key to Nebraska getting back to where everybody wants to go. The football has to grow, and the recruiting has to continue to be high level to get really back there."
2. This was arguably the worst defense in NU history
It's no secret that Nebraska's move to a 3-4 defense under coordinator Bob Diaco has been a complete disaster this season, but it's still pretty remarkable just how bad the Blackshirts were in 2017.

Just go down the list and the ridiculous numbers opposing offenses put up this season glare off of the final stat sheet: 36.4 points allowed per game; 436.2 yards allowed per game; 6.3 yards allowed per play; a 71-percent touchdown rate in the red zone; 33 total rushing touchdowns allowed.
You could go on and on, but what stands out more than anything else was how often Nebraska's defense was completely routed in stunning blowouts.
For the first time in 128 years of NU football, the Huskers allowed opponents to score 50 or more points four times this season. They also gave up 50-plus points in their final three consecutive games, another program first.
3. Diaco fires back at criticism
With all of those numbers pointing out how bad the defense has been this season, Diaco wasn't exactly ready to fall on his sword after the loss to Iowa.

When asked if there was anything he'd do differently with the defense if he had a chance to do this year over again, Diaco decided to blame the media for twisting his words and altering his image to the fan base.
"That's one of these questions that, like, I answer and get painted in a non-sensical - actually, the image of me is a 180-degree opposite of what's real," Diaco said. "I'm not sure you guys know that. I've tried to answer these questions, and I've had my skull crushed in each time I ever do it.
"I want to be better, I want to get better, I feel bad I didn't help the players as much as I could have or did or whatever."
4. Lee will weigh his options
There had been talk since after the Penn State game that junior quarterback Tanner Lee could potentially forego his senior year at Nebraska and opt for an early jump to the NFL.

Lee downplayed the looming decision last week, but now that the season is officially in the books, the former Tulane transfer admitted he had some thinking to do about his future.
"I don't know," Lee said when asked expected to be back at Nebraska next fall. "I think so, but I've got to see what's out there, I guess. I'm really not prepared to even talk about things like that because I don't know, I've been so locked into this year. But we'll see, I guess."
5. Morgan's record lost in ugly loss
The only thing worth remembering about Friday's loss for Nebraska was Stanley Morgan etching his name at the top of the school's receiving record books.

With seven catches for 74 yards and two touchdowns, the junior wideout broke one of the longest-standing individual Husker records by moving past the great Johnny Rodgers (942 in 1972) for first place on the all-time receiving yards list with 986.
The New Orleans native also moved into fifth on Nebraska's career receiving yardage chart with 1,743, and he became just the fourth player in NU history to record 10 touchdown catches in the season.
Morgan finished the year with 61 receptions, good for fifth on the Huskers' single-season list, and his 15 career touchdown receptions are now tied for seventh on the school's career chart.
6. No explanations for second-half collapse
After going into halftime locked in a 14-14 tie, it looked as if Nebraska's defense had finally figured something out after a run of embarrassing performances.

That all changed in a hurry basically as soon as the third quarter got underway.
Iowa ended up turning the game into a laugher after halftime, outscoring the Huskers 42-0 and out-gaining them 320-94 in the second half.
"I wish I could put my finger on it," senior linebacker Chris Weber said when asked what changed from the first half to the second. "That's the frustrating part. We were locked in and had a good first half other than those two drives. They didn't do much. We just didn't make plays."
7. 'Power' clearly lacking in trenches
It was interesting that when Riley was talking about the things he and his staff needed to do to improve their team next season (assuming they're still here), he noted on a couple occasions the need for the Huskers to get stronger in the trenches.

That was painfully obvious on Friday, as Iowa pushed NU around on both sides of the ball with little to no resistance.
Regardless of who is coaching the team next season, Riley is right - Nebraska must become a tougher and more physical team on the lines if they're ever going to compete with the Iowas and Wisconsins of the Big Ten.
"They'll need more power," Riley said. "We'll need more power on both sides of the ball up front. Very, very obvious in that regard."
8. Special teams has worst day yet
All three elements of the game were to blame for Nebraska's debacle, as the special teams ended up with arguably their worst overall performance of the season against Iowa.

The Hawkeyes spotted NU in that regard right off the bat with a fumbled snap on a punt and a terrible decision on a kick return that went out of bounds at UI's own one-yard line.
But the Huskers managed to top that when all was said and done.
The worst of it was Tony Butler committing a running into the punter penalty to extended an Iowa drive that led to a touchdown that made it 14-14 going into halftime.
Then on the opening kickoff of the third quarter, the Hawkeyes ran back a 74-yard kickoff return that would have been a touchdown had it not been for a penalty. That return set up Iowa's go-ahead touchdown, and the rout was on from there.
"We had chance for a pretty decent start in this football game, and a couple of special teams plays I think were big, big factors in flipping that thing," Riley said. "It didn't have to flip like it did, but it did."
9. Huskers hope 2017 will fuel the future 
One common message from the seniors who spoke to reporters after the game was that the only thing the players coming back next season could do was use this year as motivation going into 2018.

"I feel this season was a good thing for them, especially experience-wise," senior cornerback Chris Jones said. "They'll always keep this season in their heads, so it's going to make them work harder over the summer, over the winter. I'm looking forward to what they can do next season."
Added Weber:
"For me personally, anytime you go through something difficult, you can use it to springboard into the future. You can pull from it and I hope each of those guys use the hard moments of this season, what it felt like, and kind of use they when they're training, use that when they're in practice, use it going forward."
10. As bad as this season was, the fans still showed up
One of the questions going into Friday's finale was how the fans, with their team's season essentially already over, would turn out for the game.

As if there was ever a doubt, Husker fans showed up in nearly full force.
There were a handful of noticeable patches of empty seats, especially towards the top of the student section, and there were quite a few Iowa fans mixed in throughout the stadium.
But for a four-win team that was closing out a miserable season, the listed turnout of 90,046 was as good as anyone could have expected.
"The fans here - you know I grew up here so I know what they're like - but they're incredible," Weber said. "Obviously, we had a difficult season, so for them to still show up and be loud like they were, I'll never take that for granted. We obviously have the best fans in college football for that. "