10 things we learned from Nebraska's loss at Penn State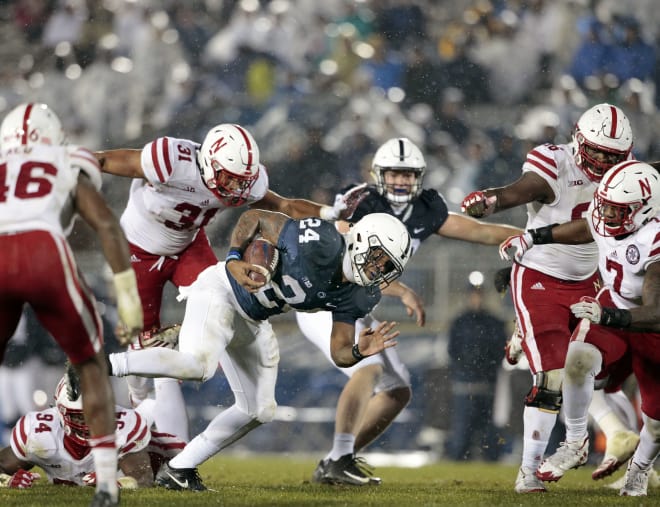 1. There's not much else to say at this point
This was a game where Nebraska came in as 28.5-point underdogs and few, if anyone, even gave the Huskers even a remote chance of winning, let alone keeping it close.

A late second-half rally made the 56-44 final score look a little less embarrassing, but it still couldn't hide how ugly things got for the Huskers on a night when they trailed by as many as 32 points and saw the Nittany Lions pull their starters for most of the fourth quarter.
Going over all of the stats and broken school records doesn't really seem all that worthwhile anymore. This is a season that essentially ended three weeks ago, and now the only thing NU has left to play for is giving its seniors one last victory in their final home game.
It was already a situation of just waiting out the last two weeks to finally put a disaster of a year to bed, and maybe the one bit of good news is that next week will be a day shorter before the season mercifully comes to a close.
2. Riley questioned about future at Nebraska
As if head coach Mike Riley didn't have enough on his mind moments after securing his second losing season in three years at Nebraska, the speculation that has run rampant about his job status came up during his post-game press conference.
Not only that, he was asked about the rumors surrounding his potential replacement - Central Florida head coach and former Husker quarterback Scott Frost.
"I don't know anything about that except, like you said, about the speculation," Riley said. "I don't need to comment on that."
Riley was then asked if he'd had any further conversations with new athletic director Bill Moos regarding his future at Nebraska after this season.
"Bill and I have talked a couple times one-on-one since he's been athletic director, and I've known Bill for a long time," Riley said. "I've appreciated those talks, and so like I've said before … we're just going to keep doing what we do and go forward.
"That part of it, that decision is going to come from somebody other than me."
3. Blackshirts never stood a chance
We all knew that Penn State's explosive offense was going to be as difficult for Nebraska to handle as any it had faced this season, and Saturday night played out about as bad as anyone could've imagined.

The Blackshirts had no answer for anything the Nittany Lions did, as they were torched to the tune of 56 points, 609 total yards, 32 first downs, 8.2 yards per play, and 7.5 yards per rush.
Even with Nebraska's late rally, the game was essentially over by halftime after NU surrendered 42 points and more than 400 yards through the first two quarters alone, marking the most yards Penn State had gained in a half since 2005.
Six different PSU players accounted for touchdowns in the game, and the 609 total yards were just 47 short of matching the all-time NU opponent record of 656 set by Oklahoma in 1956.
"We're not executing very well on defense right now, and that's obviously the understatement of the century," defensive coordinator Bob Diaco said.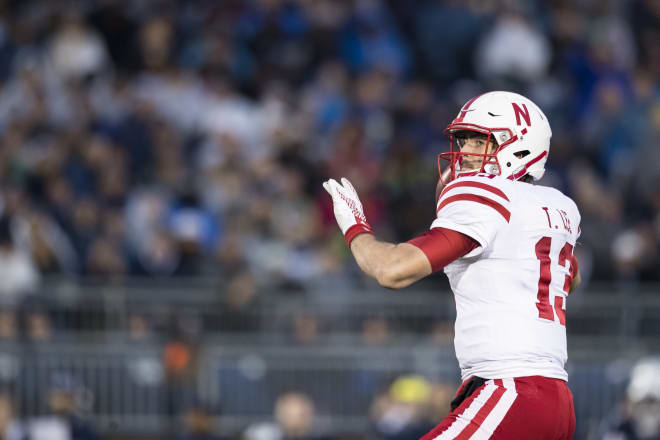 4. Lee fights way back for admirable performance
After a week of speculation of whether Tanner Lee would be able to play at Penn State after suffering a concussion the last time out vs. Minnesota, the junior quarterback was officially named the starter on Friday night.

Even though he missed essentially the entire week of practice while going through concussion protocol, Lee was able to post one of his best individual performances of the season against a good Penn State defense.
An impressive second-half rally helped make up for a frustrating first half - particularly an awful second quarter - and allowed Lee to finish 26-of-41 passing for 399 yards, three touchdowns and no interceptions.
While there had been plenty of talk of redshirt freshman Patrick O'Brien making his first career start this week if Lee were unable to play, the former Tulane transfer said there was no way he was going to miss out on an opportunity like Saturday night.
"Why not?" Lee said when asked why he wanted to play this week even after suffering a concussion his last time out. "This is a dream come true to play here. Happy Valley, 100,000 fans - it would've hurt to miss this game, it really would've."
5. Barkley bolsters Heisman resume vs. Huskers
After posting three straight games with less than 50 yards rushing, there was some talk that Penn State running back Saquon Barkley might be falling out of the Heisman Trophy conversation.

Well, the junior put himself directly back in the mix with a stellar all-around performance on Saturday night.
Starting off with a 65-yard touchdown run on just the third play of the game, Barkley ended up with 17 carries for 158 yards and three touchdowns while adding a team-high six catches for 66 yards.
Nebraska's defense knew full well the type of challenge that Barkley would present going into the game, but the reality was the Blackshirts just didn't have the level of athletes to slow down one of the most productive running backs in Penn State history.
6. Decision not to go for early fourth down haunts Riley
There are always a handful of plays that stick with a coach following a game that they wish they would have done differently.

Few plays bothered Riley more than his decision to punt on a fourth-and-one from Nebraska's own 42 at the end of the first quarter.
Lee had just connected with J.D. Spielman for a seven-yard completion on third-and-eight, and there was an extended moment of hesitation on the sideline as Riley and his staff decided what to call.
Rather than keep the offense on the field and go for the fourth-down conversion (which the Huskers have converted 13-of-25 attempts on the season), Riley opted to punt the ball away.
As it turned out, that drive started a run of six straight three-and-out possessions on through the second quarter and into the third.
"You know me, I always go for it on fourth-and-one," Riley said. "I just didn't want to give that team a short field, and I guess I had too many memories of our last fourth-and-one a week ago, probably. But yes, that was probably a big point in there."
7. Run game throws offense out of sync
Given the cold and rainy conditions and facing an aggressive Penn State defense, there was no doubt Nebraska wanted to establish the running game to keep the offense on schedule and take some of the pressure off Lee's shoulders.

That game plan quickly went out the window, though, as the Huskers ran the ball just five times for two yards in the first quarter and four times for three yards in the second quarter.
The running game mildly improved in the second half, but NU still only ended the day with 67 rushing yards on 26 attempts. That marked the fourth time this season the offense has rushed for less than 100 yards.
Offensive coordinator Danny Langsdorf was asked how much the inability to run the ball impacted the entire offensive game plan coming into the game.
"A lot," Langsdorf said. "I thought we had a pretty good start at the beginning of the game and actually hit a couple… Then we went cold for a good quarter. We couldn't protect very well, we didn't run, didn't complete any balls…
"I didn't think we could do much of anything at that time, and really the second quarter was pretty glaring."
8. Morgan one of few bright spots
One player who shined on an otherwise dark night for Nebraska was wide receiver Stanley Morgan.

The junior finished with the best game of his career, hauling in seven catches for 185 yards and a touchdown. Those 185 yards stand as the second-highest receiving total in school history, trailing only Spielman's 200 earlier this year vs. Ohio State.
Morgan also registered his fifth 100-yard receiving game of the season, the most ever by an NU wideout. He moved up to eighth on the school's season receptions chart with 54, and his 112 career catches now rank eighth on the all-time list.
Most importantly of all, the New Orleans native is now just 30 yards shy of Johnny Rodgers' single-season record of 942 yards, a record that has held for 45 years.
On top of that, if he can match his season average of 91.2 yards per game in Nebraska's final game of the year vs. Iowa next week, he would become the Huskers' first-ever 1,000-yard receiver.
"It's a proud moment," Morgan said. "It's one of those things, you take it along the way and then you look back on it, like 'yeah, I did that.''"
9. Brown climbs further up NU record books
Senior kicker Drew Brown was another of the few bright spots for Nebraska, as he knocked in his only field goal attempt from 27 yards in the first quarter, made all five of his extra points, and even had a successful onside kick that led to the game's final touchdown.

The game was also Brown's 50th career start, making him just the fourth Husker to start 50 games in a career, joining Alex Henery, Ralph Brown, and his older brother, Kris Brown.
His made field goal not only gave NU its only lead of the night at 10-7, it also marked his 17th straight make on the road. Brown now has 59 career made field goals for 353 career points.
10. Final week of season is all about pride
Now at 4-7 on the season, Nebraska is set to miss out on a bowl game for just the third time since 1969.

That means the only goal the Huskers have to hang their hats on over the final six days of the 2017 season is finding a way to end the year on a high note and to send their seniors out with one last victory.
It may not seem like much and certainly feels meaningless given the amount of disappointment NU has endured this year, but the annual Black Friday game vs. Iowa will be significant in a few ways.
Along with Senior Day, there's a very good chance that it will mark Riley's final game as Nebraska's head coach, as it's almost become a foregone conclusion that Nebraska will move on with a new coach after this season.
For the players coming back next year, it's also a game that has almost more to do with their own personal pride as anything else.
Can they find a way to rise up and end the year - and likely the Riley era - with one last positive moment? Or will they fall flat one final time and lose to rival Iowa for the fourth game in the past five seasons?