10 things we learned from Nebraska's loss at Ohio State
1. Nebraska still isn't ready for the big time
Nebraska had a chance to gain even more national respect with a strong showing in a top-10 showdown, but it ended up taking a massive step in the wrong direction.
Not only were the Huskers out-played in every aspect of the game on Saturday night, the worst part was they seemed to crumble when adversity hit - something it hadn't done all year.
Yes, NU came in with a battered offensive line and then lost its most critical offensive player in the second quarter, but those don't explain the countless missed tackles, coverage breakdowns and awful special teams play that helped Ohio State score at will all night long.
This was a major blow for a program desperately trying to separate itself from the stigma of previous years of being a team that simply couldn't compete on the big time stage.
Now the task for Mike Riley and his staff is to keep this season - which started out so promising at 7-0 - from completely unraveling. The Huskers still have a whole lot to play for, but that may not be the case if they can't find a way to recover in a hurry.
2. Armstrong's status will determine what happens next
As good as it was to see senior quarterback Tommy Armstrong trot out of the tunnel and back to Nebraska's sideline after suffering a scary head injury, his status going forward is far from known.
Armstrong will have to go through and pass concussion protocol next week before he can even take a practice rep. Even then he will have to show the coaches and training staff that he's safe to return for next week's home game vs. Minnesota.
While Nebraska's performance didn't change a whole lot from when Armstrong left the game and backup Ryker Fyfe took over, there's no denying that the offense needs No. 4 on the field for it to have any chance of success.
After the game Riley said it was too early to tell what Armstrong's status would be for Minnesota, and that they would know more on his situation after further evaluation on Sunday.
He then said NU would be preparing for the very real possibility of Armstrong having to sit vs. the Golden Gophers.
3. The Blackshirts have numerous problems to fix
Nebraska's defense had been one of the biggest improvements from last season through the first eight games, but the Blackshirts looked like a completely different unit on Saturday night.
The Huskers missed tackles, couldn't finish on prime opportunities for sacks, got burned in coverage, and even let Ohio State's reserves march up and down the field almost as easily as the starters.
The Buckeyes' athleticism presented a challenge unlike anything NU had seen all year, but there were still far too many mental breakdowns that hurt the Huskers just as much as Ohio State's size and speed.
Riley and defensive coordinator Mark Banker both pointed to a total lack of fundamentals all night, which might be the most frustrating aspect given how good the Blackshirts have been in that regard all season.
4. The offensive line is a major issue
Riley may not have wanted to use Nebraska's beat up offensive line as an excuse for what went wrong on Saturday night, but there's no denying that the laundry list of injuries throughout the unit are taking a big toll.
The Huskers were without two more starters vs. Ohio State in right guard Tanner Farmer (ankle) and right tackle David Knevel. That forced backups Corey Whitaker and Cole Conrad into the starting lineup against one of the best defensive lines NU has faced yet.
As a result, Nebraska struggled to find any consistency in the running game and was forced to be one-dimensional the entire night.
Riley said the offense has to get back to its "foundation" of running the football effectively in order for the offense to succeed. For that to happen, however, the offensive line has to get healthy.
5. NU's weaknesses on special teams got exposed
Special teams have been a regular point of criticism the past two seasons, but there might not have been a game yet where the discrepancy was so blatant than it was vs. Ohio State.
The Buckeyes are known for having some of the best special teams units in the country, but just as big of a concern was how poor the Huskers were in their own execution in the coverage and return units.
Tre Bryant and the kickoff return unit struggled to even get the ball past the 25-yard line, as OSU's approach of shorter kicks gave NU problems all game.
Drew Brown made his only field goal for Nebraska's lone score, and Caleb Lightbourn was off and on with his punts, averaging a modest 41.8 yards per attempt.
Worst of all, Ohio State did not punt once the entire game, rendering one of Nebraska's best special teams weapons, De'Mornay Pierson-El, a complete non-factor.
6. Third down defense has to be better
Nebraska's defense seemed to do OK on first and second down most of the game, but when it came time to get Ohio State's offense off the field with a stop, the Huskers time and again came up short.
When all was said and done, NU was just 5-of-16 on third-down conversions while OSU was 11-of-15. On top of that, the Buckeyes converted their lone fourth down attempt as Nebraska failed on both of its fourth-down tries.
Ohio State was a perfect 6-of-6 in its red zone opportunities and scored on all 10 of its offensive possessions, which doesn't even include the two pick-sixes by the defense.
The Huskers' offense certainly didn't do the defense any favors on Saturday night, but the Blackshirts missed on plenty of opportunities to help their own cause as well.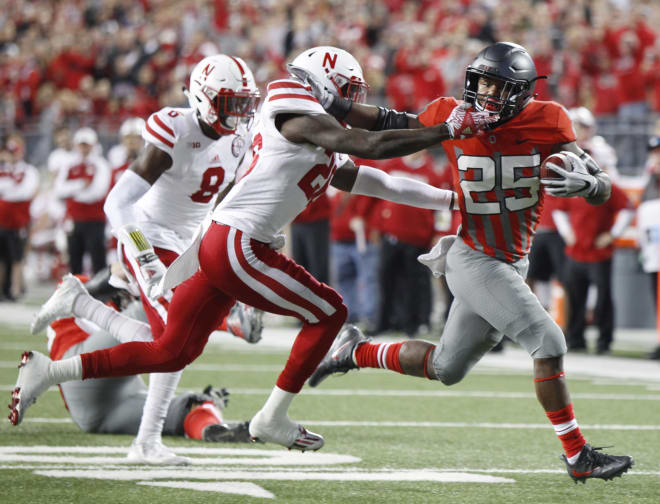 7. Regardless of QB, passing game must improve
Losing Armstrong to injury obviously was a huge blow for Nebraska's offense, but even when he was in the game the Huskers struggled to do much of anything through the air.
Armstrong and Fyfe combined to complete just 9-of-33 passes for 126 yards and two interceptions returned for touchdowns. Fyfe certainly struggled (5-of-18 for 52 yards and a pick), but Armstrong was only 4-of-15 for 74 yards and an interception on his first attempt of the night.
Offensive coordinator Danny Langsdorf added that those numbers could have been better had NU's receivers helped out the quarterbacks a bit more than they did.
Langsdorf said there were several deep balls that the wide outs simply didn't make plays on. Regardless of who is under center next week, the passing game has to execute better given how off the running game has been.
8. Huskers rewrite record books in all the wrong ways
You have to go back to that unforgettable night in Lubbock, Texas, in 2004 for the last time Nebraska was handed a loss as lopsided as this one.
Saturday night's 62-3 drubbing by Ohio State was just one point shy of the Huskers' largest margin of defeat in school history, a 70-10 loss at Texas Tech.
In fact, it stands as one of just four games where NU has lost by more than 39 points all-time. Along with the Texas Tech game and Saturday night, the Huskers also dropped 54-point losses to Indiana (1944) and Minnesota (1945).
It also marked the most points Ohio State had ever scored against a top-10 team, bettering the 50 points the Buckeyes scored against Michigan back in 1950.
9. Big Ten title hopes took a big hit, but not dead yet
Not only did Nebraska suffer its second-worst defeat in school history, it lost control of its own destiny in terms of the Big Ten West Division race.
With Wisconsin defeating Northwestern earlier in the day and NU suffering its second straight loss, the Badgers (also 7-2 overall and 4-2 in conference) moved into first place in the West because they own the head-to-head tie-breaker from their win last week.
That means the Huskers are going to need to some help over the next three weeks if they're going to have any chance at punching their ticket to Indianapolis.
With two home games against Minnesota and Maryland followed by the Black Friday game at Iowa, Nebraska should be favored in its next three games assuming it can return to its form from earlier in the year.
The problem is the same can be said for Wisconsin, which closes out with Illinois at home, Purdue on the road and then Minnesota at home. Needless to say, the Huskers need things to start going their way again for a division championship.
10. The Big Ten continues to impress in honoring Foltz
Just as Nebraska's previous eight opponents have done all season, Ohio State made several very classy gestures before and during the game to honor the memory of Sam Foltz.
The Buckeyes painted the "SF27" logo on the wall of NU's tunnel to the field, and marked the seats in the center of the student section with the same logo.
Ohio State also presented Nebraska with an OSU helmet that had 27 Buckeye stickers on the back and had several special teams players meet Foltz's parents, Gerald and Jill, who were on the sidelines before the game.
On top of all that, the Ohio State marching band formed SF27 at midfield during their halftime performance.
Needless to say, the Buckeyes deserve a tip of the cap for going to such lengths to honor a fallen opponent.