10 things we learned about new defensive coordinator Bob Diaco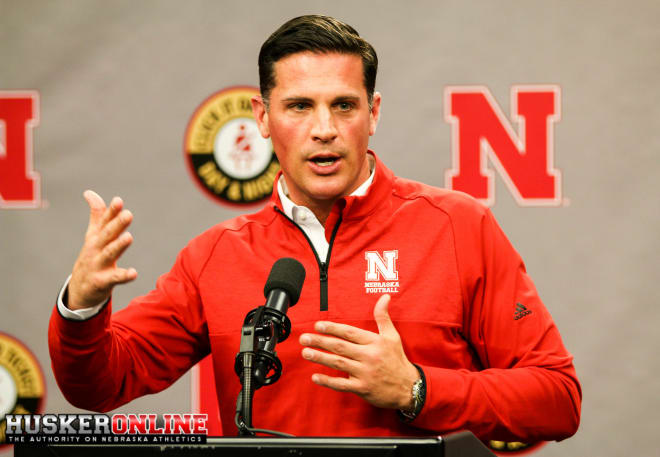 1. Diaco's defense not your typical 3-4
A lot has been made about Nebraska's upcoming transition from a 4-3 base defense to a 3-4 scheme under new defensive coordinator Bob Diaco. But what's interesting about transition is that Diaco's system isn't one that is carved in stone.

One of the main points Diaco made about his defense was that it was far more versatile and accommodating than people might think. While it's primarily a 3-4 look, Diaco said there were also a lot of elements of a 4-2-5 that had been incorporated from his previous coaching stops.
That means that despite any shortcomings Nebraska's current roster might have in terms of converting to a 3-4 look, Diaco is well prepared to adjust accordingly around the strengths and weaknesses of his personnel.
Diaco also said he plans to listen to plenty of input from NU's defensive assistants and even the players as to how to best utilize the roster during the initial transition.
"This is going to become ours," Diaco said. "This is going to be Nebraska's defense, and not my defense. It's our defense."
2. There are no plans to alter the Blackshirt tradition
Of course the question over how Diaco plans to handle the Blackshirt tradition came up during his very first press conference, and his answer was all Nebraska fans needed to hear.

"I'm going to be completely in line with Coach (Mike) Riley, who's in line with the history of the Blackshirt defense," Diaco said. "I believe that everyone in this university is in lock step, and I'm excited about it, being in lock step with the tradition…
"From my understanding, when the starters are finally declared as the season begins, the Blackshirts are distributed to the starters."
3. Personal connection sold Riley on Diaco
When Diaco arrived in Lincoln last week for his interview for the job, Riley was already well aware of Diaco's impressive coaching resume.

What sold Nebraska's head coach was how he instantly connected with Diaco both professionally and personally in only a short amount of time.
It also didn't hurt that Diaco had been a head coach for three seasons at UConn, which Riley said gave him a broader understanding of the dynamics of the entire team and not just one side of the ball.
"I really had a lot of fun visiting with him when he was here, talking and listening to him talk about football," Riley said. "His system, philosophically some of the parts about how you play the game - I just had a lot of fun.
"I think he's a teacher, very motivating to listen to just as a coach there with him. Coupled with his history as a coach and that interview, it was pretty much a no-brainer for me."
4. LBs will be Diaco's forte, but Bray will still have a big role
Diaco will obviously oversee the entire defense as the coordinator, but he also said he would work specifically with Nebraska's linebackers when it came to the day-to-day coaching.

That said, it's not as if current linebackers coach Trent Bray is suddenly a non-factor.
Diaco said that during the "classroom" situations like position meetings and film study, he will work with the entire linebacker group as a whole.
But when NU hits the practice field, the linebackers will be divided between inside and outside players, so he and Bray will each handle one group.
5. Things happened quickly in getting Diaco to Nebraska
Diaco said when he received his first contact from Nebraska last Thursday gauging his interest for interviewing for the job, he was actually at a Chicago airport during a layover from another interview at a different school - presumably Arkansas, though he didn't specify.

Diaco said he immediately accepted the invitation to reroute his flights to Lincoln, but made sure NU knew he only had one suit and the sweatshirt and jeans he was wearing.
Riley told him he didn't care at all what Diaco wore, as he was more concerned with just sitting down and talking some football. Still, when Diaco landed, he changed back into his suit in the Lincoln airport bathroom just to make sure he made a good first impression.
A day later, he accepted the position as Nebraska's new defensive coordinator.
6. Repetition, consistency two pillars of Diaco's philosophy
As Nebraska's players and staff adjust from their previous defense under Mark Banker to the new system, expect Diaco to start the process with a very Pavlovian approach.

Through daily repetition of good habits and consistent coaching, Diaco's goal is for his players to make defense more than just something they do on the field, but as a way of life.
"You don't play on the defense, you become a defender," Diaco said. "A defender is not something that is turned on and off. When you are doing this the right way, you are becoming a defender 24 hours a day, seven days a week, and you're going to become a defender the rest of your life.
"You're going to defend your family, you're going to defend your community, and you're going to defend the mission of the organization that you serve. That never shuts off. That culture, that mentality, and that ideology, is very important that we embed into the defensive players' DNA."
7. Red zone defense one of Diaco's hallmarks
As "abysmal" as things got for UConn last year during its third and final season under Diaco as head coach, one thing the Huskies did exceptionally well was toughen up defensively whenever opponents reached the red zone.

UConn allowed just 26 touchdowns and nine field goals in 48 total red zone opportunities, good enough to rank seventh rationally in red zone defense at .792 percent.
Diaco's defenses have generally been at their best when their backs were up against the goal line, and that's something he takes great pride in with all of his teams.
"It's exciting," Diaco said. "It's exciting to take the field after a sudden change. If you're a defender, and you have that opportunity to do something that spectacularly challenging, that the people that you serve need, that's awesome. It's an awesome feeling, and it needs to be embraced that way."
8. Diaco ready to help close out 2017 class
With only 12 days left until National Signing Day, Diaco might not have much time to make a dramatic impact on Nebraska's 2017 recruiting class.

Still, he plans on doing everything he can to help the Huskers cap the class strong. Diaco said he has plenty of experience recruiting nationally from his time at Notre Dame, and given his ties to the Northeast he said he has his share of connections in that particular region.
"Whatever Coach (Riley) needs," Diaco said. "Whatever they need right now, I'm excited to serve. Exactly what those mechanics are, I really have no idea. But I'm all in and ready to be utilized in any way that I can with one week left."
9. Diaco still has strong Big Ten ties
Though Diaco is an East Coast guy from New Jersey, the amount of time he's spent in Big Ten country during his playing and coaching career gives him a more than enough familiarity as he rejoins the conference.

Not only was he a two-time All-Big Ten linebacker at Iowa, he served as a graduate assistant for the Hawkeyes from 1996-97. In fact, he spent all but six of his 20 coaching seasons at schools inside the Big Ten footprint.
Diaco said he's excited about getting the chance to coach against his alma mater when Nebraska hosts Iowa next season, and he'll also have some connections in play when the Huskers travel to take on Penn State, as his son is currently an engineering student at PSU.
"Writing that tuition check is going to have a little different feel now," Diaco joked.
10. Diaco was nearly a Husker
It almost came down to a coin flip between whether Diaco was going to be an Iowa Hawkeye or a Nebraska Cornhusker when he was coming out of Cedar Grove, N.J., in the Class of 1992.

It turns out Diaco actually even took an official visit to NU, and his lead recruiter was then assistant coach Frank Solich.
Diaco said his decision ultimately came down to where each school wanted him to play. Nebraska saw him as a fullback, while Iowa was recruiting him as a linebacker.
In the end, Diaco wanted to play defense, which is why he picked the Hawkeyes.