Tuesday notebook: NU prepping for explosive Hoosier offense
Mike Riley has always been good about being very complimentary of Nebraska's upcoming opponents each week. But listening to him talk about Indiana's high-powered offense, it's clear the Hoosiers have legitimately earned his full respect.
Indiana comes in Saturday's game in Bloomington ranked fourth in the Big Ten in total offense (453.6 yards per game), first in passing offense (293.0 ypg) and second in pass efficiency rating (153.6). While NU has faced some potent offenses through its first five games, Riley said this week presents one of the biggest challenges yet.
"It is one of those that I kind of watch as I look at their film with a lot of admiration because you can see a flow to it, what they're doing in the running game, how the pressure with the running game and the play-action, what that puts on the defense," Riley said.
"It's a team that executes well. There's a lot of thought and creativity behind what they're doing, and that's why they've had production for a while... It's a well-coached football team."
Indiana is led by quarterback Richard Lagow, who leads the Big Ten with 292.0 passing yards per game while completing 60 percent of his throws. Behind him at running back is Devine Redding, who ranks third in the league with 98.2 rushing yards per game, as well as 270-pound freshman Tyler Natee.
On the outside are wide receivers Mitchell Paige (4.4 catches per game), Nick Westbrook (87.4 receiving yards per game, four touchdowns) and Ricky Jones (78.0 ypg, 21.7 yards per catch), who give IU with one of the league's most dangerous receiving corps.
That's why defensive coordinator Mark Banker said when it comes down to it, though, everything starts with the ground game for the Hoosiers.
"They've done a good job of controlling the tempo of the game," Banker said. "I think they've got a potent run game. Zone, stretch, a little bit of counter sweep in there. They have a rotation of three backs, and it that opens up the pass game.
"I think early on, some of the teams needed to get more bodies in the box to be able to stop the run, and it opened up a lot of the single (coverage) throws on the outside."
- Robin Washut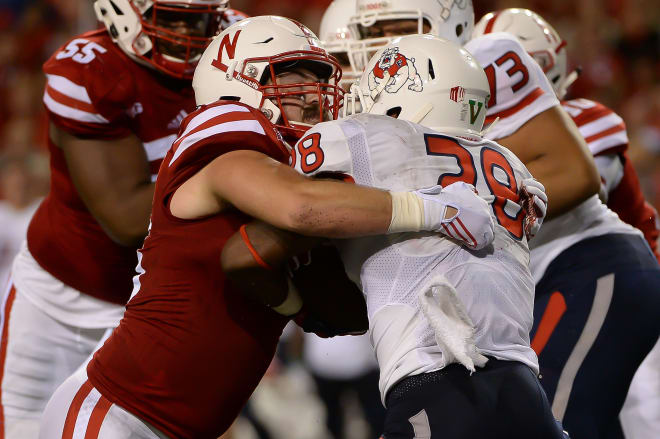 Huskers counting on d-line pressure to set the tone
One of the best ways to disrupt an offense as productive as Indiana's is to put consistent pressure on the quarterback to throw the passing game out of rhythm.
Unfortunately, that's easier said than done against the Hoosiers.
By emphasizing pocket protection with extra running backs and tight ends staying back to block, IU has allowed just nine sacks on 158 passing attempts on the season.
"I think that the one thing that they do, they do a lot of stuff off of their play-action fake, of course with the threat of their backs, it's a very smart thing," Riley said. "Then with that, sometimes they'll leave the tight end in, and the faking back, he'll become part of the protection.
"So they protect that quarterback pretty well. All of a sudden, you're talking about a seven-man protection off of a play-action pass, and with that play-action, you can freeze linebackers and throw one-on-one against the secondary."
Because the Hoosiers have so many weapons to account for at the skill positions, the Huskers know getting pressure from the front four will be as important as ever this week.
"We have watched film and seen that they do a lot of play-action and a lot of keeping guys in, so that is a challenge as a d-line," senior defensive end Ross Dzuris said. "Some guys are going to get one-on-ones, and we just have to take full advantage of those."
- Robin Washut
Wide outs getting creative in Westerkamp's absence
With Nebraska likely to without senior Jordan Westerkamp this week at Indiana, the immediate question will be how the Huskers plan to replace one of the most productive wide outs in school history at the slot receiver position?
At the moment it appears the answer will be fellow senior Brandon Reilly.
Because Nebraska emphasizes its receivers working at all three "Z", "R", and "X" spots, the coaching staff is confident it will be a seamless transition for Reilly - primarily an "X" on the perimeter - to move inside and take over as the No. 1 "R" in the slot.
"Keith (Williams) does a nice job of kind of teaching these guys the big picture of the receiver position, and Brandon is a very attentive guy," Riley said. "So he has paid attention and also practiced in the slot. I hate not having Jordan in there, but I think that Brandon, our goal is for him to kind of go in there seamlessly and play."
With Reilly moving inside, sophomore Stanley Morgan would take over as the No. 1 "X" and De'Mornay Pierson-El and Alonzo Moore would be the top "Z" receivers.
Others who could work into the rotation include walk-ons Gabe Rahn (No. 2 "R") and Bryan Reimers (No. 2 "X"), both of which have caught touchdown passes this season.
"I think that we'll get good play out of Brandon in there, and then we'll I think we have four right now that can rotate, really more than that with Bryan Reimers and Gabe Rahn," Riley said. "I think those guys can go in and kind of seamlessly keep us going because they know what to do. And all of those guys, all six of them, will make plays."
- Robin Washut
Rodgers a welcomed addition to NU staff
Riley made a somewhat unexpected addition to his staff this offseason, and he did it to fulfill a promise he made a long time ago.
James Rodgers, a former star running back under Riley at Oregon State from 2007-11, joined the Huskers in August as "a part-time intern" in NU's personnel department.
While he's technically not allowed to do any official coaching during practices, Riley said Rodgers' influence has already been felt amongst his players.
"It's really been fun to have him, and I told him a long time ago, when he was ready and done playing I'd have a spot for him," Riley said. "I think James will eventually coach. Right now he's working basically as an assistant to (director of high school relations) Kenny Wilhite, so he's in personnel, and he and Kenny are in charge of, one part of their duties is our freshmen.
"So James is really that liaison kind of with our staff and our freshmen outside of the football field, and he's like the perfect mentor for young guys in the program, because he was the guy at Oregon State that I would tell the young guys, you know, 'If you want to learn how to do this thing correctly, follow James Rodgers around for a week.'"
"He was a very diligent, conscientious guy all the time, maybe the most diligent that I've ever had. He he had talent but he made himself into an All-American player, and so I just knew he would be a great example for our team but also specifically for freshmen that are just kind of learning the way. He's been a big help in that regard."
- Robin Washut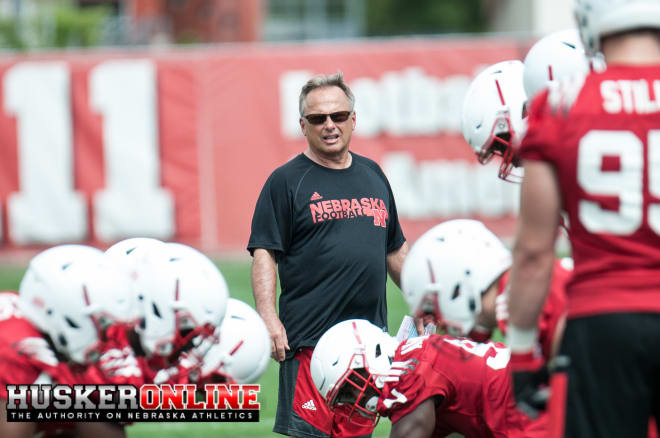 Quick hits
***Tommy Armstrong (ankle), Tanner Farmer (ankle), David Knevel (ankle), and Alonzo Moore (shoulder) all practiced on Tuesday. Armstrong showed no signs of being slowed down by his sprained ankle, which held him out of practice all of last week.

***Devine Ozigbo (ankle), Jordan Westerkamp (back), Cethan Carter (elbow), and Eric Lee (unknown) all sat out of Tuesday's practice. However, Ozigbo did go through some work in a helmet, jersey, shorts and cleats.
***Banker said one thing Indiana's coaches do as well as any staff in the conference is "steal signals" from opposing defenses each play and make their offensive calls accordingly at the line before each snap.
Banker said the strategy was nothing new, as he'd gone against several teams in the Pac-12 that did the same thing. However, he said the Huskers would make it a point to disguise their calls on Saturday with dummy signals, wrist bands, and even decoy coaches signaling in fake calls.
Asked how he knew Indiana was so apt to stealing signals, Banker said the college coaching fraternity was a tight circle and "word gets around."
***Banker said Nebraska works on an aspect of tackling every day in practice. He said there are three aspects to tackling: tracking the ball, footwork and positioning, and then executing the tackle and wrapping up. He said the main problem against Illinois was guys simply being out of position to make plays.
***The buzz word from the defensive players and coaches on Tuesday when describing Indiana's offense was "tempo", with some making comparisons to Oregon and even Arizona State.
***Another thing that stands out about the Hoosiers' offense is how they basically have a run/pass option for Lagow on every play. With a zone read running game, Lagow has the choice on handing the ball off, keeping the ball and running himself, or pulling up and passing it depending on how the defense plays it.
***Defensive backs coach Brian Stewart didn't want to go into detail about what he's heard from NFL scouts about cornerback Chris Jones, but he did say Jones had all the tools to play at the next level and wouldn't be surprised if Jones had the opportunity to leave for the pros after this season if he kept up his current level of play.
***NFL scouts from the Pittsburgh Steelers and New Orleans Saints were in attendance for Tuesday's practice.