Tuesday notebook: Intensity heats up in first full-pads practice
The intensity got turned up a few notches for practice No. 5 of fall camp on Tuesday, as Nebraska put on full pads for the first time.
Head coach Mike Riley said overall he was happy with the way his team adjusted to the uptick in physicality, though there was definitely a bit of rust that needed to be knocked off.
"This was the first day of extended interaction between our offense and defense," Riley said. "It resulted in probably some obvious give and take. It was good for us. It was a little bit hot. We're not out there an overly long time, but I thought overall it was a good start in full gear.
"We've spent a lot of time just putting in plays and practicing individual skills, so it was good to do this."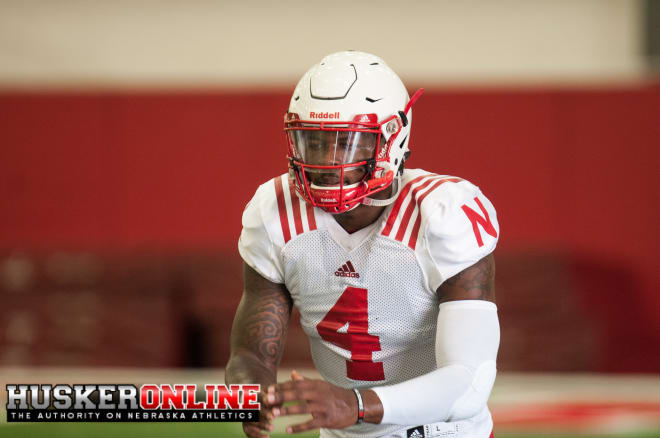 With temperatures reaching above 90 degrees, Riley said the heat did play a factor into the grind of the Huskers' first full-padded session, but think it didn't limit anything that they wanted to do going into the practice.

Nebraska worked for about two hours on the day, with the end of practice featuring a pretty extensive run game period of the running backs, tight ends and offensive line going up against the defensive front seven.
"It was a good day," sophomore guard Jerald Foster said. "I feel like the o-line, we've got a lot to look at now. It's not the same going up against each other. It's a great test when you've got guys like Mick (Stoltenberg), K-Mo (Kevin Maurice), just good DTs on the other side. It really does make you work harder."
Maybe the only real criticism Riley and offensive coordinator Danny Langsdorf had of the day was how out of sync the passing game looked at times.
However, both coaches stressed that those problems were nothing out of the ordinary, and the chemistry should improve more and more as camp continues.
"It was all frankly a little bit rusty for everybody," Riley said. "We've been doing a lot of putting in plays, and all of sudden when you're doing it against people that are trying to stop it, things change there. That's what happened today. We'll be better than that tomorrow."
- Robin Washut
Two defensive starters go down with injuries
As might be expected with the first full-contact session of camp, two notable players left practice early with apparent injuries.
Senior linebacker Michael Rose-Ivey was sidelined midway through the day with a knee injury, though he was able to stand and watch until the end with an ice pack wrapped around his right knee.
Riley said he wouldn't be able to diagnose the extent of the injury until he got more information.
"I don't know what happened," Riley said. "I'm going to find out. He went out with something with his knee. He was walking with ice. I'm just hoping it's not significant. But we'll all find out this evening and tomorrow."
The other Husker who went down was junior cornerback Chris Jones, who pulled up lame while covering a deep pass and immediately grabbed his left hamstring and went to the turf.
Jones was able to walk to the sideline under his own power and spent the remainder of practice stretching with the trainers. He then walked to the locker room after practice without showing any noticeable limp.
Riley said Jones told him he thought he was just cramping up.
- Robin Washut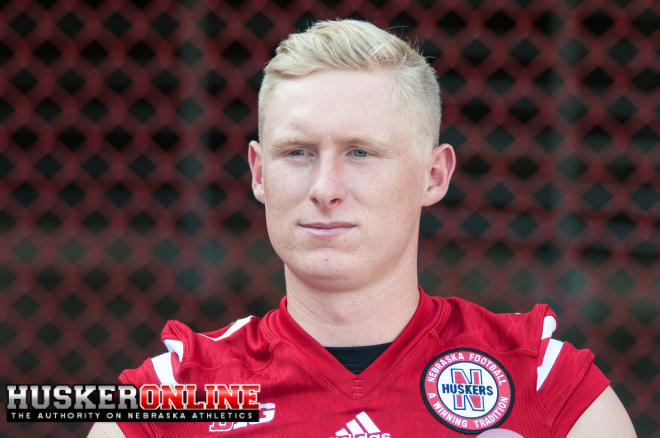 Fyfe still thinks about Foltz often
It's been a difficult two weeks for senior quarterback Ryker Fyfe. The Grand Island native was as close to late punter Sam Foltz as anyone, as the two played sports together starting in the third grade. Fyfe said he still thinks about Foltz each and every day.
"I still think about quite often," Fyfe said. "But I know just being friends with him my whole life he'd want you to move on and compete every day. That's the kid he was so, so that's kind of what I try to do – move on."

Foltz's father Gerald attended Husker practice this past Saturday, and the family attended Fan Day in Memorial Stadium last Wednesday.
Fyfe said he admires the Foltz family with how strong they've been through this difficult time.
"It was good to see (Gerald)," Foltz said. "They are a really strong family and I think they've been handling it pretty well. It was good to see him laugh the other day. It was good to see him and the family doing as good as they can."
For Fyfe, maybe the most difficult thing for him has not been seeing Sam Foltz on the practice field each and every day.
"That first day was weird," Fyfe said. "I'm just used to going to not just football practice, but any practice my whole life with Sam. Not having him there, it was a weird day for me. Seeing him was always nice. It just made things more competitive. We were always competitive with each other. As the days go on, it seems to get a little better I guess."
-Sean Callahan
Will Grim crack the WR rotation as a true freshman? 
One of the more intriguing redshirt decisions the coaching staff must make will be at wide receiver. True freshman Derrion Grim enrolled early to NU in January, and has more than held his own over that period.
However, with so much depth and talent at the receiver position, Keith Williams must weigh if it's worth playing him as a freshman or letting him redshirt to preserve his eligibility.
Williams said it will come down to the travel roster, where ideally NU will take eight to nine receivers on the road.
"You make those decisions every year regardless," Williams said. "When it gets down to the time when we've got to decide what direction we are going to go with the traveling team, you just evaluate where each kid is at at that point. If (Grim) continues to play well and we feel he'll help us, then he'll play. If not, he'll be in the fridge."

-Sean Callahan
Quick hits
***Riley said NU has been experimenting with a new wrinkle at the end of practices where they keep the younger and newer players who are further down the depth chart around for an additional period of work.
He said they've been getting in an average of 24-34 plays during the extra session, which is just about as much as the first- and second-team units get.
***Both Riley and Langsdorf praised the progress of running back Devine Ozigbo. Riley said he's been very impressed with how good of shape Ozigbo got into since last season, while Langsdorf said he's noticed a big jump in his development as a pass catcher.
***Langsdorf said he thinks Fyfe is in the best shape of his life right now, and Fyfe agreed, saying he's never felt better. Langsdorf said Fyfe looks a lot more comfortable with the offense, and that's a result of how much studying he put in this offseason.
***Langsdorf praised tight end Sam Cotton, saying while everyone talks about Cethan Carter, Cotton was "a good player" who will play a lot. He also said Tyler Hoppes continues to be a standout as a downfield receiver.
***Langsdorf said he wasn't sure if Tre Bryant would be ready to factor in at running back this season given the depth ahead of him, but said special teams could certainly be an area where he plays right away his year.
***Langsdorf said Derrion Grim could potentially work his way into the wide receiver rotation because of the head start he got coming in early this spring.
***Langsdorf said Tulane transfer quarterback Tanner Lee has been everything he had hoped so far during camp. While Lee can't work with the "varsity" offense, Langsdorf said he "looks like a veteran who's played three years of college football… I'm really excited about him going forward."
***Ozigbo said he's made it a point to improve as a pass blocker, and before the start of the past few practices he and linebacker Josh Banderas have been doing one-on-one rushing/blocking drills to give each other some looks of what they're going to see in practice.
***Ozigbo said he currently weighs 225 pounds and that he's never felt so good physically. He said his goal is obviously to be the starter, but he's mostly concerned with being able to play a key role and help his team win.
***Offensive line coach Mike Cavanaugh said right tackle David Knevel had a huge offseason in terms of building strength, and he's noticeably stronger in his shoulders and overall upper body. Cavanaugh said Knevel was one of the biggest keys to the success of Nebraska's o-line this season.
***2017 Ashland-Greenwood offensive lineman and Minnesota commit Brett Kitrell was in attendance on Tuesday. He and several of his Ashland-Greenwood teammates watched from the sidelines.