Taylor's rapid rise at cornerback not slowing down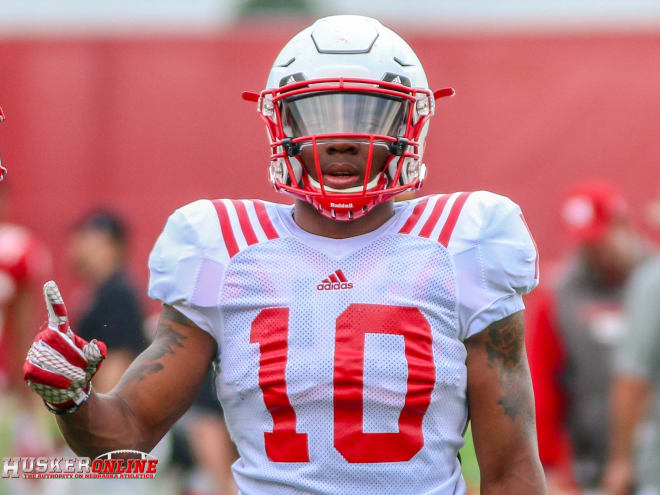 When Nebraska's coaches first sat down to watch the high school recruiting film of Cameron Taylor, they thought they were evaluating a quarterback.

Before the tape ended, defensive coordinator Erik Chinander had come up with a different vision for the former three-star out of Montgomery (Ala.) Park Crossing.
"Cam played quarterback in high school, so when you watched film on him, all you saw was him at quarterback. You didn't see anything on the defensive side of the ball," NU defensive backs coach Travis Fisher said. "And so, just watching him move, Coach Chinander and I were watching the film, and Coach Chinander found him first and brought him back: 'Hey Fish, this kid, I think he can play some DB.'
"I watched him on tape - obviously he was playing quarterback, but I saw him move, and I said, 'Yeah coach, I think he can play DB.' At that time I think we had a lot guys on the board that were obviously DBs on film, and I thought that Cam would be better than those guys, some of the guys that we didn't bring in."
The 6-foot, 200-pound Taylor hit the ground running at his new position this fall, garnering unanimous praise from coaches and teammates alike as one of Nebraska's most impressive newcomers.
"He looks like a kid who's played corner his whole life," Chinander said.
Fisher said Taylor was competing for immediate playing this season both at cornerback and nickel. Given the strides he's already made in just a few short months on defense, Taylor is well on his way to being a factor in NU's secondary for years to come.
"Since he's been here he's been even more than what we thought," Fisher said. "He's been a blessing. He's been working hard. I can't speak enough about him as a young man growing up around some of these older players. He's blended in perfectly. He's taken leadership, taken ownership, and it's a pleasure coaching him."
Even Taylor's fellow corners couldn't help but rave about his early performance. According to guys like junior Lamar Jackson and sophomore Dicaprio Bootle, Taylor carries himself like a player well beyond his age.
"He's 'yes, sir, no, sir' and he's a natural leader," Jackson said. "But at the end of the day, he's still confrontational; he's still a dog, he's still confident in what he's doing. Even when he makes a mistake, he's out there doing it fast. He's doing his thing."
Added Bootle:
"He came in this summer and said, 'Look, I'm trying to learn the system, can you get with me?' so he was just doing it that way… He's just picked up on it, and he's been rolling ever since."