Spring game notebook: A wild ending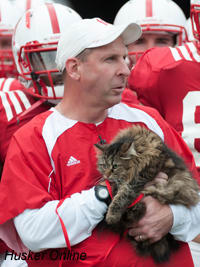 Click
Here
to view this video.
The 2014 Nebraska Red-White spring game definitely had a different look from what it's been in years past, but the annual spring finale had plenty of the same memorable highlights as well as a few interesting twists along the way.
Because of depth issues at certain positions, head coach
Bo Pelini
decided to change up the spring game and move it an offense vs. defense format as opposed to the usual Red vs. White team game. With an adjusted scoring system that awarded points to both sides of the ball for various plays, the Red team (offense) topped the White team (defense) in a 55-46 victory when all was said and done.
"I thought we tried to have a little bit of fun today," Pelini said. "I liked our spring. I thought we got a lot accomplished. I think we as coaches identified a lot as far as where we are and where we have to go."
With a crowd of 61,772 looking on, junior running back
Imani Cross
(six carries for 100 yards and two touchdowns) and wide receiver
Brandon Reilly
(four catches for 92 yards) were the stars of the day for the Red squad. On defense, sophomore safety
Nathan Gerry
had an all-around performance with five tackles, an interception of quarterback
Tommy Armstrong
on just the third play of the day, and a blocked extra point attempt.
Like the team did last year, the Huskers took breaks from the action for some drills and competitions, including Pelini and receiver
Kenny Bell
trying to hit the goal post with footballs (Bell won), bringing in cheerleaders to call plays for a drive, and even an on-field marriage proposal by former NU lineman Jeremiah Sirles to his girlfriend (she said yes).
"It's all about having fun," Bell said. "That's why you saw Ameer (Abdullah) and I with those hats, and I had sunglasses on. It's just kind of to lighten the mood a little bit and have some fun. It's all about hard work, and we know when to work hard and when to have a little bit of fun. I think we deserve to have a little bit of fun."
Of the six touchdowns that were scored in the scrimmage, four were from 20 yards or longer. The biggest play of the day came on a 48-yard bomb from redshirt freshman quarterback
Johnny Stanton
to redshirt freshman receiver
Kevin Gladney
to close out the first half. Cross's 39-yard touchdown run in the second quarter also got the crowd off its feet.
"I think it's very similar to last year. I like everything about it," Cross said of Nebraska's offense. "I think that our lineman did a good job today, especially in getting movement. I think that there are a variety of things that you have to look out for. It's not just one thing, it's a variety. We can do a lot of things well so now going into May we'll just try to get better on those things."
In the end, Pelini said the spring game was merely one of 15 spring practices, and while it was a fun experience for both his players and Husker fans, the competition and preparation had only just begun going into the summer and eventually the start of fall camp.
"I just told the team that from here the work has just begun," Pelini said. "We have to continue our development and work. We have to make progress until August to be the type of football team we want to be. We should have a more solid foundation come August when we put our helmets on. Overall, I thought it was a very productive spring for us and that we got a lot accomplished."
- Robin Washut
Cross shines in spring game
Star senior
Ameer Abdullah
may have come out of the tunnel in full pads, but there was no way the coaching staff was going to let him sniff the field once the spring game got underway. That left the rest of Nebraska's running backs, led by Cross, to carry the load in the running game.
Needless to say Cross thoroughly capitalized on the opportunity. Averaging nearly 17 yards per carry en route to cracking the century mark with 100 rushing yards on the day, the 6-foot-1, 230-pounder stole the show for the Red squad and put himself in prime position to be Abdullah's top backup once the season officially kicks off in August. He was even named the player of the game by the team for his efforts.
"It was a big opportunity, and I was thankful for the opportunity," Cross said. "I just try to take it one day at a time, one play at a time. I just try to make sure I focus on the little things and not so much looking at the big picture. I just make the picture smaller and try to get better every day."
Sophomore
Terrell Newby
had 51 yards and a touchdown on a game-high 16 carries, while redshirt freshman
Adam Taylor
rushed 14 times for 41 yards in the game. Pelini said he continues to be encouraged about NU's depth at running back, and that the unit's progress this spring should only continue to grow.
"We have good backs," Pelini said. "We have some quality backs that are all kind of a little bit different, but very unique and effective in their own way, which I think is good. There will be a lot of change of pace going on with Ameer, Imani, then you had Adam and Newby to that mix, it's a pretty good group."
- Robin Washut
Fall will show true potential of defensive line
The defensive line unit that took the field for the spring game will look drastically different when the season starts in the fall. Tackles
Kevin Williams
and
Aaron Curry
and ends
Ross Dzuris
and
A.J. Natter
didn't play due to injuries, and
Randy Gregory
played limited snaps because he doesn't have much to prove in an exhibition like this.
That led to tackle
Maliek Collins
spending time at end and walk-on
Jack Gangwish
getting heavy snaps with the upper units (he responded with eight tackles and a sack). Linebacker
Marcus Newby
also took quite a few snaps at end, though that's an intriguing wrinkle that the Huskers may keep for the fall.
Defensive tackle
Vincent Valentine
said the linemen weren't quite as comfortable with some players playing different roles, but those feelings will be gone when everyone is back healthy.
"I feel like in the fall, our defensive line will be way better," Valentine said. "When we have everybody in there, we're going to get after it."
Injuries at defensive end were one of the reasons Nebraska elected to use the offense-versus-defense format this year as opposed to the traditional format. The Huskers simply don't have enough healthy ends right now to split them into two teams.
The arrival of freshmen
Sedrick King
and
Deandre Wills
in the fall will help, and fellow incoming freshman
Mick Stoltenberg
was told recently he'll be playing defense at Nebraska instead of offensive line.
"We have to build our depth, and we have a plan as far as the depth at the defensive end spot," Pelini said. "Our top-line guys are pretty good… I feel real good about our inside guys on defense."
- Dan Hoppen
Linebacker depth chart still very fluid
It's always tempting to look at what happens in the spring game and make predictions about how the depth chart might look in the fall.
Josh Banderas
says you shouldn't waste your time, at least not with the linebackers.
The sophomore started the game with the ones at the MIKE and stayed there for the first half, but he and
Michael Rose
, who played on the second team, flipped roles for the second half, all of which was by design.
"It's ones and twos and it may look like someone is ahead of another, but it's neck-and-neck," Banderas said. "We're just getting everyone even (reps), so it's not like, 'He's with the twos, so his spirits are down.' It's an even competition and it's going to continue for the next four years."
That wasn't necessarily the case last season. Banderas said that some linebackers picked up the scheme faster than others and there was some distance on the depth chart. But by the time spring rolled around, all the linebackers were pretty much on the same level. Now they have to use that knowledge to be productive during the summer.
"Last summer, none of us knew the defense," Banderas said. "We couldn't really watch film because we didn't know what we were looking at. Now we know and we can look and make judgments for ourselves and study the offenses a lot more.
"I think we've got to have an awesome summer, and not only in the weight room. We can't take two months off from football. We've got to keep coming in here and watching film. We have to keep growing as a unit."
Though the coaches talk about how great the competition among the linebackers is, Pelini said it's time for a few to step forward and take charge of their roles. The work they put in this summer might go quite a way toward determining that.
"I like the group as a whole," Pelini said. " But we need some guys to separate themselves from the competition and continue to develop and work and clean up their technique and fundamentals."
- Dan Hoppen
Pelini's cat steals the show
There were rumors buzzing leading up to Saturday's spring game that Nebraska had a couple of wrinkles planned to spice up the team's "Tunnel Walk" entrance, but no one was expecting what Pelini had up his sleeve.
Playing off the parody Twitter account, @FauxPelini, which features a photoshopped picture of Pelini wearing a sweater and holding a cat as its profile picture, Pelini led the Huskers out of the locker room onto the field holding a cat in his arms. As the team got to the northwest corner gate, Pelini stopped and held the cat in the air, recreating a scene from the Disney move, The Lion King.
The crowd roared in laughter, and it didn't take long for Pelini's stunt to reach nearly every national sports media outlet around the country.
"The cat was probably a little freaked out, I don't know," Pelini said. "That was a lot more people than the cat was used to."
Pelini said he was approached with the idea earlier in the week, but had to put his foot down on a couple other suggestions.
"They tried to get me to put a sweater on, but that wasn't happening," Pelini said. "They tried to talk me into it. They had a couple options for me, but like I said, that wasn't happening."
Pelini had interacted with @FauxPelini on Twitter in the past, jokingly arguing about which one of them actually owned said cat. After seeing Pelini's cat prank on Saturday, @FauxPelini responded by tweeting at Pelini: "Fine, you can keep her."
"I just hope when I get home my dogs will talk to me," Pelini said. "They might be a little jealous."
- Robin Washut
[rl]