Saturday notebook: Wilson making his case in o-line rotation
Nebraska's full-pads scrimmage on Saturday inside Memorial Stadium was maybe the biggest stage yet this fall for players looking to make their case on the depth chart for this season.
Few players took more advantage of that opportunity than true freshman offensive lineman Boe Wilson.
After news broke on Friday that starting left guard Jerald Foster would be lost for the season with a knee injury and that senior backup Corey Whitaker would miss up to two weeks due to arthroscopic knee surgery, the Huskers were left with a major hole on their offensive line barely two weeks before the season opener.
Head coach Mike Riley said Friday that Wilson and redshirt freshman Jalin Barnett would be the top candidates at left guard if Whitaker is unable to recover in time for Fresno State. On Saturday, it was Wilson who was the first man on the field with the starting offense.
"Boe is in that mix for sure," Riley said. "Boe is talented and physical enough to be playing, and he's in the mix."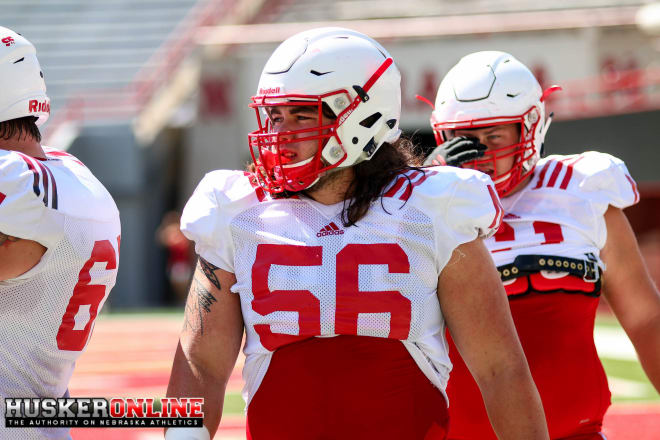 Barnett started the day working with the second-team offense, but he was quickly sidelined for the bulk of the scrimmage after suffering a sprained ankle. Riley said Barnett would be OK going forward, but the injury put Wilson in the spotlight even more.
Riley said he and the rest of NU's coaches noticed the former three-star prospect from Lee's Summit, Mo., right away at the start of fall camp because of his undeniable toughness and physicality.
As long as he can get his knowledge of the offense caught up with the rest of his ability, Wilson should remain a factor in the left guard rotation and potentially push to be the starter in two weeks.
"First he shows it physically," Riley said. "The first thing we saw was in one-on-one pass protection, he was good from the moment we started, because he is athletic and he's physical. He's strong, he's got good feet, all those ingredients to be a good player.
"The guy is in it a little bit faster than we expected, but that's the world we're in. I don't want to jump to any conclusions, but he's in the mix right there."
- Robin Washut
Offense a bit 'sloppy' in scrimmage
With Nebraska now just two weeks away from its first game of the 2016 season, its offense remains far from a finished product.
While Riley saw plenty of good things from the group during Saturday's scrimmage, he noted a few areas where the offense continues to have some issues.
Two he highlighted after practice were the two-minute and third-down situations. Riley was not pleased with the struggles the Huskers had in those areas on Saturday, especially the two-minute work to open the scrimmage.
"It was kind of sloppy," Riley said. "We need a lot of work in that. We've done about four days, five days like that, and some of it has been OK and some of it … That's part of our deal."
Riley noted that once the team "got to playing football" with regular offense vs. defense work, the day ended up being "a pretty good scrimmage."
That said, there remains plenty of improvement left to be done over the final week of fall camp.
"We need it in some areas," Riley said. "I think probably third down in particular, the two minute in particular, where we need a lot of refining work this next week."
- Robin Washut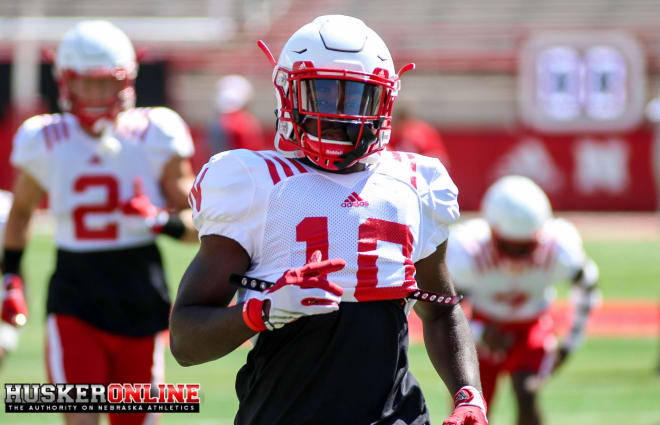 Freshman Spielman forcing way into action this season?
Another true freshman who has made a rapid rise up offensive rotation this fall has been wide receiver JD Spielman.
The former Eden Prairie, Minn., standout has been raising eyebrows with his play on special teams and at receiver.
Following another impressive showing during Saturday's scrimmage, Riley hinted that the coaching staff might not have a choice but to use the 5-foot-9, 180-pound playmaker right away in 2016.
"We had a long discussion yesterday and this morning about JD," Riley said. "I don't know know for sure yet, but he might be hard not to activate. You saw him run the fly sweep, he caught a punt - he can probably do a lot of things for us.
"He's just a ball player. I don't even think he knows where he is, he just comes out here and plays hard, and he's got some ability. We probably would like to redshirt him, but I think he might do too many things. It's such a long season, might as well have him ready probably."
Already known for his game-breaking ability as a return man, Spielman has also quickly impressed with his play at wide receiver, and he was already working with the No. 2 offense on Saturday.
"We're force-feeding Spielman because we think he's a really good football player," Riley said. "He could play in the return game. I think in our prototype from years past he's the perfect flanker."
Riley said maybe the only thing standing in Spielman's way of playing this season is the fact that they're also strongly considering playing another true freshman wide out in Derrion Grim, who enrolled early this spring.
If NU decides to play them both this year, Riley said the staff "better have a really good plan" about making sure they see enough playing time to justify burning their redshirts.
Riley said he and his staff would have to make final decisions on redshirt players by Tuesday.
- Robin Washut
More freshmen pushing for immediate playing time
The list of potential true freshman who could have an immediate impact this season doesn't stop with Wilson, Spielman and Grim.
Along with obvious candidates like punter Caleb Lightbourn and running back Tre Bryant, Riley said there were several others competing for a role this year, including a handful of defensive backs poised to see time on special teams in Lamar Jackson, JoJo Domann, and Tony Butler.
"I think we'll have more depth and be more athletic on special teams because of the addition of some of those players," Riley said. "I think JoJo Domann, and Butler, Lamar Jackson will be all over those teams. We expect contributions in that area."
While Riley said all three of NU's freshmen linebackers would likely redshirt, he added that offensive tackle Matt Farniok had a chance to be a factor this season with the way he's played during camp.
Riley said the ideal plan remains to redshirt Farniok this season, but if veteran players ahead of him were to miss any time with injuries they might not hesitate to play the former U.S. Army All-American in 2016.
"That's a good freshman class, and there's going to be a number of guys that are making a move in there," Riley said. "I'm pleased with the young guys who are pushing their way in."
- Robin Washut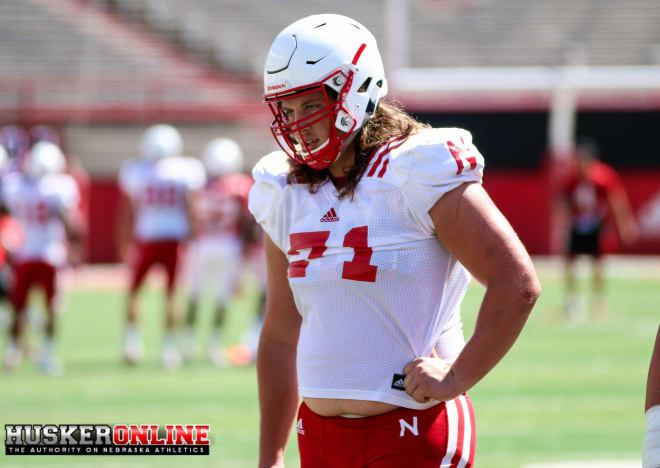 Quick hits
***Riley announced that three former walk-ons have been put on scholarship for this fall: linebacker Brad Simpson, fullback Graham Nabity, and defensive tackle Logan Rath.
***Here are the players who sat out practice with various injuries: Michael Rose-Ivey (knee), Jordan Westerkamp (hamstring), Brandon Reilly (unknown), Chris Jones (unknown), Eric Lee (unknown), Matt Snyder (unknown), Greg Simmons (neck), and Charles Jackson (hamstring).
***Offensive line coach Mike Cavanaugh watched the scrimmage from the coaches' box on the sixth floor of Memorial Stadium.
***With Jones out, Boaz Joseph was the other first-team cornerback along with Joshua Kalu.
***An interesting scene was Westerkamp essentially shadowing Grim during the scrimmage. Westerkamp would run from the sideline to the huddle each time Grim entered the scrimmage and would watch the play from about 15 yards behind the line of scrimmage.
Without receivers coach Keith Williams, it appears Westerkamp is taking on more of a player/coach role in practice. Riley said it was also a way for Westerkamp to stay involved in practice and not just stand on the sidelines.
***Riley said the competition at punter is still ongoing, but true freshman Caleb Lightbourn got the bulk of the work as the first-team punter on Saturday.
***Riley said Nebraska would decide on its team captains for the season by the end of next week.
***With Foster out for the season, senior Dwayne Johnson filled his place on the Huskers' 105-man roster.