Rutgers postgame nuggets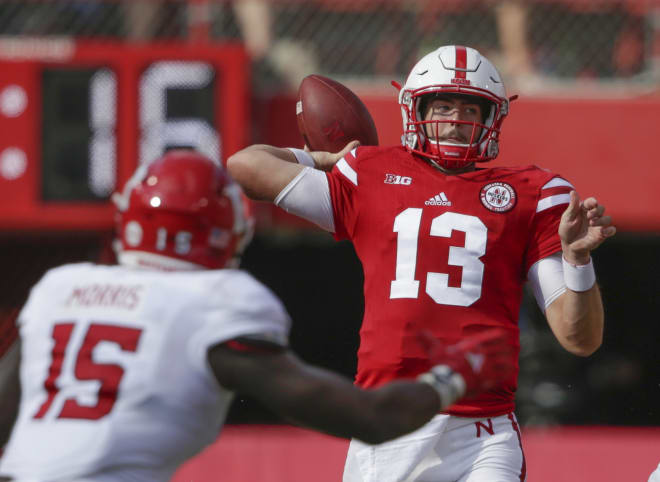 Here are some notes to pass along from Nebraska's postgame press conference following its 27-17 win over Rutgers on Saturday…
***Head coach Mike Riley noted that a lot of new faces had to step up in the game for Nebraska, and when adversity hit a few times, the players answered the call and made the plays to win.
***Asked if he ever considered pulling quarterback Tanner Lee during the game, Riley said bluntly: "No. No." Riley said they wanted to lean on Lee's experience, and it had nothing to do with what they think about Patrick O'Brien. "He sucked it up and made some throws," Riley said of Lee.
***Riley said there "was some good hard running" on offense with three backs playing in the game. "I was excited about it," Riley said about using multiple backs. Riley added that it would be nice to follow a similar game plan the rest of the season, "but we're going to have to throw for more yards."
***Riley said he continues to see growth from the defense each week. Today he was really impressed with how the defense bounced back after giving up a touchdown on the opening drive and then falling behind after another pick six. Riley added that the secondary depth really came through despite being in a very tough spot with injuries and Aaron Williams' ejection.
***Riley said he knows in every game like that, "anything can tip the scales" and De'Mornay Pierson-El's big punt return may have tipped it today. He also said the 97-yard touchdown drive in the third quarter was a big tipping moment.
***Riley said for Lee to come back and lead that 97-yard drive after throwing a pick-six, it said a lot about his character. Riley said he's seen that happen with other QBs in the past, like Derek Anderson and Matt Moore, and Lee responded just like they did.
***Riley said after last week, this was a big win for the team. "These kids are happy right now," Riley said. He told the team all week to focus only on what they could control, and that's what they did.
***Riley said receivers Stanley Morgan and Bryan Reimers were ruled out during pre-game warmups. That left them playing with "essentially the third next man" at split end with Gabe Rahn, who did a nice job.
***Riley said the heat played a factor with how they rotated at some positions, especially at running back. Riley said he really liked the production they got from multiple backs, and said "this will be a topic starting tomorrow" among the coaching staff.
***With all the injuries, Riley said in the end that will be good for the team in terms of developing some key depth with game experience.
***Riley said safeties Antonio Reed and Kieron Williams did nice jobs stepping in with confidence after Joshua Kalu went down and Williams ejected. Riley said Reed gets better with every game snap he plays.
***Riley said he could only remember one play where true freshman Brenden Jaimes got beat in pass protection on Saturday, and overall thought he had a nice day in his first ever start.
***Offensive lineman Jerald Foster said the whole offensive line wanted to go back out and play a game as soon as the loss to Northern Illinois ended. It was tough waiting a whole week to play again, but he said the unit was ready to atone for their mistakes this week.
***Lee said he definitely heard the boos when he came back onto the field following his pick-six, and admitted it "was tough" to deal with. But the offense being able to respond the way they did was the most important thing they could have done in that situation.
***Lee said his teammates were extremely supportive while he was struggling. "I've got the best teammates on my side," Lee said. "We pick each other up when one of us is down."
***Devine Ozigbo on his breakout performance: "It took a while, but it was good. I definitely wanted to prove something, to show that I could do it."
***Ozigbo said he didn't know he'd get 24 carries in the game, but it just kind of ended up happening that way. He said he thinks they have four backs who are all capable of playing every week, but it's up to the coaches to make that decision.
***Ozigbo said he didn't know why he wasn't playing much at all earlier this season. He said tried to do everything the coaches asked of him, but ultimately it was their decision. Ozigbo said he was just glad he got an opportunity today.
***Linebacker Chris Weber said the past week was obviously hard, but he was proud of the way the team came back to practice and worked hard to get better.