Report Card: Texas vs. Nebraska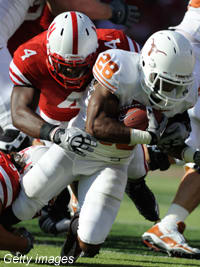 Nebraska suffered a disappointing 20-13 loss to the hands of Texas on Saturday. Here's the final report card grade out.
Next week Nebraska will take on Oklahoma State in Stillwater at 2:30 pm CST on ABC
Quarterback: D
Nebraska knew Texas was going to challenge quarterback
Taylor Martinez
, but I think it was even more than they could've imagined on Saturday. Martinez averaged just 1.6 yards per carry and was 4-of-12 in the passing game for 63 yards. NU really never got good field position either, and you could tell the pressure of being down in an early 10-0 hole effected Martinez. It just wasn't his day and he needs a bounce back performance next week at Oklahoma State. I did think
Zac Lee
played fine for what he was asked to do when he came into the game, but he didn't get much help from NU's receivers when the Huskers needed some plays.
Running back: F
A fumble by
Roy Helu
led to a Texas touchdown to make the game 10-0 midway through the first quarter.
Rex Burkhead
also dropped a wide open touchdown the Husker offense desperately needed to get going.
Wide receiver/Tight end: F
Niles Paul
continues to make plays you don't expect to see out of a senior leader. Paul had three drops that all would've been huge plays and one that went right through his hands in the end zone for a touchdown.
Brandon Kinnie
also dropped a fourth down pass in the end zone on NU's final possession of the fourth quarter. In a day that should've been about big plays by the Husker offense, all anybody is talking about are the dropped passes by NU's veteran wide receivers. This was a very disappointing performance by this group of players.
Offensive line: F
Nebraska's offensive line got handled up front by Texas similar to the way they did in the Big 12 championship game. The Huskers averaged just 2.8 yards per carry on 44 rushing attempts - that's not going to win you very many football games. NU constantly faced third-and-longs because of poor blocking up front by the line on early running downs.
Defensive line: D
Nebraska's front four got very little to no push on Texas. It was nothing like the Big 12 Championship game when the Huskers owned the Longhorns up front. Very rarely did you see the front four making plays in the backfield.
Cameron Meredith
had the lone tackle for loss on the game for the front four, and it went for just 1 yard. Ndamukong Suh made more plays on one drive against Texas last year than the Huskers made the entire game today.
Linebacker: C
It was a very quiet day for Nebraska's linebackers.
Lavonte David
was the only one who played in the base defense and he finished with 10 tackles and 1 TFL.
Will Compton
got on the field in the goal line package for a couple of plays on Saturday. My question is would Nebraska have benefited by playing with two or three linebackers on the field knowing Texas was going to run it nearly every play? This scheme with no linebackers on the field obviously worked great a year ago with Suh and Phillip Dillard, but it doesn't seem as effective this year.
Secondary: C
To Texas's credit they didn't let Nebraska's secondary take this game over to make plays.
Garrett Gilbert
was just 4-of-16 for 62 yards passing, but most importantly he had no interceptions. Gilbert threw the ball away when nothing was there because he had confidence in his defense. The real problem with the secondary was some of the open field tackling, particularly by
Rickey Thenarse
who whiffed in space more than a couple of times. It was also Thenarse that got beat downfield on a 41 yard pass to running back
Foswhitt Whittaker
.
Special teams: C+
Alex Henery
made his only two field goal attempts of the day and
Eric Hagg
scored NU's only touchdown on a school record 95 yard punt return off a pooch punt attempt in the fourth quarter. The play fooled nobody and Nebraska was ready for the pooch and took advantage of the play. However, Texas's special teams dominated the game in terms of controlling field position. It was very frustrating to see UT kicking the ball into the wind rugby style and still landing punts inside the 5 yard line. Nebraska needs to do a better job of fielding these balls. This absolutely killed the offense and gave them no field position to work with.
Curtis Brown
's 24 yard punt return in the first quarter also resulted in points for the Texas offense.