Piper ready to 'make Nebraska great again'
Sometimes when your heart tells you to do something you've got to follow it and that's what defensive end Ethan Piper did this week.
The 6-foot-4, 280-pound defensive lineman from Norfolk (Neb.) Catholic landed an offer from Nebraska last Wednesday and he officially committed to the Huskers on Sunday night before publicly announcing his decision on Monday.
Piper had been set to visit Iowa over the weekend but decided he didn't want to waste their time or his since he heart was telling him to be a Cornhusker.
"Actually, I did not go to Iowa last weekend," Piper said. "I thought about it for a long time, and I was going to go with Dylan Kautz. I thought about it, and I decided that I didn't want to go to it if I wasn't 100 percent committed to going there and listening to them. In the back of my mind, I knew that my heart was with Nebraska and I didn't want to go and waste their time. So I called them up and they said that they completely understand and thanked me for calling them. So that's kind of how it went."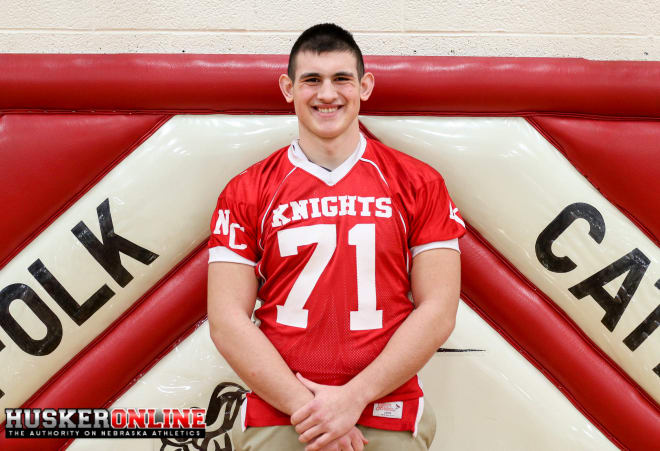 Piper says he called up his recruiting coach, Barrett Ruud, on Sunday night to tell him the good news and the coach couldn't have been happier about his decision.
"Sunday night I called up coach Barrett Ruud, he was the person that was actually recruiting me first for Nebraska," Piper said. "So I called him up and said, 'I've been thinking a lot about this, and I'm 100 percent in, and I just want to make Nebraska great again.' I was just really excited and just wanted to jump on that scholarship when I had the chance.
"He was really excited. He just told me that he really admired my hard work ethic and that I could come in and really set an example to others that this is how Nebraska operates and you have to work hard every day to get better."
The opportunity to play at Nebraska is a dream come true for Piper. He says it still seems somewhat surreal that he will be representing his community and state once he gets to Lincoln.
"It's totally a dream come true," Piper said about committing to Nebraska. "I'm still kind of in disbelief about all of it. Growing up as a kid, you would always go out in the backyard and throw the ball around and pretend you were a Nebraska Cornhusker. Well, now I can actually say that. I'm just very blessed and honored to say that I'm a future Nebraska Cornhusker.
"Everyone at school has just been patting me on the back and telling me that I made the right choice. It's just been an overwhelming amount of support from my family, my school, and the community. It just reinforces how much I want to take on the responsibility of playing at Nebraska and representing Northeast Nebraska."
Now that the multi-sport Norfolk Catholic standout has committed to the Huskers, he'll be attending a few events in Lincoln this spring.
However, his main priority will be finishing out his high school career on a strong note before beginning a new chapter in Lincoln.
"I'm going to their Junior Day on the 31st and I'm going to the spring game on the 21st of April," Piper said. "We have track practice that just started up, and I'm just wanting to finish out all of my high school sports before I really start thinking about playing at Nebraska."
Piper was an All-Nebraska Super State selection based on his performance as a junior for the Knights. He picked the Huskers over early offers from Iowa, Ohio and South Dakota State.