Ozigbo determined to be 'the guy' in Huskers' backfield
Few players raised their 2016 stock more during Nebraska's win over UCLA in the Foster Farms Bowl than Devine Ozigbo. Through the first week of fall camp, the sophomore running back hasn't shown any signs of slowing down one bit.
Ozigbo already stood out from the rest of the running back group because of his impressive build, but what has been the biggest difference from a year ago has been how much the Sachse, Texas, native has evolved his all-around game.
First and foremost, Ozigbo said he's currently in the best shape of his life, down to a lean, mean 225 pounds - his lowest weight since his senior year of high school.
Secondly, he's made it a point since the end of last season to improve not only as a runner with the ball, but as a receiver out of the backfield and as a pass blocker. So far, his coaches have definitely taken notice of those improvements.
"We've been impressed with the shape that's he's in, and we've been impressed with his athleticism," head coach Mike Riley said. "He's always been a good athlete, but gosh, he just looks like he's well toned and running routes well and catching the ball well."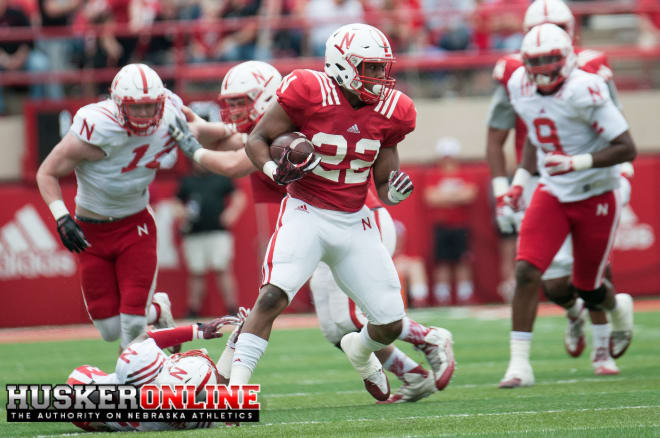 Elevating his skills as a weapon in the passing game - both as a receiver and a blocker - will be crucial to achieving his goal of being a much bigger factor in Nebraska's offense than he was as a freshman.

He ended 2015 with 38 carries for 209 yards and a touchdown, but the bulk of that came in the bowl game when he set career highs with 20 rushes for 80 yards.
Take away those numbers and his first breakout game at Illinois (seven carries for 70 yards and his lone touchdown), and Ozigbo only ran the ball 11 times for 59 yards in the other nine games he played.
By becoming more reliable in the passing game, though, Ozigbo looks well on his way to increasing those numbers in a big way this season.
"I think Devine has really improved on that," offensive coordinator Danny Langsdorf said. "I think that's shown that the last few days… I do think Devine has worked on his hands and it looks more natural catching the ball."
Other signs of Ozigbo's growth include taking it upon himself to do anything he can to get better. This fall, Ozigbo has been teaming up with senior linebacker Josh Banderas to work on blitz pickups before each practice.
That goes back to Ozigbo realizing that it wasn't a matter of if he could be an effective pass blocker, but more so having "the willingness to do it."
With the right mindset in place, there might not be anything left standing in Ozigbo's way as climbs his way up NU's running back depth chart further each day.
"(My goal is) to have the best camp I can have and hopefully start a couple games," Ozigbo said. "That's the goal and that should be the goal for everybody. My goal is definitely to start at some point this season…
"Definitely to be the guy. However the coaches, deem the guy to be, that's what I want to be."