Early November challenge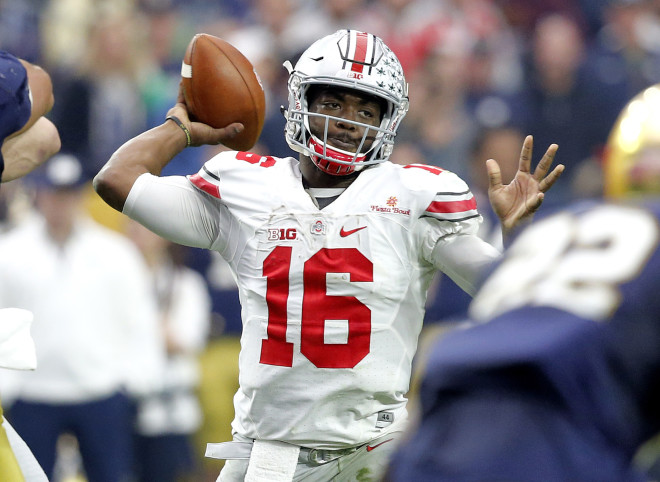 For most teams a 12-1 season that featured a Fiesta Bowl win over Notre Dame would be considered monumental. However for Urban Meyer's Ohio State Buckeyes it was considered a disappointment. They entered the season as the defending national champions and ended up having an NCAA record-tying 12 NFL draft picks on their 2015 squad.
They had a real opportunity to repeat, but came up short losing to eventual Big Ten champion Michigan State 17-14 in Columbus.
Now the Buckeyes must replace several key faces in 2016. Nebraska will travel to Columbus for an November prime time match-up. To get an early look at the Buckeyes HOL caught up with BuckeyeGrove.com publisher Kevin Noon to get his take on OSU coming out of the spring.
Spring overview
It was unique spring for Ohio State losing so many key players, on top of several players being held out with injuries. In fact, very few key players even took part in the Buckeyes spring game because of injuries.
The spring was more an opportunity for a lot of young players to get a chance to make a name for themselves and get some key reps with the top units.
Returning starters
OSU returns just three starters on offense and three starters on defense. Quarterback J.T. Barrett, right guard Billy Price and center Pat Elflein are the lone returning starters on offense, while middle linebacker Raekwon McMillan, defensive end Tyquan Lewis and cornerback Gareon Conley are the returning starters on defense.
Heading into 2016 a total of 60 of the 85 scholarship players on OSU's roster will have either freshman or sophomore eligibility, so there's no question this will be a very young, but talented team across the board.
Of those six returning starters, Meyer has already named three of them captains, which is a very uncharacteristic move for him to do before spring ball even started.
Offensive star: QB J.T. Barrett
When you look at this Ohio State team, there's not even a question right now Barrett is the star of their offense.
He was the 2014 Big Ten player of the year, however split snaps with Cardale Jones in 2015, but by season's end he was the starter.
Last season he threw for just 992 yards, but also had 682 yards rushing and 11 touchdowns on the ground. He accounted for 22 touchdowns for the Buckeyes. Meanwhile as a freshman in 2014 he threw for 2,834 yards and 34 touchdowns through the air, to go along with 938 rushing yards and 11 touchdowns on the ground. Right now Barrett would be the unanimous preseason Big Ten player of the year heading into 2016.
Defensive star: MLB Raekwon McMillan and DE Sam Hubbard
Ohio State's defense will be built around McMillan at middle linebacker, which many feel could be a first round NFL draft pick as a three-and-done.
The other name though to watch closely is Sam Hubbard at the other defensive end position opposite of Lewis. The former Notre Dame lacrosse recruit decided to play football instead, and has found a home at rush end. He's another player that could be an early NFL guy when it's all said and done.
Spring surprise: CB Denzel Ward
Coming into the spring nobody really knew a lot about cornerback Denzel Ward, but he did all the right things to put his name in conversation.
However, there's not guarantee he'll be a starter for the Buckeyes in Week 1, but the staff was very high on his potential coming out of the spring.
Best position battle: Running back
It won't be an easy task replacing first round NFL Draft pick running back Ezekiel Elliott, which is why that may have been the most intriguing position battle coming out of the spring. After spring ball ended Meyer said this position battle will go well into August.
Both redshirt freshman Mike Weber and senior Bri'onte Dunn battled it out to win the job. Dunn is a guy that has waited his turn behind both Carlos Hyde and Elliott. He's shown flashes, but has had ball security problems over his career at times.

Weber has shown he has unlimited potential, but he still needs to mature and prove he has what it takes be the guy.
Biggest question: What will life after Elliott look like?
When you look at Ohio State's offense the last two years, the wanted to be balanced, but in all reality they were more of a running attack with Elliott leading the charge.
That will really be the biggest question for the Buckeyes in 2016, and that's what will this offense look like without a "bell cow" running back? They need to establish their identity still and who will be their true playmakers.
Early outlook on Nebraska at Ohio State
Noon: "The biggest issue I think is Ohio State will be in a stretch of four straight night games. Those are tough games to get prepared for week in and week out, just because it changes your schedule so much.
"You go back and look at the first year Ohio State went to Lincoln and they had that big lead, and they kind of gave it all away. I don't think there's any fear that Ohio State is going to go into that game and not respect Nebraska. It may not be the Nebraska team of the old Big 8 days, but I think they can just put the tape in and see how well Nebraska played some common opponents and know that they are going to be in for a challenge.
"I think with a young team like Ohio State has this year, it definitely benefits them being at home. While they did drop a home game last year to Michigan State, they generally don't lose at home in Big Ten play."

Overall 2016 win-loss expectations
Noon: "The goal is to win the East and be in the College Football Playoff conversation. We are going to know a lot about this team after Week 3 when they travel to Norman to take on Oklahoma. Could this be a 3 loss team by the end of the year? Potentially. However, I think everybody thought that the 2014 team was going to come up short, and they won the national championship.
"It's hard to have a strong prediction. There's going to be some challenging games on the schedule. A trip to East Lansing is never good. Even if you believe Penn State is down, a trip to State College is never an easy trip. What's year two under Jim Harbaugh at Michigan going to look like? You just don't know. I think they are anywhere between a 9-3 and a 12-0 team. I think they are probably going to trip up somewhere and probably be 11-1 or 10-2 with a loss at Oklahoma and a loss in the conference somewhere."