OLB Schweitzer is commit No. 10 for the Huskers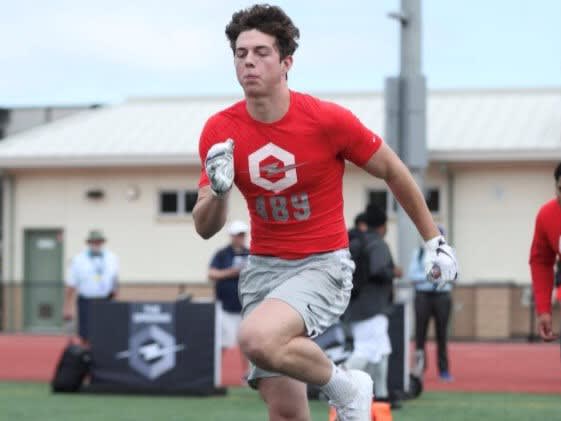 The Nebraska recruiting class has gotten some serious momentum lately. Since May 1st, the class has doubled in size, with the addition of outside linebacker Will Schweitzer from Los Gatos (Calif.) being the latest to join the class today.
Schweitzer, a 6-foot-4 and 215-pound recruit, is rated as a defensive end, but figures more to play the 3-4 outside linebacker position at Nebraska. It's clear to see that Schweitzer has the edge pass rush ability they are looking for at that position.
Schweitzer had accumulated to 22 scholarship offers, including from seven Pac-12 programs and the likes of Michigan State, TCU, Arkansas, Kansas State, Virginia Tech, Duke and Boise State.
The Huskers offered Schweitzer before his junior season, and and he went for one to record 130 total tackles, two sacks, nine tackles-for-loss and three interceptions. He also averaged 17.5 yards on eight receptions, with one touchdown, as a tight end.
Los Gatos, Calif., won the CCS championship last year and at a final record of 12-2. They lost once in the regular season and eventually lost to Cardinal Newman in the NorCal championship.
The Huskers were definitely one of the earlier offers for Schweitzer with coaches Mike Dawson and Erik Chinander running point for Nebraska.
"I feel like I have a high motor," Schweitzer relayed. "I don't let plays go and I think coaches like that a lot. I think I rush the passer well, too, but I haven't been able to do that the past few years just because my coaches play me at the inside linebacker.
"But, I think my strength is rushing the passer. I don't feel like anyone can stop me. Some [colleges] are leaving my position open and telling me I could play inside linebacker or tight end as well. I just want to play on defense in college."
The Huskers have hit the double-digit commit total in a class that will likely add fewer than 20 total commits. Schweitzer is the first commit from the state of California in the 2020 class, and the second in two years along with Eteva Mauga who attended Pleasant Hill (Calif.) Diablo Valley C.C.