Nebraska WR commit Victor Jones can't wait for his time in Lincoln
There was just one official visitor in Lincoln this past weekend for Nebraska's home opener against Fordham.
Nebraska commitment Victor Jones from Orlando (Fla.) Olympia was finally able to get to Nebraska. Jones committed to Nebraska in April ahead of ever visiting Nebraska in person.
"When I first got to Lincoln on Friday I met some of the coaches at the stadium," Jones said. "I got a chance to take a little tour and then I got to take some pictures in the uniforms."
Jones got a chance to meet his host that afternoon. He and his host had a chance to go and hang out with a number of other players off-campus.
"After the photoshoot, I ate with some of the coaches and got a chance to hang out with Latrell Neville. We went with some other players to go bowling that afternoon. I met Omar Manning and Adrian Martinez there."
Jones saw the Nebraska facilities during a virtual recruiting visit. What he really appreciated about them in person is how everything was laid out logistically.
"I have seen the facilities and stuff before from the virtual visit. It's extremely impressive how everything is arranged and put together. Nebraska really put a lot of thought into it and it makes me anxious to get up there as soon as possible."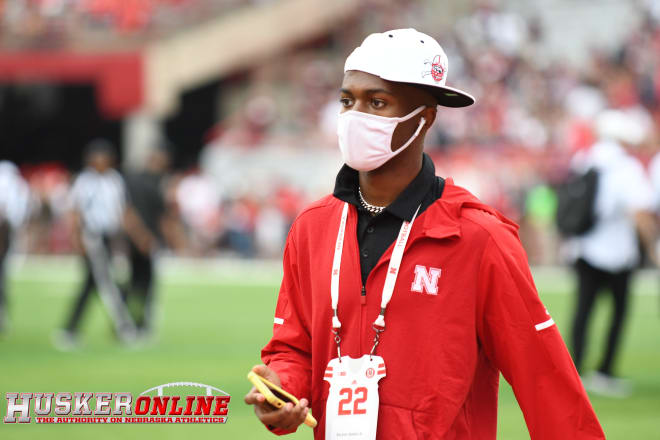 Jones chose not to visit in June because it was important to him to see a game in person at Nebraska. He really liked how supportive the Nebraska fans are and loved the tunnel walk.
"The game was early so we didn't do a lot before the game," Jones said. "It was a crazy atmosphere. They have great fans with a lot of support from the community. It was very exciting and walking the tunnel walk had a different feel to it.
"The whole experience was cool. It made me want to play right there and then. I can't wait to actually do it next fall, 100 percent."
Jones was able to spend time with another Nebraska commitment this past weekend. He said that after the game he had another chance to hang out with a number of players after the win earlier that day.
"I was with Ernest Hausmann the linebacker commit during the game and a little after the game. On Saturday night I just went out with some of the guys to get a feel for the campus after the win."
On Sunday there was a chance to talk with the Nebraska staff about where they saw him in the offense. The Nebraska offensive coordinator told Jones he reminded him of some players he coaches before.
"The Nebraska coaches were telling me about how they need speed," Jones said. "Coach Lubick was comparing me to some of the guys he has coached before like Chad Johnson, Josh Huff and John Ross."
There is always a fear that when a player visits a school in person that it may not be the right fit. Jones said there was nothing to fear when it came to him. He was more than impressed with Nebraska.
"It was definitely a '10'," Jones said. "I was very impressed and it definitely exceeded expectations."
Jones confirmed that he plans to graduate in December so he can get to Lincoln in January to participate in winter conditioning and spring practices next year.