Nebraska vs. Wisconsin report card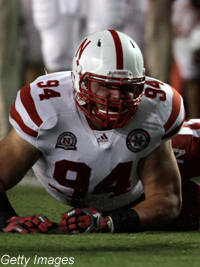 MADISON, Wis. - Nebraska dropped their first game of the 2011 season to Wisconsin on Saturday as the Huskers fell 48-17 in Madison. Here's the final report card grade out from Saturday's loss to the Badgers.
Running offense: C-
Early on Nebraska had success running the football against the Badgers. The Huskers came into Saturday's game leading the Big Ten in rushing yards per game, but mysteriously NU went away from what was working. Nebraska finished with 159 yards rushing on 43 carries, led by
Rex Burkhead
, who finished with 96 yards on 18 carries. It's hard to really be that critical on the running offense, because for whatever reason offensive coordinator
Tim Beck
decided to go away from what was working early. Beck panicked when NU got down and instead of staying disciplined he went away from NU's bread and butter.
Passing offense: F
During a four possession span in the second and third quarters quarterback
Taylor Martinez
threw three interceptions and Nebraska missed a 50 yard field goal on the other. In a nut shell this is where Nebraska let the game slip away. They had no business chucking the football around like they were doing early in the game when they were running the football with success. Before the three interception meltdown, I thought Martinez was throwing it well, as he hit
Jamal Turner
five times for 84 yards. The bottom line is this offense is not very good when you force Martinez to be a drop back quarterback that throws down the field.
Rushing defense: F
Once Nebraska's offense fell apart, the success and momentum they had slowing down the run went with it.
Montee Ball
demoralized the Blackshirts in the second half to finished with 151 yards rushing on 30 carries to go along with four touchdowns. When UW quarterback
Russell Wilson
wanted to run the football he also had success. On one particular play he made a few of NU's defenders look silly with his allusiveness in the open field.
Passing defense: F
This phase of Nebraska's defense has long ways to go. NU had a very hard time staying disciplined on the play action and balls that shouldn't been either intercepted or knocked down by the Huskers were caught in coverage by Wisconsin. Tip your hat to Wilson. He is a special player and as a Heisman voter he definitely got my attention. Wilson was flawless completing 70 percent of his passes for 255 yards and two touchdowns.
Special teams: B+
This was the lone bright spot for Nebraska on Saturday night.
P.J. Smith
forced an early turnover on punt coverage that set up NU's first touchdown of the game.
Ameer Abdullah
consistently gave Nebraska good field position and the longest kick return of the night was only 22 yards for Wisconsin. The only knock on special teams was a missed 50 yard field goal before halftime by
Brett Maher
.