Nebraska falls to Southern Utah 79-78 in 2OT
Just when it seemed like the Fred Hoiberg era at Nebraska couldn't have gotten off to a much worse of a start, things got even lower on Saturday afternoon.
Despite owning a 14-point lead in the second half, the Huskers once again saw a mid-major opponent come into Pinnacle Bank Arena and hand them an inexplicable loss, falling to Southern Utah 79-78 in double overtime.
Nebraska had multiple opportunities to put the win away throughout the day, but it consistently fell one play short. The game only went into overtime because of a 30-foot buzzer-beater by Jervay Green to tie it at the end of regulation, and a missed floater by Cam Mack on the final shot of the second OT sealed the defeat.
The Huskers shot 3-12 from the field, missed all six of their 3-pointers, and went just 3-of-7 from the free-throw line during the two overtime periods.
Following a 19-point home loss to UC-Riverside on Tuesday night, NU is now 0-2 for the first time since 1987.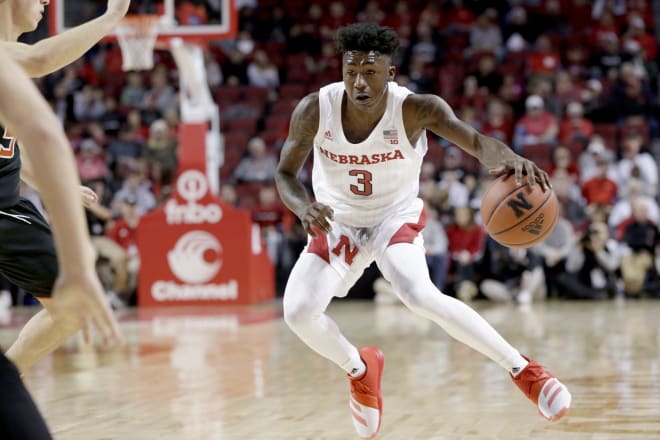 "I thought our guys really went out and competed today," Hoiberg said. "I thought we got off to a great start. We challenged them the last few days to put that last frustrating loss behind us, and they responded with great energy...
"The competitive spirit of this group was where it needed to be today, and it's something we can build on."
Nebraska missed four of its first five shots from the field and six of its first seven from 3-point range, but it eventually settled down and got some offense going midway through the half.
A steal and breakaway dunk by Green highlighted a 16-2 run that gave the Huskers their biggest lead of the half at 28-14 with just over four minutes left. That run was aided by the Thunderbirds shooting just 2-of-17 during that stretch and missing their first 11 from behind the arc.
A drive and layup by freshman Kevin Cross, who scored a team-high 19 points off the bench, at time expired sent Nebraska into halftime up 37-26.
"I thought he was one of the best players on the floor for us," Hoiberg said. "He was finishing, he's got a good feel in the middle of that zone. We felt Kevin was the guy to have out there."
Southern Utah crept back within seven on a 7-0 run early in the second half, and the lead would get down to 54-53 on a layup by Jakolby Long with 7:43 to play.
Mack stepped up and scored six straight points to help push the lead back up to five, but then a 3-pointer by Dre Marin with 1:58 left gave SUU its first lead since the 17:11 mark of the first half.
The Thunderbirds eventually got the ball out of a timeout with 31.1 remaining, and senior Haanif Cheatham was whistled for a foul on the floor with 16.5 left to give Dwayne Morgan two free throws that made it 67-66.
Mack had a chance to give NU the lead at the charity stripe but missed both attempts with 5.2 to play, and SUU added two more free throws to push the lead to 69-66. But Green's desperation three at the buzzer kept the Huskers alive and sent the game to overtime.
"I saw the time was going down and just shot it and made it," Green said.
After a Mack free throw knotted the game at 72-72, neither team scored for more than three minutes of overtime to leave it tied going into the final minute.
Nebraska had a pretty play set up coming out of a timeout that nearly ended in a one-handed alley-oop from Mack to Green. Instead, the ball hit off the side of the backboard and Southern Utah got it back with 9.0 remaining. Marin missed a runner as time expired, though, sending the game to a second overtime.
The Huskers had another chance to put the game away when Mack found Green for a layup, Cross blocked a shot on the other end, and junior guard Dachon Burke hit two free throws with 1:30 left to put NU up 76-73.
That wouldn't hold, though, as Cameron Oluvitan drained a jumper with 3.5 seconds on the clock to give SUU a 79-78 lead. Mack's floater at the buzzer was no good to give the game its final.
Mack finished with 13 points, 11 assists, and seven rebounds, while Green posted 18 points, eight rebounds, and three steals. Burke added 13 points.
Morgan led Southern Utah with 19 points and 11 boards, as the Thunderbirds out-rebounded NU 57-44 overall and had 15 on the offensive glass.
Nebraska will get a few days off before trying to bounce back again on Friday when it plays host to South Dakota State for an 8 p.m. tip on BTN.
"I mean, I feel like we took a step forward, but when it came down to it we should have won that game," Mack said. "We should have just won the game. I mean, we didn't execute well. I didn't come through making my two free throws, so I took the blame on that. But we just didn't execute. That's all it is."
1. This is not a good shooting team
Stating the glaringly obvious here, but until Nebraska can consistently make open shots and free throws, results like this are going to be far too common this season.
After a dismal shooting effort in the opener vs. UC-Riverside, the Huskers were just 5-of-26 (19.2 percent) on 3-pointers and 19-of-29 (65.5) at the free-throw line. The shooting kept getting worse as the marathon game went on, too, as NU was just 3-of-12 from the field for nine points in the 10 total minutes of overtime.
Southern Utah followed the familiar script of switching between an aggressive press defense to a 2-3 zone, and it dared Nebraska to beat it from the perimeter. Every team the Huskers face is going to do the same thing until they can shoot it well enough to make teams stop.
2. Cross bounces back
Few stat lines from Nebraska's loss to UC-Riverside stuck out more than Cross' 1-for-10 shooting performance.
The Highlanders basically said the freshman was going to be the guy to beat them by dropping his defender into the paint and leaving him wide open on the perimeter. Cross responded by scoring just four points and missing five of his six 3-pointers.
Saturday was a much different story, though. After a couple of bad misses early, Cross settled in and saw a few shots go through the hoop, and that sparked him to score nine of NU's final 11 points to end the first half.
He finished with a team-high 19 points and was one of the only relatively consistent sources of offense. There weren't many bright spots on Saturday, but Cross was one of them.
3. Progress won't be measured in wins and losses
Sitting at 0-2 with its worst start to a season in 32 years, Nebraska is more than likely in for a long, frustrating, and ugly year.
So for Hoiberg, his staff, and the Husker fans loyal enough to stick it out, measuring the progress made by this team probably can't be done by looking at the final record.
Take the strides made between games one and two (and yes, there were some). First, the overall effort was significantly better than it was vs. UC-Riverside. Guys were playing with some fire and seemed to feed off each other a bit, a great sign for a team still figuring itself out.
The improvement by Cross is another example, as was seeing Mack step up and put the team on his back late in the game.
Don't get it twisted: Nebraska is not a good team right now and is going to lose a lot of games this season. But in terms of establishing the foundation for Hoiberg's program, some of the biggest successes the Huskers can have in Year 1 will be intangibles that don't show up in the final stats.
THEY SAID IT
"If we continue to take steps, the results will take care of themselves. That's the biggest thing for our group right now, to continue to go out there and battle. I'm proud of the way they went out there and battled and fought."
— Head coach Fred Hoiberg on the improvements he saw from his team even in a loss.