Monday notebook: Fyfe, Darlington next up if Armstrong ruled out
As Nebraska awaits official word on the status of senior Tommy Armstrong, it will begin its preparation for Minnesota this week with a Plan B firmly in place.
If Armstrong is unable to pass concussion protocol and return to practice by Thursday or even Friday at the latest, head coach Mike Riley said the Huskers were fully prepared to go with senior Ryker Fyfe as their starting quarterback in an important Big Ten West showdown with the Golden Gophers.
"I always think he has been well prepared," Riley said of Fyfe. "I really like his ability. I think given the chance to play he will perform and do a nice job. I think our team has faith in him, and I think that kind of comes through all the time. They see him practice and the work that he puts in, so if that's the way that we end up going I think Ryker will do a really good job for us and help us win the game."
Should Fyfe get the nod against Minnesota, it would mark just his second career start and only third extensive appearance not in late-game mop-up duty. Fyfe obviously struggled mightily in his first ever start last year at Purdue, and things didn't go much better when he took over for Armstrong late in the second quarter of last week's blowout loss at Ohio State.
Even so, senior wide receiver Jordan Westerkamp said the Huskers have full confidence that Fyfe would be able to get the job done if called upon this week.
"We had a similar situation last year when Ryker had to play in a game, so it's nothing new to us," Westerkamp said. "Obviously you want your starter in there, but if he is down, it's just that next man up mentality. That's just how it is. It's football, and guys get injured. So guys are just going to have to step up."
What happens if Armstrong is ruled out and then Fyfe has to miss any time on Saturday?
Riley said the No. 2 quarterback in that situation would be sophomore Zack Darlington, who was recruited to NU as a three-star dual-threat quarterback out of Apopka (Fla.) High School in 2014.
Darlington moved to wide receiver this spring and also took over as the team's holder on place kicks, but Riley said he has been NU's emergency No. 3 quarterback most of the season and was even warming up on Saturday after Armstrong went down.
Riley said there was little thought given to burning the redshirt of true freshman Patrick O'Brien given how late it was in the season.
"I'm really reluctant at this stage in the year to put Patrick O'Brien in that spot, because at this stage I'd like to keep his redshirt if at all possible," Riley said. "I haven't really addressed anything with him. He knows our intentions have been to redshirt him, and we're going to try and keep that as clean as possible as we go.
"We all know that we have to be prepared for anything that might happen out there, and we understand that. That's why he's traveled, that's why he's practiced from time to time with our team, that's why he's stayed so well prepared. But our intention would still be to redshirt him if at all possible."
- Robin Washut
Jerald Foster could be back this month 
In one of the more surprising announcements that came out of Monday's press conference, Riley announced that sophomore offensive lineman Jerald Foster was close to being cleared to play, and could see the field very soon.
Foster suffered a major knee injury in mid-August that was going to take three months of solid recovery time. It's been now just under three months since the injury happened, and Riley said Foster is on track to play here very soon.
"I do not anticipate him being ready for this next game, but I'm hopeful for Jerald's sake that he could possibly get back in the mix and be able to play," Riley said. "He's already redshirted, so this would be a lost year. So it wouldn't be like we'd be burning a year if he was able to play at all in this season…
"He's working out right now and kind of going through the protocol of what he needs to do, but he's basically been cleared to run and all that stuff. So that's good news."
Foster's older brother, senior tight end Trey Foster, said on Monday he's very proud of how Jerald has fought to get himself back into action.
When the injury first happened, most people just assumed we wouldn't see him again in 2016.
"Wasn't surprised, but he's worked his butt off every single day for the best I don't know how many weeks it's been now," Trey Foster said. "It feels like it's been a year.
"If you ask him I know 100 percent he wants (to play). It's just a matter of him being 100 percent ready. He has to actually get his ducks in a row. That's what it's all about."
- Sean Callahan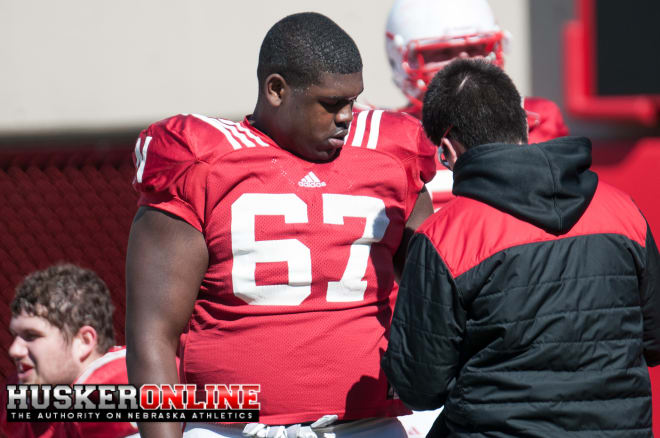 Offense's woes nothing new, but must be fixed
It's probably easier to try and identify what actually went right than list all the things that went wrong in Nebraska's 62-3 loss to Ohio State on Saturday.
But one problem area that stood out to Riley as much as anything - which it has for the past month and a half - was the Huskers' complete ineffectiveness and inconsistency on offense.
Riley said the offense has gradually gotten worse since the start of Big Ten play, and while NU has been able to get away with the decreased production for the most part up through last week, the Buckeyes exposed those issues in a major way.
"Offensively we have struggled for a while, and it was amplified in that game," Riley said. "We have got to find our niche of what we can do running the ball well and how we can best enhance what we are trying to do in the passing game.
"But it is probably a whole regrouping offensively and getting back to a good balanced performance. That's what our big chore will be this week as we go forward. Everybody here realizes our struggles. It was not just the Ohio State game, but before that too. So we've really got some work to do."
Riley said he and his staff would have to re-evaluate some offensive personnel going forward and potentially make some changes to help provide a spark. Injuries have obviously taken their toll at several positions, especially the offensive line, but Riley refused to use those as an excuse for the drop in production.
Instead, Riley is only focused on figuring out how to turn things around for his offense.
Going into the start of Big Ten play, Nebraska ranked fourth in the conference in both rushing (219.3 ypg) and passing (242.0) and fifth in both total offense (461.3) and scoring offense (43.3 points per game).
After six league contests, the Huskers are now down to 190.0 ypg rushing (5th), 214.6 passing (8th), 404.6 total ypg (7th) and 28.8 ppg (6th).
While many corrections need to be made, Riley said improving the running game would go a long way in picking up everything else for the offense.
"I think the No. 1 thing that we need to do is establish two identity runs that we can repeat better throughout the ball game that look good," Riley said. "Sometimes when you're not doing well you jump around a bit, so I think establishing our identity in that way and really rehearsing that, practicing that her the course of the next three days is really going to be big for us in improving that and getting back to it."
- Robin Washut
Riley revisits decision to redshirt true freshmen on offensive line
Back in early September it seemed like keeping the redshirts on true freshmen offensive linemen Boe Wilson, Matt Farniok, John Raridon and Bryan Brokop made sense.
The Huskers didn't have a lot of depth ahead of them, but they felt like they could still survive the season and preserve the redshirts of those players.
Now ten weeks in, as Riley looks back at that decision having guys like Wilson and Farniok would be nice right now. However, it's a decision they made and they have no plans of taking any of those players out of their redshirts.
"Maybe," Riley said when asked now if he wished he burnt some of the redshirts on the true freshmen offensive linemen. "I have appreciated the work that our guys have done, but as we've gotten thinner it has looked a little bit scarier. Perhaps it is worth reflecting on."
- Sean Callahan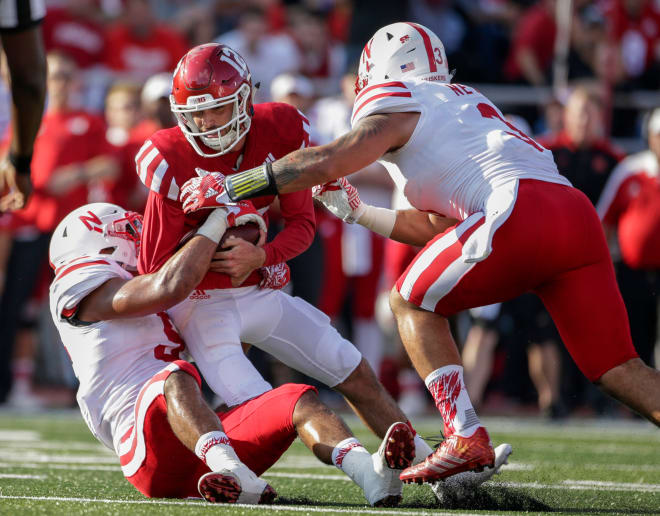 Quick hits
***Riley said that while no linebackers have been ruled out for Saturday's game with Minnesota, four players at the position are currently listed as questionable with various injuries.
Dedrick Young (ankle), Marcus Newby (hamstring), Michael Rose-Ivey (elbow), and Chris Weber (knee strain) will all be monitored this week and could miss some practice time.
***Riley said right guard Tanner Farmer, who has missed essentially the past two games with an ankle sprain he suffered early on vs. Wisconsin, was "getting closer" to returning but would still be evaluated further this week.
***Right tackle David Knevel, who missed didn't practice all last week and sat out against Ohio State with a foot injury, "continues to get better" and has a good shot to return to action this week.
***Wide receiver Brandon Reilly only played a handful of snaps vs. Ohio State due to a hamstring he suffered early last week in practice. Riley said the senior was listed as questionable but he was "hopeful" that Reilly would be able to play vs. Minnesota.
***Riley said running back Devine Ozigbo (ankle) "has gotten better and better, and we need to get him going. We need to get a little bit more rotation with our backs."