Mike Williams commit: What does it mean for Nebraska?
Nebraska added a commitment from another mid-year enrollee in the form of JUCO wide receiver Mike Williams on Wednesday evening.
The 5-foot-10, 175-pound Scooba (Miss.) East Mississippi C.C, wideout announced his commitment to the Huskers just days prior to his official visit to Lincoln this coming weekend. He becomes NU's 15th known commitment in its 2018 recruiting class.
Here are some quick takes on what Williams' commit means for the Huskers.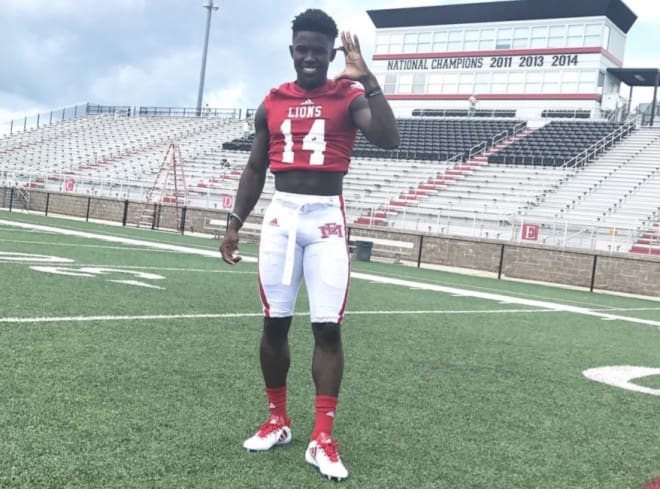 1. Head coach Scott Frost knew he needed to address certain positions of need by hitting the JUCO ranks in this recruiting class and Williams helps to fill one of the thinnest positions on the team. Perhaps the most important part of this addition is the fact that Williams graduated in December and will be able to enroll immediately at Nebraska for winter conditioning and spring football.
2. The Huskers may have struck gold with Williams not only because he's available right away, but he also appears to be a great fit for what NU wants to do on offense which is to play fast. The JUCO transfer says he has been clocked at 4.37 in the 40-yard dash which adds even more speed to the receiving corps.
3. On film, Williams shows a knack for running nice routes and finding soft spots in the defense. He understands how to get open and create separation from defenders with his combination of route running ability and speed.
4. I like the fact that Williams isn't merely a speed demon that can stretch the field vertically. EMCC had him doing everything from bubble screens, routes between the hashes as well as stretching the defense on deep balls.
5. Williams is a playmaker. He's very dangerous in the open field and gains a ton of yards after the catch. He shows nice change of direction and elusiveness against quality JUCO competition. He averaged over 22 yards per catch this season.
6. Williams is a mature player that doesn't lack confidence in himself. He was not heavily recruited out of high school and ended up signing with Georgia Southern. After his freshman season he wasn't afraid to gamble on himself by electing to transfer to East Mississippi C.C., better known as "Last Chance U" in hopes of landing a big Power 5 offer. Despite having a handful of offers to his name once the early signing period came around the December graduate decided not to sign and hold out for a late opportunity. The gamble paid off as Nebraska assistant Ryan Held discovered him and Frost offered just last week.
7. The addition of Williams brings the total number of Nebraska JUCO signees in this class to five. All five of those players will be on campus right away to compete for jobs this spring and come from tradition and consistently talent rich programs. Williams is a tough-minded competitor that should fit in very well with the new culture Frost is creating in Lincoln. Williams won a NJCAA National Championship at EMCC this year where he and his team actually defeated his new Husker teammates Greg Bell and Jaron Woodyard. He heads to Lincoln with three years of eligibility to play two seasons of football.
Williams' sophomore season stats: Offense: 30 receptions for 669 yards and seven touchdowns. He also was used as a kickoff returner at times this past season as well.
8. 2018 Nebraska commit breakdown
1/10/2018 - Mike Williams - WR 5-foot-10, 175 - East Mississippi C.C. (FL)
12/21/2017 - Will Honas - LB - 6-foot-2, 225 - Butler County C.C. (KS) - 3 Stars
12/20/2017 - Greg Bell - RB - 6-foot, 200 - Arizona Western C.C. (CA) - 3 Stars
12/20/2017 - Katerian LeGrone - WR - 6-foot-3, 220 - Atlanta, GA - 3 Stars
12/17/2017 - Deontai Williams - DB - 6-foot, 180 - Jones County C.C. (FL) - 3 Stars
12/12/2017 - Adrian Martinez- QB - 6-foot-3, 198 - Fresno, CA - 4 Stars
12/11/2017 - Justin McGriff- WR - 6-foot-6, 210 - Tampa, FL - 3 Stars
12/10/2017 - Jaron Woodyard- ATH - 5-foot-11, 175 - Arizona Western (MD) - 3 Stars
12/10/2017 - C.J. Smith- DB - 6-foot-3, 190 - West Palm Beach, FL - 4 Stars
10/6/2017 - David Alston- OLB - 6-foot-5, 215 - Woodbury, MN - 3 Stars
5/2/2017 - Barret Pickering- K - 6-foot, 185 - Hoover, AL - 3 Stars
4/16/2017 - Tate Wildeman- DE - 6-foot-6, 245 - Parker, CO - 4 Stars
4/8/2017 - Will Farniok- OL - 6-3, 260 - Sioux Falls, SD - 3 Stars
6/17/16 - Masry Mapieu- DT - 6-5, 290 - York, NE - 3 Stars
8/7/15 - Cameron Jurgens- TE - 6-3, 235 - Beatrice, NE - 4 Stars
9. Commits by position
1 - Quarterback
1 - Running back/fullback
3 - Wide receiver
1 - Tight end
1 - Offensive linemen
1 - Defensive tackle
1 - Defensive end
1 - Outside linebacker
1 - Inside linebacker
2 - Safety
0 - Cornerback
1 - Athlete
1 - Special teams
10. Where are they from?
4 - Florida
2 - Nebraska
2 - California
1 - Alabama
1 - Colorado
1 - Georgia
1 - Kansas
1 - Maryland
1 - Minnesota
1 - South Dakota