Max Anderson sets Big Ten HR record, Huskers nab 4 seed in league tourney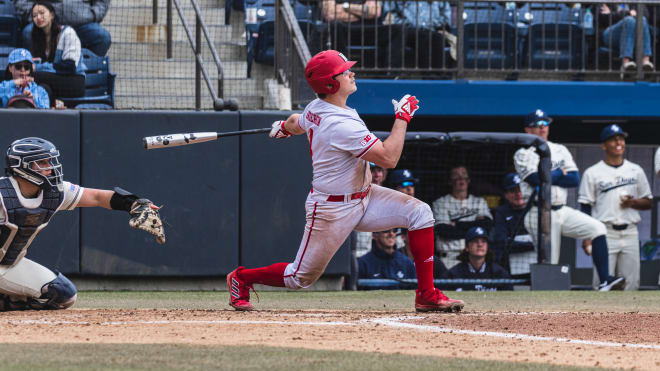 Max Anderson is at the top of the Big Ten record books.
Anderson, alongside Brice Matthews, has been one of the Husker baseball team's two biggest stars during an up-and-down season. But Anderson has been as steady as they come for head coach Will Bolt, and he ended the regular season with a bang.
Anderson belted a go-ahead home run in the sixth inning of Saturday's 6-4 season finale win at Purdue, becoming the first player in Big Ten history to hit 15 single-season home runs in league play.
Maryland's Benjamin Cowles hit 18 home runs in a conference-only schedule in 2021, but Anderson is the first Big Ten player with 15-plus home runs in a season with a traditional league schedule.
Anderson finished the regular season with 21 home runs, which puts him just outside the top 10 nationally and places him in a four-way tie for the Huskers' fifth-most homers in a season (Bobby Benjamin in 1988; Matt Hopper and Dan Johnson in 2000). Anderson is eighth on the Huskers' all-time home runs list just behind Darin Erstad (41 in 1993-95) and ahead of Paul Meyers (36 in 1984-86)
Anderson and Charlie Fischer both put one over the fence on Saturday to extend the Huskers' program record for home runs in a season (95).
Anderson and Matthews were announced as two of the 60 semifinalists for the Dick Howser Trophy on Saturday. The award honors the top college baseball player in the country in conjunction with the National Collegiate Baseball Writers Association and the St. Petersburg Chamber of Commerce.
Anderson finished his impressive season with a 1-for-3 day at the plate on Saturday while Matthews sat out the series finale with back tightness.
Luckily for the Huskers (31-21-1, 15-9 Big Ten), they didn't need Matthews this weekend in order to take a series win. Nebraska, which split Thursday and Friday's games with the Boilers, tied Saturday's finale at 3-3 in the fourth inning with Josh Caron's one-out single and a two-run blast from Fischer.
Anderson gave the Huskers the lead for good in the sixth with a 372-foot solo job over the right field wall. Dylan Carey and Cole Evans delivered RBI singles in the seventh and ninth innings, respectively, for a 6-3 lead.
Purdue (24-29, 11-13) threatened in the bottom of the ninth. Kyle Perry struck out the Boilers' first two batters, but a single followed by a throwing error put runners at first and second. An RBI single from Paul Toetz put the game-tying run on first base, but Perry induced a groundout to shut the door and pick up his third save.
Jake Bunz (1-0) earned his first win of the season after allowing one hit in 1.1 innings. Starter Jackson Brockett allowed three runs (zero earned) on four hits with two strikeouts and three walks in 2.2 innings. Brett Sears and Corbin Hawkins both threw two scoreless innings to set up Bunz and Perry's tag-team to polish it off.
Huskers earn No. 4 seed in B1G Tournament
Nebraska struggled going into the final two weeks of the season, holding a 25-20-1 overall record and a 10-8 conference record that had the Huskers in real danger of missing the Big Ten Tournament, which hosts only the top eight finishers in the 13-team conference.
Bolt's team rallied, however, to gather some momentum heading into postseason play. The Huskers won six of their last seven games, including a win over Creighton on May 9 (following a one-run loss on the same day as part of resuming the pair's suspended game in April), a sweep over Penn State and this weekend's 2-1 series win over Purdue.
The result of that hot run to polish the 2023 campaign is the fourth seed in the Big Ten Tournament.
The No. 4 Huskers (31-25-1, 15-9) will take on No. 5 seed Rutgers (33-20, 14-9) at 2 p.m. Wednesday at Charles Schwab Field in Omaha. The winner will face either No. 1 Maryland or No. 8 Michigan State at 6 p.m. Thursday; the losers of those two contests will square off in an elimination game at 10 a.m. Thursday.
Here are all of the seeds and first-round pairings for the Big Ten Tournament:
No. 1 Maryland (37-19, 17-7 Big Ten) vs. No. 8 Michigan State (32-20, 12-12)
Time: 6 p.m. Tuesday
No. 4 Nebraska (31-25-1, 15-9) vs. No. 5 Rutgers (33-20, 14-9)
Time: 2 p.m. Wednesday
No. 3 Iowa (39-13, 15-8) vs. No. 6 Michigan (26-26, 13-11)
Time: 10 a.m. Tuesday
No. 2 Indiana (40-16, 16-8) vs. No. 7 Illinois (25-25, 12-12)
Time: 2 p.m. Tuesday