Les Miles will highlight 2017 Nebraska Coaches Clinic
Former LSU and Oklahoma State head coach Les Miles will highlight this year's Nebraska Coaches Clinic on March 31 and April 1 in Lincoln.
Miles should become a regular in Lincoln the next four years, as his son Ben will be a scholarship freshman fullback for the Huskers starting in 2017.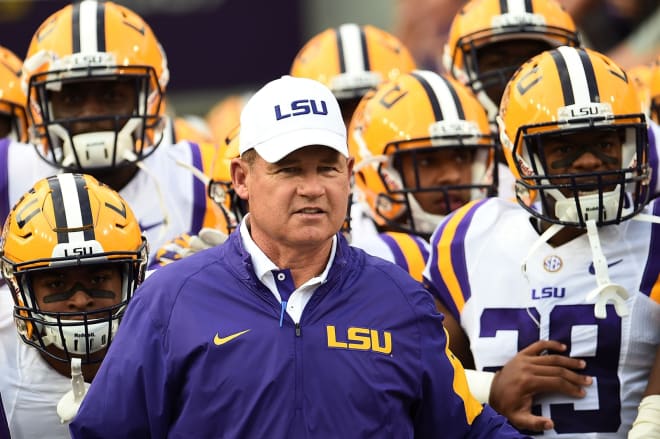 Associate Athletic Director for football Dan Van De Riet confirmed the news that Miles would highlight this year's clinic. Last year's clinic in Lincoln featured Minnesota Vikings coaches Norv and Scott Turner, while former Texas head coach Mack Brown spoke at the clinic in 2015.
"Les is obviously a highly successful coach," Van De Riet told HuskerOnline. "It will be great to have him here and provide all of our local area coaches an opportunity to listen to him speak. So that will be fun and exciting."
Besides multiple other local coaches, the Nebraska Coaches Clinic will also feature a keynote session on rugby style tackling.
Over the last year the NU staff has worked with Atavus Rugby on learning the proper rugby tackling techniques.
Former long-time Oklahoma assistant coach Rex Norris (1973-1983) will deliver the keynote speech on rugby tackling, as he works directly with Atavus. Norris also coached at Texas A&M, Arizona State, Florida, Tennessee and Texas, along with Detroit, Denver, Houston, Tennessee and Chicago in the NFL.
"We worked a lot on this rugby style tackling this season with a group called Atavas," Van De Riet said. "So we decided it would be a pretty neat thing for the high school coaches to have them come do our clinic this spring.
"They are going to send out Rex Norris, who runs their tackling operations. He's actually going to do their keynote as well to all the high school coaches who are interested in the fundamentals of rugby style tackling."
More information on the 2017 Coaches Clinic can be found on Huskers.com.