Langsdorf views QB as wide open competition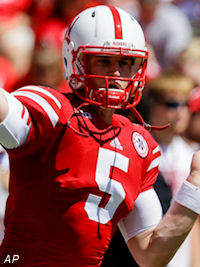 Click
Here
to view this video.
From Pac-12 Conference all-time leading passer Sean Mannion at Oregon State to two-time Super Bowl MVP Eli Manning with the NFL's New York Giants, Langsdorf has coached and groomed some of the best signal callers at both the college and professional levels over the course of his 19-year coaching career.
That experience will be as valuable as ever at his latest role with the Huskers, as Langsdorf and head coach
Mike Riley
will be tasked with evaluating what should be one of the most intriguing position battles of NU's offseason at the quarterback position.
Incumbent starter
Tommy Armstrong
has manned Nebraska's offense for nearly every game the past two seasons, posting a 16-5 record as a starter. But just like every other position across the board, Riley and Langsdorf will wipe the slate clean and hold a wide-open competition at quarterback between Armstrong and backups
Johnny Stanton
,
Ryker Fyfe
,
AJ Bush
, and
Zack Darlington
.
At this point, Langsdorf said Armstrong's clear advantage in experience would give him a leg up on the rest of the group going into spring practice, and if the Huskers had to play a game right now he would obviously be the starter because of that. But Langsdorf, who has only watched a small bit of film on Nebraska's offense to this point, including its loss to USC in the Holiday Bowl on TV, said he needed to see the junior-to-be in person before anointing him as the starter for 2015.
"There's definitely an edge for him that way because he has played a lot of games, which you can't simulate," Langsdorf said. "But we also need to look at our roster and have a clean slate and make sure we're playing the best guy that we feel can give us a chance to win. If we rolled the ball out tomorrow, you'd probably see Tommy take the first snap. But I don't know anything about the roster at all.
"Just because he was the starter, that doesn't mean a whole lot. But he has won a lot of games, and the fact that he's got that experience is a great thing. But we also want to look at what's on our team and we want to truly give guys opportunities to win the job.
While Langsdorf hasn't seen any of NU's other quarterbacks play since joining the Huskers, he did see quite of bit of Stanton when the sophomore-to-be was at Santa Margarita (Calif.) Catholic High School back in 2012. In fact, Stanton is the only current Husker QB who earned an offer from Riley and Langsdorf when they were together at Oregon State.
"I thought he had a lot of running ability," Langsdorf said of Stanton. "I thought he was strong armed. He came from a good high school program and a good system. (The recruitment) didn't go real long and he committed here, but we did recruit him, so we know a little bit about him. Not a whole lot about the other guys."
The next few months of winter conditioning, spring ball, summer workouts and fall camp will go a very long way in determining how Nebraska's quarterback situation plays out going into next season. But the good news for each QB is that Langsdorf only has a select number of requirements from his quarterbacks, and none of which depend on build, style or experience.
"We've always needed a guy that can throw the ball, but to put a height and weight and things like that, they come in so many shapes and sizes," Langsdorf said of his ideal quarterback. "We had a lot of fun with Sean Mannion two years ago, and last year of course he breaks the Pac-12 passing record. He's 6-4, 220, doesn't run great, is a wonderful passer. And then you have Lyle Moevao who played a few years prior, and he's maybe 5-10 and just a totally different type of player. So I don't want to say that this is exactly the type of guy we need, but we like to have a guy that can throw the ball.
"Being able to be mobile is great, and it's another important factor. So if you said a dual-threat guy, that would probably be ideal, because we want to be balanced and we want to be able to run and throw, and the quarterback is part of that. But probably most importantly we need a guy to be accurate. We don't want to go out there and be careless with the ball and turn the ball over. He needs to be an accurate thrower and he needs to throw strikes.
"Whether he's got a rocket arm or an average arm, if he can throw strikes he'll have a chance. He's got to be smart. He's going to be asked to do a lot. He's going to be asked to adjust and to be able to handle a lot of things, so he's going to have to be a smart player. Those are probably the biggest traits and characteristics we're looking for, but like I said, they come in a lot of different types of guys."
Click
Here
to view this Link.
[rl]