Jurgens caps off memorable weekend in style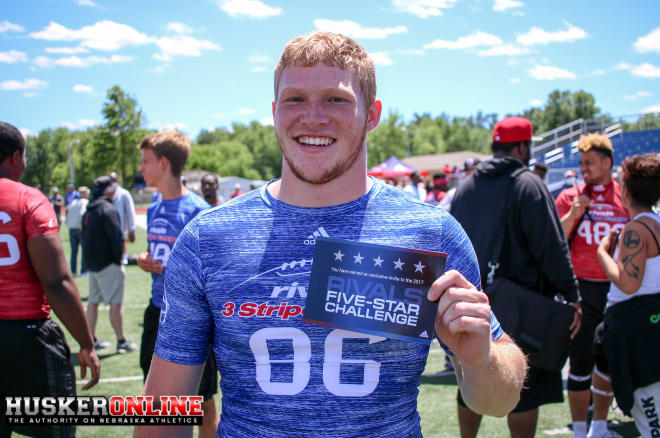 O'FALLON, Ill. - It was a weekend to remember for Beatrice (Neb.) tight end commit Cameron Jurgens.
The 6-foot-3, 250 pound Jurgens captured the gold medal in the Nebraska state shot put on Friday, won the gold in the discus Saturday, and got right in his car and headed to St. Louis with one more goal in mind - earning an invite to the Rivals Five Star Challenge in Indianapolis.
"After my final throw Saturday to win it, we are in the car 30 minutes later heading to St. Louis," Jurgens said. "I guess they had to Photoshop me in the final gold medal winners picture, because we weren't in a position to stay there until 8 o'clock and wait."
Jurgens arrived to St. Louis around 9:30 pm Saturday ready to compete after a about a six and a half hour car ride.
"Luckily we found a Texas Roadhouse right when we got to town and I ordered a big bone-in ribeye," Jurgens said smiling.
After it was all said it done, the long weekend was well worth it for Jurgens and his family.
A year ago Jurgens nearly made the Rivals Five Star Challenge as an underclassmen in Atlanta. On Sunday he got the official invite, along with eight other prospects in St Louis.
The Rivals Five Star Challenge will be going into his sixth year in 2017. Lincoln Southwest linebacker Josh Banderas is the only other Nebraskan that's been invited to the event, and that was in the very first year.
The Five Star Challenge typically shoots for a roster of 120 players. Ideally 100 of the top 2018 prospects and 20 top 2019 players.
This year's event will take place at the Indianapolis Colts practice facility on June 9-10. Every prospect invited gets an all expense paid weekend to to the event with the opportunity to compete against the nation's best.

"This is what I came here for," Jurgens said after he got his invite on Sunday.
There's no question we are watching a special talent in Jurgens. He's a modern day Larry Station or Scott Frost caliber athlete when you look at what he's accomplished in both football and track.
Long-time NFL and college football assistant coach Larry Kirksey worked with Jurgens on Saturday, and he raved about his potential.
When I asked Kirskey if he though Jurgens was a tight end or a defensive player, he didn't waste any time expressing his opinion.
"He's a tight end," Kirskey said. "The kid is a specimen. Nebraska is getting a good one right there."