Jaron Woodyard commit: What does it mean for Nebraska?
Nebraska added commitment No. 9 to its 2018 recruiting class Sunday night and the second commit of the weekend as three-star Arizona Western C.C. athlete Jaron Woodyard announced his decision to commit to the Huskers following his official visit to Lincoln over the weekend.
Here are some quick takes and analysis on what Woodyard's commitment means to the Huskers.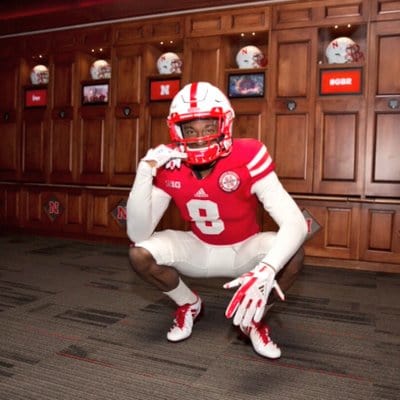 1. Arguably the biggest mistake former Nebraska head coach Mike Riley made on the recruiting front was not aggressively going after and junior college prospects. New head coach Scott Frost is not making that same mistake. With his commitment, Jaron Woodyard becomes the first JUCO prospect to commit to Nebraska since its 2014 signing class.
2. The wide receiver position is one of the biggest needs on Nebraska's roster and Woodyard should be able to come in and be an instant impact player. He's a mid-year graduate so the fact that he will be on campus for spring ball is a very big deal.
3. Scott Frost wants speed, speed, and more speed. Woodyard has what he's looking for in that department. The Maryland native ran a 10.68 in the 100-meters and a 21.50 in the 200-meters in high school. He's a home run threat nearly every time he touches the ball with that kind of speed.
4. Woodyard is more that just a straight-line speed demon on the football field. Yes, he can certainly stretch the field vertically, but he is also very elusive in the open field. His ability to take the top off a defense by running a simple go route combined with his ability to take a bubble screen to the house makes him very versatile and potentially very dangerous in Frost's offense.
5. With Woodyard's size some may wonder if he can get off press coverage. On film he shows a quick release to do just that combined with the strength to not get knocked off of his route.
6. Woodyard shows the ability to play outside receiver, in the slot and even the ability to carry the football on fly sweeps or reverses. He's also a kick returner and should get a strong look to be a special teams contributor once he gets on campus.
7. Not only is it nice to see the Huskers get back into the JUCO market, but the fact they have tapped into Arizona Western (one of the top programs in the country) is a good sign that they should be able to continue getting players out of there in the future.
8. 2018 Nebraska commit breakdown
12/10/2017 - Jaron Woodyard - ATH - 5-foot-11, 175 - Yuma, Ariz. - 3 Stars
12/10/2017 - C.J. Smith - DB - 6-foot-3, 190 - West Palm Beach, Fla. - 4 Stars
10/6/2017 - David Alston - OLB - 6-foot-5, 215 - Woodbury, Minn. - 3 Stars
8/7/2017 - Cameron Brown - WR - 6-fot-1, 175 - St. Louis, MO - 3 Stars
5/2/2017 - Barret Pickering - K - 6-foot, 185 - Hoover, AL - 3 Stars
4/16/2017 - Tate Wildeman - DE - 6-foot-6, 245 - Parker, CO - 4 Stars
4/8/2017 - Will Farniok - OL - 6-3, 260 - Sioux Falls, SD - 3 Stars
6/17/16 - Masry Mapieu - DT - 6-5, 290 - York, NE - 3 Stars
8/7/15 - Cameron Jurgens - TE - 6-3, 235 - Beatrice, NE - 4 Stars
9. Commits by position
0 - Quarterback
0 - Running back/fullback
1 - Wide receiver
1 - Tight end
1 - Offensive linemen
1 - Defensive tackle
1 - Defensive end
1 - Outside linebacker
1 - Safety
0 - Corner back
1 - Athlete
1 - Special teams
10. Where are they from?
2 - Nebraska
1 - Alabama

1 - Arizona
1 - Colorado
1 - Florida
1 - Minnesota
1 - Missouri
1 - South Dakota