Instant takes: Ohio State 26, Nebraska 17
Here are some instant takes from another disappointing close loss to No. 5 Ohio State 26-17.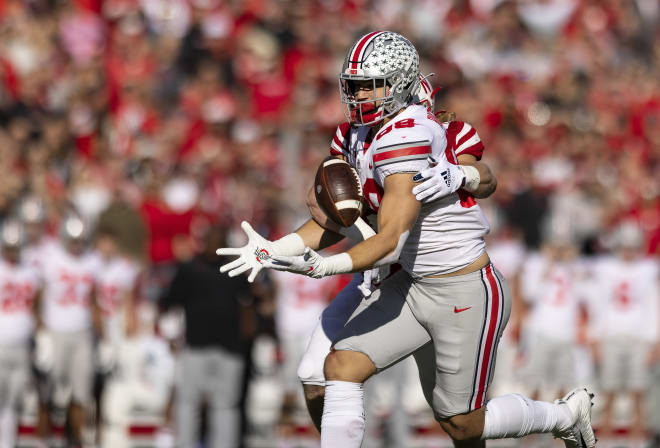 The offense finally stepped up when needed
Nebraska's defense spent over 19 minutes on the field in the first half. The Huskers' offense ran 13 plays in the first quarter with one three-and-out.
The Huskers finally responded and found a spark after Ohio State went up 10-0 with six minutes left in the second quarter. Tight end Austin Allen had a 26-yard catch and receiver Omar Manning had a 14-yard catch one play later.
Nebraska's offense couldn't overcome third down and placekicker Chase Contrarez made a 39-yard field goal. Husker's closed to gap for 10-3.
The Huskers' defense missed a tackle on wide receiver Jaxon Smith-Njigba who catch a ball and ran for a 72-yard touchdown, 17-3 Buckeye lead.
Martinez helped make up for the defensive mistake by throwing a beautifully placed ball to receiver Samori Toure for a 72-yard touchdown.
The defense gave Martinez the ball right back after forcing a three-and-out, thanks to a one-yard gain with Luke Reimer on the tackle and Casey Rogers getting a tackle for the loss of one.
Nebraska didn't score again in the first half but neither did Ohio State. When NU's defense slipped up, the offense had their back for what could be one of the first times this season.
The Blackshirts held the Buckeyes to two field goals until Martinez connected with Toure again for a huge gain of 52-yards. NU punched it in on the next play and headed into the fourth quarter down 23-17.
The script of the season has been that Nebraska's defense gives it offense opportunities and the offense squanders it again. The offense didn't take advantage off all the chances the defense gave them but Ohio State is the top five team in the country.
There is still a lot of improvement to be made on offense but the Huskers put together a few good plays/drives when they were desperate to do so in the second and third quarters.
Special teams needs serious help:
Nebraska needs a special teams coordinator that is solely devoted to special teams. Mike Dawson, the currently coordinator, is also the outside linebacker coach and can't devote enough time to the train wreck that is special teams.
This means losing one of the assistant coaches due to the ten full-time assistant coaches limit. But at this point, special teams is actively losing the Huskers' football games.
Placekicker Chase Contrarez missed a 45-yard field goal and a 31-yarder. Nebraska could have been playing in the fourth quarter tied 23-23, a total game-changer.

Contrarez replaced Connor Culp, who also had an issue with missing kicks, for the Purdue game.
It's not just the placekickers. Punter Will Pryzstup had a 13-yard punt in the second quarter that led to an Ohio State touchdown on the short field.
The Buckeyes had had a 24-yard kick return and a 31-yard punt return, getting good field position both times.
Down to the wire with No. 5 Ohio State
Add this loss to Nebraska's resume of battling with but losing close games against top-ranked opponents. Unfortunately, that won't get anyone a job and might not even help Scott Frost keep his job at this point. We'll see.
Ohio State is a good, good team with great athletes. Nebraska held them in check for almost all of the game but ultimately put the ball in quarterback CJ Stroud's hands when it mattered the most.
Stroud didn't disappoint and marched the Buckeyes down the field. Nebraska's defense stood them up but Noah Ruggles sailed the field goal through the uprights and hasn't missed a kick yet this season.
What is most frustrating for Husker fans is how close these games are. Martinez ran into the endzone to send NU into the fourth quarter down 23-17 and gave Husker nation hope.
But as usual, Nebraska couldn't pull it off.