In-State Tour: Elkhorn South
The HuskerOnline team hit the road in February for our 16th annual In-State Tour where we scour the state of Nebraska in search of the best up and coming football talent.
In our latest stop of the In-State Tour, we checked out Elkhorn South, where the Storm are led by one of the top overall prospects in the state in 2021 offensive lineman Teddy Prochazka.
In-State Tour: Names to watch | Omaha Westside | Papillion La Vista |
Head coach: Guy Rosenberg
2018 record: 7-4 (Lost in Class A quarterfinals to Bellevue West)
Season rewind: "I was really proud of our players and assistant coaches," Rosenberg said. "We believe one of the cornerstones of our program here is that we're looking to build a program, not a team. Looking to build long-term, sustainable success and really felt that going into last year that we had real good alignment within our program and that a football is a football. That we felt like we had built schemes and philosophies on all three phases of the game that would transfer over well to Class A, and I think that it did. We went out there, and we competed very well. I'm just excited about the future."
Talented pair of 2021 line prospects already getting major Division I attention 
Rosenberg on OL Teddy Prochazka: "He did a great job out of the Nebraska-Kearney team padded camp. We were out there right at the very beginning of the summer, and he worked his way up the food chain. We knew that at that point, it looked like there was a strong chance that he was going to start for us as a sophomore, and now he got an opportunity. Went, attended, and worked hard at a couple of camps including Nebraska and really opened some eyes. It seems like that there's such an emphasis on height is one of the first building blocks now, particularly when you look at Nebraska's class that they brought in. (11 players taller than 6-foot-4).
"This most recent recruiting class, big emphasis on height and athleticism, and Teddy definitely has both of those being a legitimate 6-8 plus, carrying his weight really well, and having great feet and flexibility, seems like that you just don't find that very often all in one package. You might have the 6-8 kid, but he can't tie his shoes. With Teddy, he's a 6-8 athlete who can move, we pull our tackles a lot, he's used to playing his space, used to getting up to the second level, and does play with that edge where he likes to finish blocks, and it's important for him to put his best work on the canvas each night."
Prochazka's take: "After Nebraska offered me my second unofficial visit, it really took off from there. Schools have been calling up here and trying to get my transcript and stuff, seeing all the information they can get about me right now. Once I went up to Northwestern, that really sprouted from there. Some more schools have reached out to me. It slowed down recently but when it was at its peak, it was going really fast.
"People always told me, 'You're going to go places,' but I never really believed them. I was like, 'Yes, I guess I could.' Once it started taking off and I got messages from coaches and stuff and schools I was like, 'Oh, this can actually go somewhere. I can do something with this.'

"I learned that I got a lot to improve on. I'm not all set in stone right now. I can still definitely improve on some of my run blocking, pulling, speed, footwork, and placement. There's a lot to improve on to be a better- just improving for that second level."

Recruiting: Prochazka has been offered by Nebraska and Northwestern already, while Notre Dame, Michigan, Kansas State and Iowa all appear to be very close to offering.
"Nebraska and Northwestern have offered, and Notre Dame stopped by, their quarterback coach came by," Rosenberg said. "It sounds like Michigan has inquired about some transcripts and potentially Stanford. Kansas State, coach Conor Riley that was at North Dakota State, and he stopped by and is definitely very interested in Teddy."
"I want to go to a place where I feel at home," Prochazka said. "Right now, Nebraska's at the top for that. Once I'm out of school over the summer, I'm definitely going to sit down and think about what I can do to further my education and athletic career. But right now, yes, Nebraska is at the top."

Stat line: Prochazka's father Jeff was a standout football player at Nebraska-Omaha, while his mother Katie was a swimmer at Kansas.
Rosenberg on OL Isaac Zatechka: "I think just an excellent technician. The key thing for center is we're a shotgun offense, were shotgunning the whole time, so we need good snaps. We run a lot of jet sweeps and jet reads, and all that's real timing based. We've got to have a good consistent snap in terms of timing and placement, and that's the first step of his job. Then also to being aware, being able to make line calls, being able to set pass protections. Again, anytime that your center, can match up one on one with another defensive lineman, it really frees up the rest of your linemen to be successful.
"He played with poise beyond his years as a sophomore. Again, he's just a guy that's always getting after it year round and looking to get better. That's the same way with Teddy Prochazka, a student of the game and wants to work on the finer points of his game. When he goes to watch college practice, he's not just watching for entertainment value, he wants to see, 'What's something I can pick up that's going to make me a better player?', and I think that's what impresses me about the players that we have from top to bottom of our rosters. They're always looking for an edge; they're looking to maximize each day, how to transfer that over to game nights on Friday night."
Zatechka's take: "I think gaining weight just has been a key point for me. I've always been able to gain weight easily. I think from freshman to sophomore year I gained 20 pounds and this offseason, I already have gained about 15 pounds so far. Just gaining weight has been pretty easy for me.
"At the end of this year, I would like to be around 250 by the beginning of football season and maybe 280, 295 something like that senior year would be nice."
Recruiting: Zatechka is the son of former Nebraska offensive line Jon Zatechka and the nephew of Rob Zatechka. He's been invited down to Lincoln already for a few games this past season. He plans to attend camps at NU, Kansas and Kansas State.
Rosenberg on LB Jack Paradis: "Jack Paradis is our defensive MVP. Voted by his peers, by his teammates, as defensive MVP as a junior. Captain of the Academic All-Metro team which is a very tough team to make with that combo of playing ability and academics, captain of the defense for there, and also voted most physical by his teammates. He had 19 tackles for a loss and can really run and hit."
Paradis's take: "I'll play anywhere in the field, to be honest. Wherever I can get playing time, but I see myself as an inside and outside linebacker. I want to be fast, I love playing fast. I really think that speed with my eyes is more important than speed just with my feet. I like to make reads as fast as I can other than with my feet, running where I need to be. I'm really excited for the next level."
Rosenberg on RB Blaze Doxzon: "Blaze Doxzon, explosive in the open field. Plays that H-position for us which is the same spot that Moses Bryan, Cooper Jewett had played. He would be the first kid picked in a backyard football game."
Note: Doxzon is the son of former Iowa State and NFL quarterback Todd Doxzon.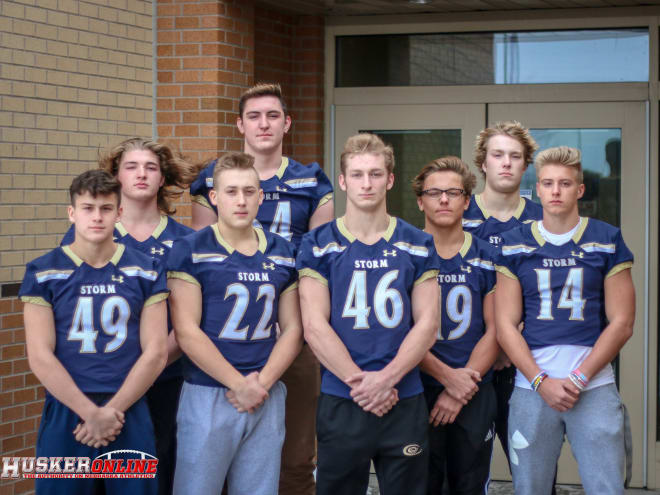 Other Elkhorn South prospects to watch
Rosenberg on QB Elliott Brown: "Elliott Brown, just a superb football player, plays receiver and corner for us, also quarterback. Great leader, great decision maker there.
Note: Brown is the son of former Nebraska wide receiver Lance Brown.
Rosenberg on DB Shae Wright: "Shae Wright, he's going to play a lot more offense for us this year. Last year, as a safety, just extremely decisive in his reads, and a real physical player in the run game. Real similar to Cooper Jewett with that type of quick trigger, aggressive downhill safety. Excited to see those guys continue to contribute."
Rosenberg on RB Eli Hustad: "Eli Hustad really came on for us at the end of the year, made some big plays particularly against Lincoln High and also against the Bellevue West in the playoffs."
Rosenberg on OL Cooper Taylor: "Cooper Taylor started every game in right tackle as a sophomore. Teddy Prochazka started every game in the left tackle as a sophomore. From year to year, we've had some kids like Dixon Leffler, Brett Stinson, guys like that, that had started and played as sophomores on the offensive line, but we've never been in a situation where we had three sophomores all playing together that early, that often."