Huskers split 'secret scrimmage' with Iowa State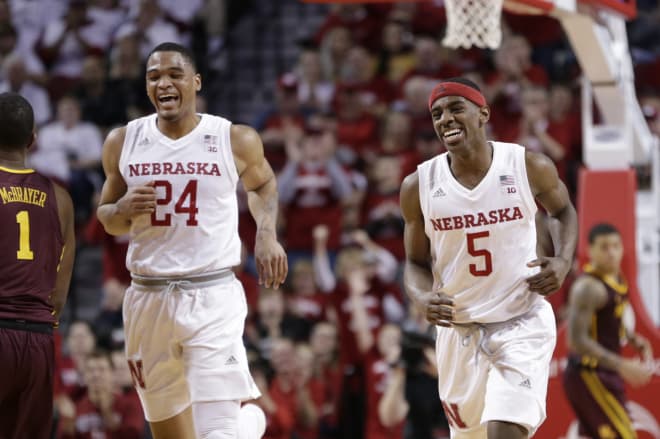 Nebraska held an annual closed "secret" scrimmage against Iowa State in Ames, Iowa, on Sunday, and the teams split two 20-minute halves in what ultimately ended in a 78-74 overall loss to the Cyclones.

ISU won the first session 45-31, while the Huskers bounced back to take the second half, 43-33.
Senior forward Isaac Copeland led NU with 18 total points while senior guard James Palmer Jr. added 14, as Nebraska ended up shooting 46 percent from the field overall. The Huskers shot 40.0 percent from behind the arc and had 12 assists on 17 made field goals in the second to spark their victory.
Here are a few additional details to pass along from the scrimmage that weren't included in NU's press release...
***Copeland finished with 18 points over the two halves of play, and much of that had to do with him being by far the most aggressive shooter. Copeland was a combined 7-of-12 from the field on the day and went 3-of-6 from 3-point range.

***Palmer was much more active in the first half session, scoring 10 points on 5-of-8 shooting. But while he was only 1-of-4 from the field for four points in the second half, Palmer made up for it with seven rebounds, four assists, and a block.
***It wasn't the most efficient shooting day for Glynn Watson, as he ended up 3-of-13 from the floor and 2-of-8 from behind the arc. However, Watson was a big factor in several other ways, finishing with 11 points, eight assists, five rebounds, four steals, and just one turnover in 34 total minutes of action.
***Thomas Allen was the fifth starter for both halves, though he had limited numbers. The sophomore finished 2-of-3 from 3-point range with eight total points.
***Isaiah Roby's name didn't come up in Nebraska's official press release about the scrimmage, but he did play. The junior was on the floor for 11 minutes in the first half and 12 in the second, though he only shot 2-of-5 from the field for four points and added four rebounds, three assists, two blocks, two steals, and three turnovers. Roby also picked up four fouls in his 12 minutes of work in the second half.
***The bench rotation went as follows: Tanner Borchardt (16 total minutes), Amir Harris (13 minutes), Nana Akenten (14 minutes), and Brady Heiman (six minutes).
***Borchardt played a lot more in the second half because of Roby's foul trouble and took advantage of his opportunity, shooting 4-for-4 from the field with eight points and two rebounds in 10 minutes of action.
***Akenten also saw increased usage in the second half (playing nine minutes compared to five in the first), and he shot 2-of-4 from beyond the arc in the second session.
***For those wondering, former Husker and now Iowa State forward Michael Jacobson did not start but played 27 total minutes off the bench and had nine points, three rebounds, an assist, and two turnovers. He did not attempt a 3-pointer.
***At Big Ten Media Day, Tim Miles said two of the most important stats in today's college basketball were 3-point shooting and 3-point defense. That played out exactly in Sunday's scrimmage.
Iowa State dominated the first half 45-31 primarily because it shot a blistering 8-of-14 (57.1 percent) from deep compared to Nebraska's 3-of-11 (27.3).
In the second half, the Huskers were 6-of-15 (40.0) while the Cyclones were just 3-of-12 (25.0). It's no coincidence that NU controlled the second session throughout to a 43-33 win.