Huskers pull off 35-32 upset of No. 22 Oregon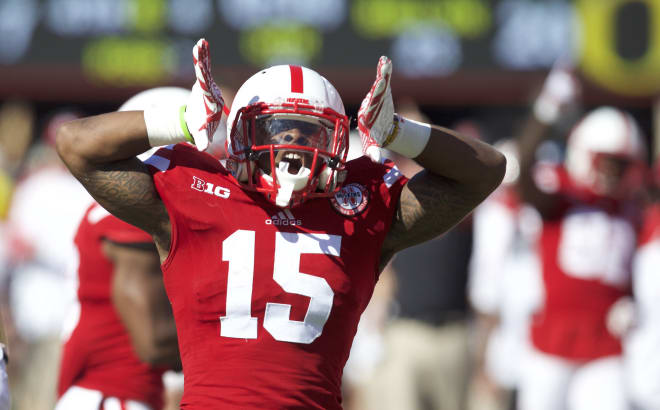 Given the vast experience Mike Riley and his staff have had in facing Oregon over the past two decades, it figured to be quite the chess match when the No. 22 Ducks came to Lincoln on Saturday afternoon.
That was exactly how it played out in front of Memorial Stadium's 350th consecutive sellout crowd of 90,414.
In a game that featured three lead changes and three complete shifts of momentum, it was a 34-yard touchdown by senior quarterback Tommy Armstrong with just under three minutes to play that proved to be the decisive check mate in a 35-32 upset victory for the Huskers.
Though Oregon was able to drive into NU territory on its final possession, Oregon quarterback Dakota Prukop was stuffed by Michael Rose-Ivey on a scramble for a turnover on downs in the final seconds to seal the win.
Nebraska would burn out the clock from there, securing a top-25 upset and improving to a perfect 3-0 on the season in the process.
Oregon struck first early in the first quarter when running back Tony Brooks-James took a sweep around the left end 20 yards for a touchdown. The Ducks then added a two-point conversation run by Charles Nelson to take an 8-0 lead.
The score came at a price, however, as Heisman Trophy candidate running back Royce Freeman left the game with a leg injury and did not return the rest of the day. Freeman had 31 yards on five carries (6.2 ypc) prior to his injury.
The Huskers were quickly able to answer, as Armstrong found Jordan Westerkamp for a 22-yard touchdown pass with 2:05 left in the opening quarter.
Nebraska then turned the ball over on downs after a failed fourth-down conversion, and Oregon came back and converted a fourth-and-3 of its own with a 23-yard pass to Dwayne Stafford that moved the ball down to the NU 2.
On third and goal, Brooks-James rushed for his second touchdown of the game with 5:56 left in the half. This time, however, the Ducks' two-point try failed on an incomplete pass, leaving the score at 14-7.
Nebraska looked to be rolling on its next series, as an 11-yard run by Armstrong, a 21-yard pass to Cethan Carter and a 19-yard run by Terrell Newby moved the ball down to the UO 16-yard line. But a backwards pass from Armstrong to running back Mikale Wilbon was picked up by the Ducks and returned to midfield to kill the drive.
One play later, sophomore running back Taj Griffin took it 50 yards to the house. Oregon's two-point try again failed, keeping the lead at 20-7 with just over two minutes to go in the half.
Desperately needing some positive momentum going into halftime, Nebraska got just that when De'Mornay Pierson-El returned a punt 45 yards down to the Oregon 19 with 34 seconds left on the clock.
With just five seconds remaining, Armstrong floated a three-yard touchdown pass to Westerkamp to cut the deficit to 20-14 going into halftime.
Nebraska kept on rolling to open the second half, as running back Devine Ozigbo barreled his way into Oregon territory to set up a 22-yard touchdown pass to walk-on Bryan Reimers that gave the Huskers their first lead of the day at 22-20.
The defense then forced a quick three-and-out, and NU's offense responded again with a 10-play, 62-yard drive capped off by a seven-yard touchdown run by Ozigbo to make it 28-20 with 6:13 left in the third.
Nebraska's defense again had the Ducks on their heels facing a third-and-27 on their following possession, but Prukop found Nelson on a 25-yard pass and then running back Kani Benoit broke loose for a 41-yard touchdown.
Another failed two-point pass allowed NU to hold onto a 28-26 lead going into the start of the fourth quarter.
A Caleb Lightobourn punt pinned Oregon down at it's own three-yard line, but the Ducks responded with a 10-play, 97-yard drive and reclaimed the lead with Brooks-James's third rushing touchdown of the game. Yet another failed two-point conversion made it 32-28 with 10:31 left to play.
Nebraska eventually took over on its own 20 with 7:32 to go and moved the ball to midfield, and a clutch 14-yard pass from Armstrong to Westerkamp on fourth-and-9 kept the drive alive.
Two plays later, Armstrong got free on a draw up the middle and took it to the house 34 yards for the go-ahead score with 2:29 left on the clock.
The Ducks drove the ball past midfield on their final drive, but a turnover on downs would seal the deal in the final minute.
The Huskers return to action next week by traveling to take on Northwestern for their Big Ten Conference opener. Kickoff for the game is set for 6:30 p.m. on Big Ten Network.