Huskers land surprise safety commit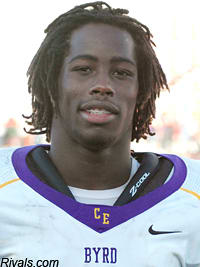 The 6-foot-0, 195-pound Williams graduated from Shreveport (La.) Byrd in 2013 and was recruited to Air Force by Warren at that time. He spent last season at the Air Force Academy Prep School and was set to enroll in the Air Force Academy for this coming fall.
Williams had a change of heart however which is when he reached out to his old coach to see if Nebraska would have any interest in him. Things moved quickly from there as Williams took an official visit to Lincoln beginning on Thursday and formally announced today that he had committed to play for the Huskers.
Williams took his official visit to Nebraska on Thursday and Friday and came to a decision to attend Nebraska and play for the Cornhuskers.
"Yes sir, I am committed here, yes sir," Williams confirmed to HuskerOnline.com. "Yes sir, I will be playing for Nebraska. I took my visit here and loved it from the very first day I got here. So I decided this is the place that I want to be.
"I actually knew Coach Warren prior to coming here. I went to the Air Force preparatory school and it didn't end up working out there. Coach Warren knew that I was a good player, so I got a call from him and it just kind of went from there."
Even though the process of Williams ending up at Nebraska happened in an expedited fashion, when word got out about his availability schools like Iowa, Cal, Indiana, BYU, Colorado, Tulsa and ULM were quick to offer him scholarships as well.
Out of high school, Williams signed with Air Force over offers from Ole Miss, Louisiana-Monroe, and Louisiana-Lafayette among others.
In the end, it was his relationship with Warren that led him to Nebraska. Williams was recruited as a safety and he will ride in Lincoln on June 9 to start the bridge program and to participate in the summer practice and workout sessions.
"They said that I could come in and have an effect right now," Williams said of the Husker staff's recruiting pitch to him. "They liked that I am a great player in space and I can make tackles. I can do what they need me to do. I'm not a very boastful guy, but I am vocal."
There is little down time for Williams now that he has committed to the Huskers. He'll spend this coming week back home in Shreveport preparing to move to Lincoln prior to the start summer classes and team workouts on Monday, June 9th.
In his conversation with Coach
Bo Pelini
, NU's head coach made it clear to Williams that he was a high priority for their program.
"Yes sir, he did," Williams said. "He told me that he would love for me to come here and that I would be a great player to fit into their system. He said that if I came here it would be the best choice for me because this is a great place to be. It has great tradition and is a great family place.
"That's only because he came at me more as a person than just as a player. This was something that happened fast, but I am happy that it happened and it feels like a blessing. I feel like everything happens for a reason and that God had a plan that this is where I was supposed to be."
While the recruitment and subsequent addition of Williams is definitely a unique situation, it's not totally unheard of. In fact, Nebraska was in a very similar situation roughly nine years ago with offensive lineman
Matt Slauson
who spent the 2004 season at Air Force Prep before committing to and enrolling at Nebraska just prior to the beginning of fall camp in 2005.
Air Force Prep football players receive the same coaching as the Air Force Academy players do, but they play against junior college teams instead of Mountain West opponents. Williams will be coming to Nebraska with a rare understanding of how Warren coaches and what he expects out of his players.
Williams comes to Nebraska with a full five years of eligibility remaining.