Huskers handle first road test in 38-14 win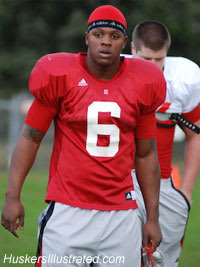 LARAMIE, Wyo.
- In most road games, teams need to rely on veteran players to take control and lead the way to a win. On Saturday,
Rex Burkhead
was that player and then some for Nebraska.
Behind a career-high 170 rushing yards and two touchdowns on 15 carries, the junior running back put the Huskers on his shoulders en route to a 38-14 win in their first road game of the season at War Memorial Stadium.
In a game that was much closer than the final score indicated, the Huskers outscored Wyoming 24-7 in the second half to make the victory a little more convincing. In fact, NU out-gained the Cowboys in total offense 142-53 in the third quarter.
Overall, the Huskers put up 490 yards of total offense in the win, including a season-high 333 rushing yards.
"I think we did some good things, we will see when we watch film," head coach
Bo Pelini
said. "Like any other game, we did what we set out to do and we are 4-0 getting through (non-conference play). Now it's time to step it up and get ready for Big Ten play."
Nebraska seemed to control the bulk of the first half, but it didn't quite reflect on the scoreboard.
The Huskers struck first on a 45-yard touchdown run by Burkhead down the left sideline on the first play of their third possession, and it looked like that would be the spark they needed to take the game over. Burkhead ended up rushing for 97 yards on just eight carries in the first half.
Things slowed down a bit though until late in the second quarter, when Martinez made it 14-0 on an 8-yard keeper up the middle with 6:28 left in the half. Martinez ended the first half 8-of-15 passing for 92 yards, but rushed just five times for 16 yards.
"I think early on he wasn't in rhythm," offensive coordinator
Tim Beck
said of Martinez. "I was hoping there might be some plays we'd be able to make here and there. It wasn't I think his best game. I think he knows that. But he's a competitor. He did other things to help us win the ball game."
On Wyoming's ensuing possession, things got a little bit more interesting. With just under three minutes left before halftime, true freshman Cowboy quarterback
Brett Smith
hit
Mazi Ogbonna
on a quick slant that ended up a 45-yard touchdown to cut the lead in half.
The pass, which was UW's second-longest touchdown through the air of the season, came against redshirt freshman
Corey Cooper
, who made his first career start at cornerback despite playing his entire young career at safety.
Nebraska had a chance to make it a two-score game at the end in a half, but junior kicker
Brett Maher
missed a questionable 50-yard field goal that sailed over the right upright as time expired. The kick was Maher's first miss of the season.
Needing to come up with a big drive to set the tone for the second half and get back some momentum, Wyoming essentially gift wrapped a touchdown for Nebraska to start the third quarter. With the help of three penalties for 35 yards on the drive by the Cowboys, the Huskers were able to make it 21-7 on a 16-yard touchdown run by Burkhead on an option pitch around the left end.
"I thought that was huge," Pelini said. "They kind of got some momentum, and we had the chance to kick the field goal before the half and just missed that. I thought it was important we set the tone for the second half."
Wyoming got a little greedy on its next possession, as head coach
Dave Christensen
called for a fake punt pass that was snuffed out by NU linebacker
Mathew May
, giving the Huskers the ball back at midfield.
A 44-yard bomb to tight end
Kyler Reed
on the very next play took the ball down to the UW 6-yard line, but the Huskers had to settle for a 20-yard field goal by Maher to make it 24-7 with eight minutes left in the third quarter.
Wyoming had a chance to cut the deficit two possessions later after Nebraska's
Ameer Abdullah
fumbled near midfield and UW recovered at its own 46. The Cowboys marched inside the NU 20-yard line, but came away with nothing to show for it after a missed 32-yard field goal by
Daniel Sullivan
.
Later in the fourth quarter, Martinez bumped the lead up to 31-7 on an 8-yard touchdown pass to redshirt freshman
Kenny Bell
. Martinez ended the night 12-of-21 passing for 157 yards and a score.
Wyoming added a late fourth-down touchdown pass from Smith to
Robert Herron
with eight minutes left in the game, but it was too little, too late for the Cowboys.
True freshman running back
Braylon Heard
capped things off with his first career touchdown run with four minutes remaining to give the game its final score.
After a perfect 4-0 run through non-conference play, the Huskers officially open their very first Big Ten season next week when they travel to Madison to take on No. 6 Wisconsin in what could be the conference's biggest game of the year.
For now, though, Pelini said his team can relish the fact that they are undefeated going into Big Ten play, and all their season goals are still there for the taking.
"I like that we're 4-0, and I like the fact that we have a lot ahead of us," Pelini said. "I said to the team last night, there are no great teams out there right now, but somebody is going to be great in 12 weeks. That's why we talk about the process. We've got to keep getting better."
- Robin Washut
Burkhead's career day took no one by surprise
Talking with Nebraska's players and coaches about the performance Burkhead put on Saturday night, you wouldn't think he had just had the best rushing game of his career and almost single-handedly willed the Huskers to victory.
That's what happens with the player like Burkhead, who's weekly stellar showings have pretty much come to be expected.
"Rex Burkhead has been playing like that all year, and it doesn't surprise me," Pelini said. "I think Rex is a heck of football player."
Beck almost shrugged it off as well, almost as if he'd be repeating himself from the past three weeks if he praised Burkhead even more after the game.
Senior receiver
Brandon Kinnie
said the team counts on Burkhead to help set the tone for the entire offense. Kinnie also said the guy they call "Superman" has played so well this season that he's earned himself a new nickname.
"He's just a workhorse," Kinnie said. "That's what we call him. We called him a White Stallion today. He's just a monster. We all know that's Rex. We know we're going to get that from him every game."
- Robin Washut
Cooper thrown in the fire
Last Monday morning, Cooper had never played a single snap at cornerback in his entire football career. By Saturday evening, he was a starting corner for the ninth-ranked team in college football.
Because of his size, athleticism and physicality, Nebraska's coaches wanted to find a way to get Cooper on the field, as he'd been buried on the depth chart at the deep and talented safety position.
After working some at nickel back over the past few weeks, the coaches came to Cooper about possibly moving to cornerback. Knowing they wanted him to make the move in order to get him playing time, Cooper jumped at the opportunity despite all the challenges it would present.
"It was rough," Cooper said. "Trying to learn how to play a new position, trying to learn the whole defense at that position, it's just been a lot going on for me this week," Cooper said. "It's a lot, but it's a chance to play, so I'd take that any day. It's just something I've got to deal with. I've got a start under my belt, and I've got to take this experience and move forward."
As would be expected, Cooper had his share of issues in his first career start. He was beaten in coverage a few times, including the touchdown pass to Ogbonna in the second quarter. There was even a point when, due to the elevation and nervousness, he lost his lunch on the field between plays.
With just five days to learn the position before starting against a pass-happy Wyoming team, defensive coordinator
Carl Pelini
he was proud of the way Cooper played on Saturday.
"He played good," Carl Pelini said. "That's a tough duty to make that switch in four days. He made a few mistakes, but he's aggressive and challenges people… He's physical. We were looking for physicality at corner, and you know what, we do one-on-one every day, and he handles that drill extremely well."
It wasn't his best ever performance, but Cooper said he wouldn't trade the past week for anything.
"It was great," Cooper said. "It felt like a dream. It's a moment I've been waiting for since I got here, and going from not playing at all and then playing special teams to being a starter, it's kind of overwhelming, but it's an opportunity that I'm glad they gave me. I'm just trying to take advantage of it."
- Robin Washut
Quick hits
***Cooper wasn't the only player to have issues with the 7,220-foot elevation of War Memorial Stadium, as several players said the struggled with it on the field.
"Your throat gets really dry, and it's kind of hard to talk," Martinez said. "You've just got to be able to water a lot."
***Martinez took a big helmet-to-helmet shot while attempting to slide on a scramble run, but he said he was fine afterwards and that was far from the first blow he's taken to the head this season.
"He nailed me in my head, but I'm used to it," Martinez said. "I've been getting hit in my head about every game. It wasn't that bad."
***Kinnie finally broke out of his early season slump a bit, catching a team-high three passes for 31 yards. He wasn't all that impressed, though, saying he can do much better.
"It's just the beginning," Kinnie said. "I look at it like I haven't really accomplished nothing yet this year, but it was good to finally get it going though. It felt real good."
***Burkhead said he was glad to see the Wildcat make its first appearance of the season on Saturday.
"It always feels good to act like you're the quarterback for a few plays," Burkhead said. "I thought we executed it really well, Coach Beck brought it out, hopefully it stays in the game plan."
***Burkhead said he was amazed at the number of Nebraska fans who made the trip to Laramie for the game, as it was almost a 50-50 split of NU and Wyoming fans.
"I heard a lot of people were coming, but I didn't think that many Nebraska fans were going to be here," Burkhead said. "That was awesome to see. It was a great environment, and that shows you how great the Nebraska fans are and their support for the team."
***Senior cornerback
Alfonzo Dennard
made his season debut by starting after missing the first three games with a slightly torn quad muscle. He said he was a bit rusty out there, but was thrilled to get back out there with his teammates.
"I did feel a little rusty," Dennard said. "Some plays I went out there and just thought to much because I had a lot of stuff on my mind. I felt a little rusty, but as the game kept going I felt much better… The past three games I was out, I felt kind of bad. Even though we won the games, I just wanted to contribute with the team and just go out there and have fun with them. I just wanted to be out on the field with them and enjoy the win."