Huskers fall to NIU in stunning 21-17 defeat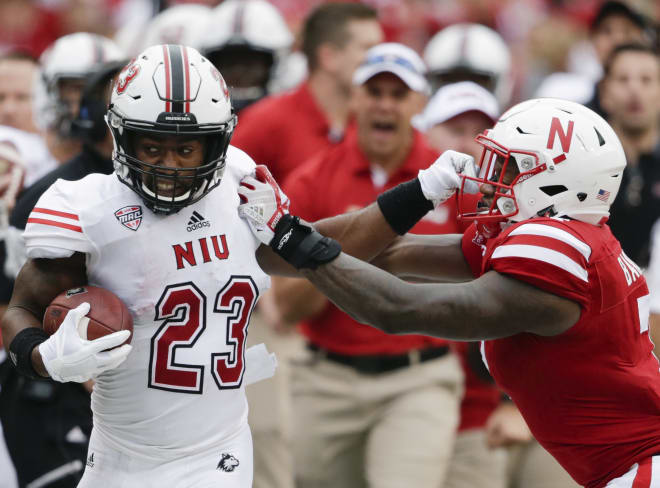 Nebraska showed plenty of warts through the first two weeks of the season, but things got much, much worse against Northern Illinois on Saturday afternoon.
Quarterback Tanner Lee, who was intercepted four times last week at Oregon, threw two pick-six interceptions in the first quarter to put the Huskers in a 14-0 hole right out of the gates. The game never got much better after that, ending in a stunning 21-17 loss.
Despite taking its first lead at 17-14 early in the fourth quarter, NU (1-2) quickly gave it right back up and couldn't come up with an answer when it mattered the most.
Lee ended the day 25-of-47 passing for 299 yards and three interceptions, though he did account for Nebraska's only two touchdowns on rushes.
Defensively the Huskers did much better than the first two games, allowing 253 total yards and doubling their season total in sacks (two). But when it came down to getting a stop to preserve the lead in the final minutes, the Blackshirts couldn't come through.
The loss was Nebraska's first ever to a Mid-American Conference opponent and its first home defeat to a non-Power Five foe since Southern Miss in 2004 (BYU won in Memorial Stadium in 2015, but the Cougars are considered a "major independent" school).
A promising opening drive by Nebraska ended with a loud thud, as Lee was picked off by Shawn Lurry at the NIU 13-yard line and returned 87 yards for a touchdown.
It didn't get any better for the Huskers' offense from there, as after two quick three-and-outs Lee threw another pick-six to Jawuan Johnson, who strutted in untouched from 25 yards out to make it a 14-0 lead for the Huskies going into the second quarter.
The two interceptions returned for scores tied a Nebraska opponent record, joining Ohio State last season and Colorado in 1967.
Northern Illinois had a chance to go up three scores early in the second quarter but a 39-yard field goal attempt by Omaha native Christian Hagan sailed wide right.
That score held until deep into the second quarter, when Nebraska's offense got some momentum going but stalled inside the red zone.
The Huskers had to settle for a 37-yard field goal attempt by Drew Brown, but the kick was blocked to send NU into halftime facing a 14-0 deficit. Nebraska out-gained the Huskies 201-88 in total yards in the first half, yet had nothing to show for it.
In fact, it marked the first time NU had been shut out in the first half at home since its loss to Oklahoma State in 2007.
Finally, with 8:53 left in the third quarter, the Huskers caught their first break of the day. Northern Illinois punt returner Jalen Embry couldn't field a line-drive punt by Caleb Lightbourn, and the ball bounced off his hands all the way to the NIU two-yard line, where Marquel Dismuke was there to haul in.
Two plays later, Lee scrambled in from four yards out to give Nebraska its first points and cut the deficit to 14-7.
Behind a 28-yard pass to Stanley Morgan and a fourth-down conversion toss to J.D. Spielman on NU's next possession, Brown was able to connect on a 36-yard field goal to trim the score to 14-10 at the end of the third quarter.
The defense stepped up with another quick three-and-out stop, and Lee connected with Morgan for a 21-yard strike to move the ball into Huskies' territory.
On a third-and-six, Lee hit Spielman on a 36-yard completion to the NIU two, and Lee finished it off with his second touchdown run to give the Huskers their first lead of the game at 17-14 with 11:35 to play.
With NU needing another defensive stop, Northern Illinois' David Santacaterina found Christian Blake on a 47-yard pass down the right sideline to put the Huskies immediately into scoring position.
Santacaterina hit Blake again on a 16-yard strike to the two, and Jordan Huff punched it into with a touchdown run to put NIU back on top 21-17 with 8:52 left to play.
On its ensuing drive, Nebraska again went for it on fourth down at the Husky 33 but Lee's pass fell incomplete. The defense was able to come up with a stop a Northern Illinois incompletion with 3:15 to go.
The Huskers took over at their own 20-yard line with one last chance to win the game, but they quickly found themselves in another fourth down situation.
This time, Lee was picked off for a third time by linebacker Josh Corcoran, and NIU would simply run out the rest of the clock for the victory.
Nebraska will return to action next week when it plays host to Rutgers for its homecoming game and Big Ten Conference opener, with kickoff set for 2:30 p.m.