Five burning questions heading into Troy week
1. Will Martinez be able to play?
There is no question burning more for Nebraska right now than the injury status of freshman quarterback Adrian Martinez.

Martinez was on his way to a stellar debut against Colorado before his right leg got rolled up on while being tackled late in the fourth quarter. He was slow to get up, and after a few hobbling steps he went back down to the turf before trainers eventually helped him off the field.
Martinez was seen walking to the locker room immediately after the game with only a slight limp, but he still needed to be assisted by trainers.
Head coach Scott Frost said during his postgame press conference that early reports on Martinez's injury were "semi-encouraging," but refrained from giving any further update until more information was learned.
Frost generally doesn't talk publicly about player injuries unless they are season-ending, but there should be at least some sort of update today as to Martinez's availability for this week's game vs. Troy.
2. Is Bunch ready if called upon?
Depending on the severity of Martinez's injury, there's a realistic chance that sophomore walk-on Andrew Bunch gets the call for his first start as a Husker on Saturday.

Bunch was serviceable in his 12 snaps in the final minutes against Colorado, completing 4-of-9 passes for 49 yards. But his stats, and more importantly the final score, could have looked a lot better had Bunch gotten a little more help.
The key play that stands out above all is Bunch's pass to J.D. Spielman along the left sideline on a third-and-16 play from Nebraska's 22-yard line with just over two minutes to play.
Bunch placed the ball right in Spielman's chest for what should have been a crucial first down, but the standout receiver dropped the ball, and NU was forced to punt.
If Bunch can get the full support of Nebraska's offense, he should be good enough for the Huskers to win on Saturday, especially if the defense plays as it did vs. Colorado.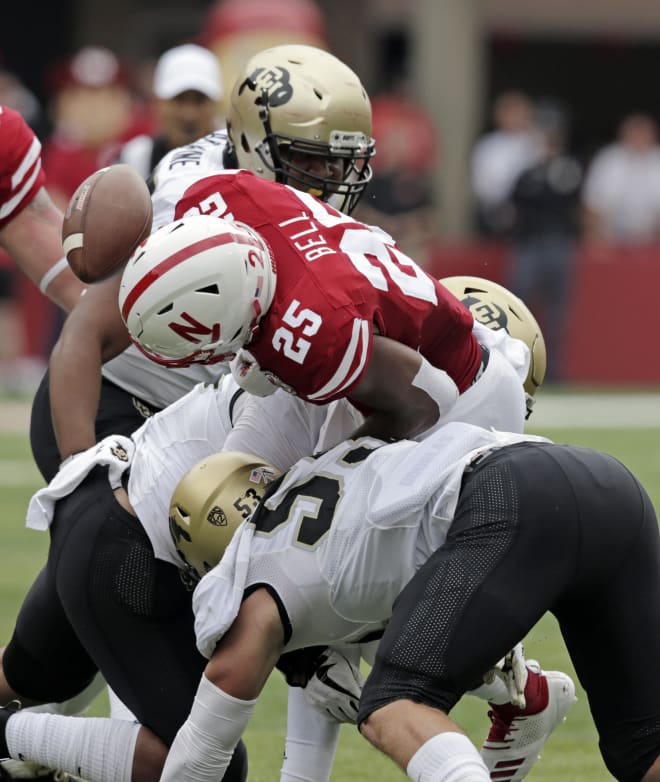 3. Can Nebraska protect the football?
Whoever is the quarterback, Nebraska must be better at taking care of the football than it was on Saturday.

The Huskers essentially spotted Colorado 14 points right out of the gates with two costly fumbles by Martinez and running back Greg Bell.
Martinez fumbled again but was able to recover, and he was then picked off on an ill-advised pass late in the fourth quarter.
Frost has said time and again that turnover differential is the most important stat in football, and if Nebraska is going to have any chance to win - regardless of the opponent - it has to protect the ball better.
4. Will NU clean up the penalties?
As if the turnovers weren't bad enough, Nebraska shot itself in the foot time and again with killer penalties at some of the worst times.

On the play Martinez was injured, center Cole Conrad was called for holding to leave Bunch facing a first-and-20 situation on his first NU snap.
Nebraska's defense then had a prime chance to seal the victory after forcing an incompletion on third and 24, but safety Antonio Reed was flagged for a game-changing personal foul for hitting a defenseless receiver.
On the very next play, Colorado threw a go-ahead 40-yard touchdown pass.
In all, the Huskers committed 11 penalties for 95 yards. The Buffaloes ended up with eight fouls for 46 yards. Like the turnovers, those penalty numbers are often impossible to overcome.
5. Can the Huskers turn a negative into a positive?
No one in Nebraska's locker room was happy about the way Saturday's game turned out, nor were they trying to cling to moral victories from the loss.

But there were still plenty of positives the Huskers showed in the game that they could build upon going forward the rest of the season.
Along with putting up more than 500 yards of offense for the first time in nearly two years, Nebraska at times looked like the dynamic and aggressive team fans had been hoping it would become since the day Frost was hired.
The question now is whether the Huskers can block out the disappointment from dropping the season opener and build upon the things they did well in Week 1?
Troy will come to Lincoln on the heels of a 59-7 throttling of Florida A&M on Saturday, and Nebraska will have to muster up some of its own energy for its first 11 a.m. kickoff of the year. How quickly can NU turn the page this week?