Five burning questions heading into Purdue week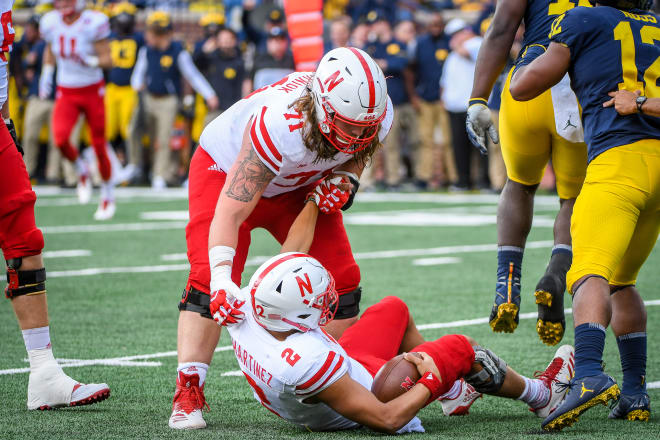 1. How quickly can the problems be fixed?
Though head coach Scott Frost publicly insisted that he expected Nebraska's program to improve in a hurry, it has become clear that he and many others had no idea how far behind Nebraska had actually fallen.

The message now after a 0-3 start - the worst NU has seen in 73 years - is that the Huskers weren't going to be fixed overnight. But with nine more games still left on the schedule, what are the realistic expectations for how much better the team can get by the end of the year?
Nebraska obviously is dealing with a litany of issues in all three phases, and the biggest of which - offensive line play, tackling, overall special teams, etc. - don't seem very close to being fixed.
The Huskers might be favored this week for their homecoming game vs. Purdue, but the second half of the schedule will only get increasingly difficult by the game.
Frost said on Saturday that he was confident NU had reached its rock bottom at Michigan, but unless this team can improve a lot of things in a little amount of time, that might not be the case just yet.
2. Will some Blackshirts be taken away?
Both Frost and defensive coordinator Erik Chinander have made it clear that just because a player earns a Blackshirt doesn't mean the honor is guaranteed for the rest of the season.
"These Blackshirts that are handed out, they're not bought; they're rented," Frost said last week. "It's a week-to-week thing, and they've got to continue earning it."
Well, after giving up a whopping 56 points and nearly 500 yards of total offense to Michigan, it's hard to say any of the eight current Blackshirts truly earned their title last time out.
Linebacker Mohamed Barry and cornerback Dicaprio Bootle both did their parts in an overall ugly defensive performance. Barry led the way with a game-high 11 tackles, three TFLs, and a sack, while Bootle set a career high with five pass breakups, which tied for the third most ever by an NU defender.
After them, however, it wasn't much to write home about. Frost, Chinander, and the rest of the defensive coaches are going to have to take a long look at some of those other players and decide just how strictly they want to stick to their standard of what is and isn't a Blackshirt.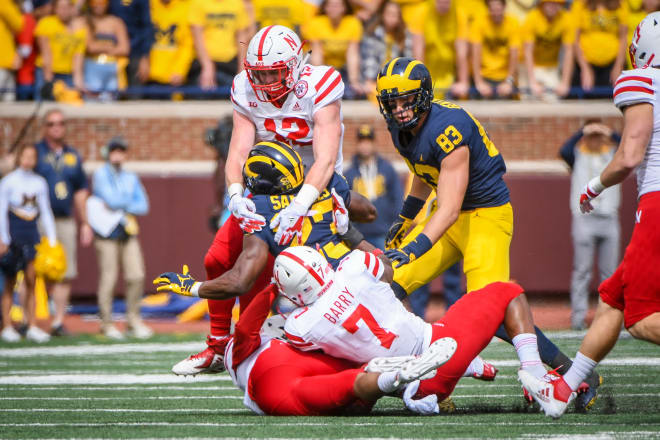 3. What personnel changes will be made?
Down 39-0 at halftime, the largest halftime deficit Nebraska has ever faced, Frost told his players in the locker room that the second half would be about seeing which players loved football and which ones didn't.

That was why 62 of the Huskers' 74-man travel roster ended up seeing playing time in Saturday's loss, including some new faces who played some major snaps towards the end of the game.
Some of those lineup changes included using 10 different offensive linemen, 10 defensive backs, 10 linebackers, and nine defensive linemen.
After a performance like the Michigan loss, there could be a few starting jobs legitimately up for grabs this week as the staff tries to find the right players who "love football" enough to get NU back on track.
4. Will the leaders step up?
For what it's worth, Nebraska's team captains and veteran leaders all seemed to say the right things following Saturday's disaster.
Guys like senior guard Jerald Foster and senior linebacker Luke Gifford stressed that it was just as much the responsibility of the players to fix the performance and the culture as it was the coaches'.
That was a major reason why the Huskers were confident there was nowhere to go but up from here.
"We have a coaching staff and players that aren't going to allow it. That's it," Foster said. "Look me in the eyes, and I hope you can see that I'm not going to let it get any worse than this."
How the team responds this week in the wake of what Frost called "a watershed moment" could ultimately define the course of the rest of the season.
5. Can the season still be salvaged?
There is a laundry list of problems that need to be addressed in a hurry, but if Nebraska can band together and figure at least a few of its most pressing issues, there is still a chance - albeit a slim one - that it can save what's left of the season.

This week against Purdue is one of the most important games left on the schedule, arguably the most, in terms of righting the ship with enough time to keep any bowl hope alive.
With road games at Wisconsin, Ohio State, and Iowa still awaiting, the Huskers have to defend Memorial Stadium. Purdue is a must-win, and so are Minnesota, Illinois, and obviously Bethune-Cookman. Even Michigan State and the trip to Northwestern become games NU has to get in order to get to six wins.
After what we saw in Ann Arbor on Saturday, though, it's hard to have much belief that Nebraska is capable of making that type of turnaround. But if Frost's inaugural campaign is going to have any chance at being salvaged with a bowl berth, that is what it's going to take.