Final take: Players rally around Pelini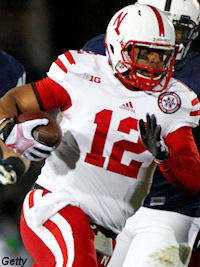 STATE COLLEGE, Pa.
- It was one of those weeks around the state of Nebraska. Not only did the Huskers lose a disappointing game last Saturday against Michigan State, but a random Facebook posting went viral ramping up speculation that head coach
Bo Pelini
may be resigning at season's end.
The rumor mill got so strong in the locker room that Pelini called a special team meeting on Thursday to address the players concerns before leaving for Penn State on Friday.
"(Pelini) said 'I never quit anything in my life' and that's all we needed to hear," senior offensive lineman
Jeremiah Sirles
said.
"Even myself going into that (team) meeting I was wondering about the (rumors)," redshirt freshman linebacker
Michael Rose
said. "(Pelini) went into that (meeting) and he acknowledged it and he addressed it and that was the end of it. You have to respect a man like that."
"Everybody was questioning everything and we were just a little worried," senior offensive lineman
Andrew Rodriguez
said. "Coach Bo (Pelini) told us 'it's just a rumor, and that's what it was - a rumor."
It's amazing the power of what one random posting on Facebook had, but what's even more amazing is how Nebraska's players responded at Penn State. Saturday's 23-20 overtime win over PSU was by no means pretty, but in a way a microcosm of not only this season, but the week in general.
There was plenty of injury adversity, questionable calls made by the officials, costly turnovers, but at the end of the day this team found a way to get a win with the chips stacked against them in front of 98,517 fans at Beaver Stadium.
You could feel the emotion from Pelini and his coaching staff as the week went on. You could hear the emotion in Pelini's voice following the win. Is Pelini's job safe? Nobody knows the answer to that, but the Huskers moved one step closer to 9-3 and NU's thrilling overtime win at Penn State should quiet the negativity heading into Friday's game with Iowa.
"We did it in the same manner Coach Bo (Pelini) goes about his business," Rose said of Saturday's win. "(Pelini) nipped it right in the butt on Thursday when we had a team meeting. He denied all the allegations (of him resigning) and said 'don't worry about anything they are saying outside of our football offices.'
"It's about us, but unfortunately there's a lot of people that say they want us to do well, but in the end they want to see certain people fail in the program. We are a tight knit group and we've got each other's back and that's the attitude we came out with this week."
Saturday's win at Penn State was classic Pelini. So many times over the last six years people have counted him out, but even with a third string walk-on quarterback, an injured offensive line and a star running back that has a bad ankle the Huskers defied the odds.
Kenny Bell
created a play on special teams when Nebraska needed it,
Pat Smith
made three field goals and the defense found ways to get key stops.
It's not the type of way Husker fans are comfortable with winning, but that's who this team is. Embrace them for who they are and tip your hat to these players who continue to rise up when a vocal minority on the outside counts them and their head coach out. If anything the random Facebook posting fueled this team and helped them find a way to win on Saturday.
"(Pelini) said he's never going to quit on us and I believe it," Rose said. "I think the past four games prove that. We aren't going to quit on Coach Bo (Pelini) either. Even when the chips are down and even when things aren't going our way or looking as well as we want, we aren't going to quit."
"We all stuck together," Sirles said. "We all talked about how we had each other backs and we aren't playing for anybody outside this room. We are playing for the people in this room and this coaching staff."
On to the post game grade out…

What I saw on Saturday
***Quarterback
Tommy Armstrong
was not benched on Saturday. It was actually an ankle injury he suffered in the first half that pulled him out of the game.
***When you think about classic games in November, playing in the wind and snow in State College is right up there. It was one of those days where nobody was going to be able to put up flashy numbers. The team that wanted it more was going to win.
***The only explanation I can come up with on
Sam Burtch
's personal foul penalty was the player he hit was considered "defenseless." It was a brutal call, but somehow the Huskers found a way to rise up above it.
***Since joining the Big Ten Nebraska is a perfect 3-0 against Penn State. The only other team they have a chance to do that against is Iowa next week.
***How about this stat, Nebraska has won eight straight games decided by 7 points or fewer.
***Saturday's game temps ranged from 27 to 34 degrees, but wind gusts reached all the way up to 30 mph, and were a consistent 16 to 24 mph out of the northwest.
***It looked like
Ron Kellogg
took quite a shot on that run he came up short on at the goal line. After the game Kellogg was still shaking off a few cobwebs.
***I was very impressed with the poise and the make-up of Penn State freshman quarterback
Christian Hackenberg
. 2013 will be the only time the Huskers will face him, unless these two teams meet in a Big Ten title game. NU won't play Penn State again until 2017 and 2018.
***When Nebraska joined the Big Ten if I told you they'd be a combined 6-2 against Ohio State, Michigan and Penn State how many people would take that?
***Next week Iowa and Nebraska will essentially be playing for bowl placement. The winner probably goes to Tampa and the loser to either Tempe or Jacksonville. A lot still depends on if the Big Ten will get two BCS bowl spots between Ohio State, Michigan State and Wisconsin.
The final grades
Rushing offense: B-
Abdullah found a way to get 147 yards on 25 carries, despite his bad ankle and a questionable penalty call that took away a touchdown. The Huskers finished with 168 yards rushing and NU's running backs had a combined 33 carries for 178 yards. Abdullah's fumble though at the goal line knocks the grade down from a B to a B-.
Passing offense: B
Kellogg found ways to make plays in the passing game when the Huskers needed them. Kellogg was 20-of-34 for 191 yards, but his touchdown pass to
Quincy Enunwa
was a big time throw, and so was his third down pass to Enunwa that drew a pass interference penalty late in the fourth quarter.
Rushing defense: C
The Huskers were able to hold up and get some key stops, but
Zach Zwinak
still pounded them for 149 yards on 35 carries. He was good for a consistent 4 to 5 yards on most carries, but his long run was just 11 yards.
Passing defense: B-
Nebraska's defense did a decent job of limiting Penn State's passing game, as Hackenberg was just 16-of-33 for 217 yards. However, the missed tackle by
Corey Cooper
that led to a 46 yard touchdown knocks the grade down to a C. That was one of the biggest mistakes the Huskers made all day.
Special teams: A
After some really shaky special teams play this year, Nebraska came up big time on Saturday. NU blocked a punt,
Kenny Bell
ran a kickoff back for a touchdown,
Sam Foltz
was lights out and
Pat Smith
was a perfect three-of-three on field goals, including his 42 yard game winner in overtime. Hats off to this group, especially after the criticism they've taken all season.
Sean Callahan can be reached at sean@huskeronline.com and he can be heard each day at 6:50 am and 4:50 pm on Big Red Radio 1110 KFAB in Omaha during the football season. He can also be seen on KETV Channel 7 TV in Omaha during the fall and each week he appears on NET's Big Red Wrap Tuesday's at 7 pm.