Final take: Huskers ran out of gas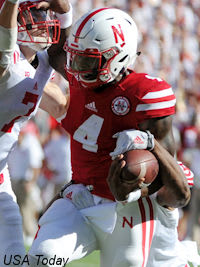 [rl]For the second straight week Nebraska's defense played well enough to win for three quarters, but for the second straight week the Huskers failed to close the deal.
To be exact NU produced only 41 yards on 17 offensive plays in that third quarter. 13 of those 17 plays came on Wisconsin's side of the field, and NU failed to produce a single point with a strong wind at their back.
This put the Husker defense in a very tough spot where they were forced to hold serve against the Badgers. For three quarters they did just fine limiting UW to 248 yards on 61 plays, but Nebraska's undermanned front seven ran out of gas.
This defense is not deep enough to hold up without any support from the offense. It happened last week at Illinois and it happened again Saturday. Chew on this number, 20 different players have started for NU on defense this season because of injuries. On Saturday three walk-ons started for NU on the front seven and Nebraska only consistently played six players on their front four.
With depth issues like this you aren't going to be able to beat Wisconsin unless your offense can do something on the other side.
"We struggled because we didn't have much success throwing the ball on third down to convert anything," Riley said. "We had some runs that we hit pretty well in the first half, but we didn't have any consistency running the ball. To give them credit, they've been a good defense. We just had to be better, and we weren't good enough to really sustain it, keep the football, and score some more points."
Now the Huskers are in a place they haven't been since 1959 sitting at 2-4. With just six games remaining NU has to go 4-2 over the final stretch to qualify for a bowl game.
Now on to the post game breakdown….
***You can argue Nebraska should've been more aggressive on their final three offensive plays, but after last week's debacle at Illinois Riley had to play that situation conservative. I do think some coaches would've elected to throw on that third-and-7. Last week's third down call was different because Illinois didn't have any timeouts and couldn't stop the clock.
For three quarters Nebraska made Wisconsin pretty one-dimensional. However, 89 of their 147 rushing yards came in the fourth quarter when it mattered. The Huskers did an excellent job though for most of the game bottling up Wisconsin's ground game.