Final take: Huskers find momentum from defense and explosive plays
There are still plenty of questions about this Nebraska football team after three games, but there are at least a few things they can hang their hat on after Saturday.
In the Huskers 28-3 win over Buffalo, NU found three passing plays over 50 yards and one run that went 70 yards. They also did not turn the football over on offense.
Defensively, they created a key turnover that led to points and held the Bulls to 11-of-24 on third and fourth downs. It was also the seventh game in a row NU has held the opponent to under 400 yards of total offense - the best stretch since 2009-2010.
However, with that said, there were still plenty of questions. NU's "base run" play as Scott Frost calls it, consistently was going for less than 2 yards until late in the game.
We also saw a turnover on a punt return for the third game in a row and Connor Culp missed all three of his field goal attempts. It was a 28-3 game that probably should have been 45-3. There were three Big Red touchdowns waived off by penalty as well.
"It is little things," Frost said. "I think we have a good enough team that we could win about any game we play, and we can lose about any game we play. It is going to come down to a few plays.
"I have to figure out how to have our players stop getting called for penalties on scoring plays and explosive plays. I have never seen anything like it so we will review those and find out what is going on."
The bottom line is this was a step in the right direction for the Huskers, but there is still so much more out there.
We are going to find out a lot more about this team next week at Oklahoma, as the Huskers will play arguably the best team they've faced since Ohio State in 2020.
"Well I will say this. We have lost plenty of close games around here," quarterback Adrian Martinez said. "A win is a win in my book. However, as a team, we knew we were capable of beating this team and that coming in we should beat them.
"There are a couple of things that we need to execute better on I need to execute better on and we are going to have to get better. We have a big game next week so got to play better than we did this week."
Now on to the breakdown...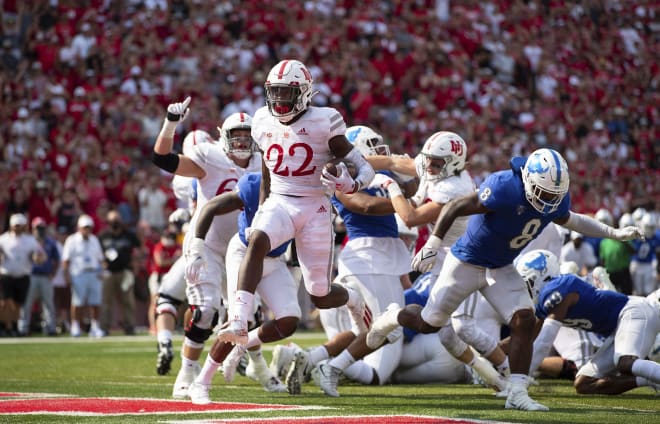 What I saw on Saturday 
***Nebraska won their first coin toss of the season and finally was able to send their defense on the field first.
***Nebraska used a mix of Samori Toure and Cam Taylor-Britt on punt returns on Saturday. Toure was more of the safe return option.
Once again though we saw drama with this unit, but this time it wasn't Taylor-Britt's fault. His own group of blockers ran into him and the ball hit Isaac Gifford causing NU's third punt return turnover in three games.
***Omar Manning did not play on Saturday, which meant Zavier Betts got the start in his place. Betts had arguably the play of the game waved off after a holding call. He tipped a ball to himself in midair and then scored a touchdown.
To add to that, tight end Austin Allen also left the game early with what appeared to be a head injury. Hopefully NU can have Allen back next week at Oklahoma.
***Connor Culp missed 32, 34, and 42-yard field goals on Saturday. What's going on with the Big Ten kicker of the year? In a game like Saturday, those were huge moments. Frost even gave him one last shot to regain his stroke and he missed for the third time. Some interesting conversations have to be going on behind the scenes there. When is the last time NU has had a kicker miss three field goals in one game?
***The Blackshirts came up with multiple big moments on Saturday. Damion Daniels blew up a third-and-short run, Garrett Nelson had a huge third-and-short stop and then Luke Reimer made a tackle to stop a fourth-down play after that. Then Reimer had the defensive play of the game with his interception and return to the 1-yard line. These guys are playing at a high level.
Saturday was the seventh straight game NU has held the opponent under 400 yards of total offense, which is the best stretch since 2009-2010 when they went eight straight games.
***The biggest play on offense Saturday was Adrian Martinez's 71-yard run on a broken play. It almost reminded you of the Taylor Martinez run in the Big Ten title game where he made something out of nothing. Betts made a great downfield block on the play as well. Buffalo brought seven at Martinez and multiple defenders missed.
***After Taylor-Britt missed a critical third-and-long tackle, Reimer turned the game on his interception and return to the 1-yard line. No. 1, Taylor-Britt needs to know the situation. Instead of jumping the route and going for the pick, he needs to make the tackle short of the first down stick. With that said, Reimer made an elite play there that sealed the victory for the Huskers.
***Very interesting wrinkle seeing Deontre Thomas come into the game as a fullback around the goal line.
***The most random penalty on Saturday was Damion Daniels getting flagged 15 yard for losing his helmet and still trying to make a tackle. I've seen a lot of wacky penalties over the years, but that one was a first.
***The final offensive possession on Saturday was interesting. You could tell Frost really wanted to get another score to give his team more confidence heading out to Oklahoma. You could also see the tension building on the other sideline. A couple of Buffalo coaches were barking across the field and throwing their hands up towards the NU bench.
The final grade out
Rushing offense: C-
Nebraska got 106 yards rushing on 31 carries from their running backs. Frost is hell-bent on getting that inside zone play to work. Most of Martinez's 112 rushing yards came on his 71 yards scramble where he made something gout of nothing on an all-out Buffalo blitz. The bottom line is 3.4 yards per carry from the tailback is not going to get it done long term. That number has to be better.
Passing offense: A
Martinez and Logan Smothers were a combined 14-of-20 for 296 yards and two touchdowns. It was the first time Martinez has thrown two passing touchdowns in a game since Maryland in 2019. Think about that.
Rushing defense: B+
Buffalo had some success running, but NU did a great job of limiting their big plays. Kevin Marks had 21 carries for 85 yards. The Bulls had 135 yards on 33 carries on Saturday.
Passing defense: A-
Nebraska had 7 pass break-ups, seven quarterback hurries and allowed a long pass play of just 21 yards on Saturday. They didn't have a sack, but a lot of that was Buffalo simply getting rid of the football. The pressure was there when it needed to be. Reimer turned the game on his interception return to the 1-yard line.
Special teams: F
Three missed field goals and a turnover on a punt return for the third game in a row. Daniel Cerni had his best game as a punter, but those things take the special teams' grade down to an F.
Sean Callahan can be reached at sean@huskeronline.com and he can be heard each day at 6:45 am and 5:05 pm on Big Red Radio 1110 KFAB in Omaha during the football season. He can also be seen on KETV Channel 7 in Omaha during the fall and each week he appears on NET's Big Red Wrap-Tuesday's at 7 pm.