Final take: Huskers better than a year ago, but OSU in a different class
COLUMBUS, Ohio - If we are being honest about Saturday's Nebraska vs. Ohio State game, it probably played out about as most people expected.
The Huskers are an improved football team. I want to make that point very clear, but they aren't improved enough to overcome drive killer penalties, QB fumbles and targeting penalties that knock out two of your defensive starters.
Scott Frost's team came out hard and threw the first punch jumping up 7-0. They let everyone know early this was a different team and a different offense than a year ago. Even when OSU scored 14 in a row after that, they responded with an 11 play 78-yard drive. They weren't doing that a year ago, especially against a team like Ohio State.
The problem is if you give the Buckeyes an inch, they are going to take a mile. NU gave them far too many opportunities and they showed everyone once again why they are the class of the Big Ten Conference turning each Husker mistake into points cruising to a 52-17 victory. After NU tied the game at 14, the Buckeyes scored 24 unanswered points, mostly fueled by turnovers or penalties.
"I thought we did a lot of good things, unfortunately, some of the things that led to the game getting out of hand are self-inflicted things that we can fix," Frost said. "We had too many penalties, they didn't have hardly any. We turned the ball over a couple of times with the quarterback running. We got them in a couple of second and really longs and gave up first downs on third-and-14's. We can fix a lot of those things as a group.
"We hung in a lot better with them physically than a year ago. I give them a ton of credit. That's a really good team. I was proud of how our kids fought. Late in the second quarter we got the ball down 17-14, with a chance to go take the lead before the half, and we kind of shot ourselves in the foot with a delay of game penalty and a holding penalty, and they score quick and then score again out of the half, and that's the game."
We also saw a much more relaxed and decisive version of quarterback Adrian Martinez on Saturday.
He made quick decisions, ran the ball well at times, but knows the mistakes the offense made were too much to overcome.
"When we are playing really good teams like we will throughout the Big Ten, we have to limit our errors," Martinez said. "I thought we shot ourselves in the foot there more than a few times. I can't turn over the football, and we have to continue to execute at a high level. I think we did that at times today, and at other times we didn't do it as well as we should have."
The challenge now with this 2020 schedule the Huskers were handed is there is not much time to even think about Saturday. When the Huskers get back to Lincoln, they know another potential top 10 team is coming to town in Wisconsin.
"Day by day, week by week, we've already turned the page," senior linebacker JoJo Domann said. "We are going to correct the things that need to be corrected and we are ready to go on to Wisconsin."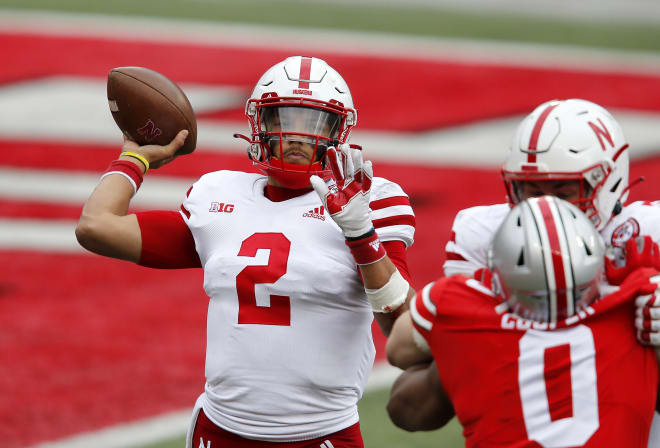 What I saw on Saturday 
***Nebraska has made it pretty clear in Frost's three seasons at Nebraska when they win the coin toss they want the football. I thought NU's plan out of the gates on offense was solid and well-executed.
***It will be interesting to see how much the Huskers will work Luke McCaffrey into the game with Martinez. He had a much bigger role on Saturday than I imagined. They clearly are making an emphasis to get him on the field.
***Notable faces not in Columbus on Saturday: WR Omar Manning, LB Luke Reimer and DL Jordin Riley. It's also worth noting that both scholarship receivers Jaime Nance and Demariyon Houston did not travel. That really lets you know where they sit in the wide receiver pecking order. Multiple other walk-ons traveled over them.
***I liked what new offensive coordinator Matt Lubick mixed in at times, but there were still some of those first game moments that need to be cleaned up.
***South Dakota grad transfer Levi Falck got the start at wide receiver over guys like Alante Brown. He finished with just one catch for 8 yards, but he's clearly a guy this staff is very high on.
***Playing Wisconsin next week down two starting defensive backs is really going to test Nebraska. Targetting is such an impactful call, and I do not agree at all that a player should be held out for the first half of the next game if the play happens in the second half.
***No update on the injury to tight end Jack Stoll, but it didn't look very good on Saturday.
***I thought starting right guard Matt Farniok had a few rough moments that hurt Nebraska. Farniok gave up two sacks and had a costly holding penalty. Those plays had a big impact in taking the steam out of the Huskers offense.
***We saw a lot more plays under center by NU's offense. I think this staff really likes the push they get under center and Dedrick Mills is used to playing a fullback type position from his time at Georgia Tech. It also helps you be more effective with QB sneaks.
***We got our first taste of redshirt freshman Ethan Piper at left guard on Saturday. From all accounts, he looked pretty well.
***There were just 1,344 people in Ohio State, which included media members and stadium workers in that count. Think about that for a moment. More people will watch an Eight-Man state championship game in Memorial Stadium then were in the 106,000 seat Ohio Stadium on Saturday.
***On the subject of fans, I had a brief chat with NU AD Bill Moos at halftime. He said they are still fighting and hopeful the Big Ten will look at overturning that decision.
The final grade out
Rushing offense: B-
Nebraska found some big plays in the run game at times, but fumbles by Martinez and McCaffrey proved to be very costly. The Huskers finished with 217 yards on the ground, including runs of 47 and 39 yards from McCaffrey and Martinez. The running backs probably could've been involved more, as they had just 14 carries for 55 yards, but no run longer than 9 yards.
Passing offense: D
Nebraska was very efficient passing, but they had little to no success throwing the ball down the field. Everything for the most part was short or underneath, as NU was 16-of-20 for 160 yards with no interceptions. The Huskers didn't break 100 yards passing until the fourth quarter. The longest catch by a wide receiver was 21 yards. Tight ends Jack Stoll and Austin Allen both had nice plays, and the blocking by Travis Volkolek was very noticeable down the field on one big run play.
Rushing defense: C-
For three-quarters Nebraska slowed Ohio State down running the football. However, by the game's end, the Buckeyes finished with 222 rushing yards. NU did a good job of not allowing any big plays, as the Buckeyes longest run of the day was just 21 yards. Consistently stopping Fields was too much to ask though, as he had his way whenever he wanted to take off and run. He was also very good in short-yardage picking up QB sneak plays for first downs.
Passing defense: F
Quite frankly, Nebraska didn't have an answer here. Fields was 20-of-21 for 276 yards. He's a future top 10 NFL Draft pick for a reason. He's got a big-time arm, and he's very hard to get pressure on. He also took what was there. Nebraska gave OSU's receivers cushions and he took that yardage. Fields found soft spots underneath when the Huskers were in zone coverage. Even when it appeared he made mistakes or bad plays, the Huskers bailed him out with penalties.
Special teams: C+
The return game was really a non-factor for either team on Saturday. William Prystup had one shorter punt, but he still averaged 44.6 yards on the day. You'd like to see a little more hang-time from him. NU wisely far caught the ball on nearly every kickoff, as that has really hurt them in past games vs. OSU trying to run balls out vs. taking it on the 25. Kicker Connor Culp also is an upgrade from a year ago.
Sean Callahan can be reached at sean@huskeronline.com and he can be heard each day at 6:45 am and 5:05 pm on Big Red Radio 1110 KFAB in Omaha during the football season. He can also be seen on KETV Channel 7 in Omaha during the fall and each week he appears on NET's Big Red Wrap-Tuesday's at 7 pm.